My Senpai is Annoying 11
Senpai ga Uzai Kōhai no Hanashi 11
先輩がうざい後輩の話 Episode 11

SPOILER Summary/Synopsis:
After wrapping up work for the year, the employees of the company go out for a party. Sakurai turns down invitations from guys to celebrate New Years with them. Instead, she invites Kazama over for New Year's Eve, using Yuuto as a pretense. However, Yuuto has other plans and leaves. As such, Sakurai is embarrassed when Kazama shows up. However, he's unphased by this. Unfortunately, Sakurai's soba gets ruined.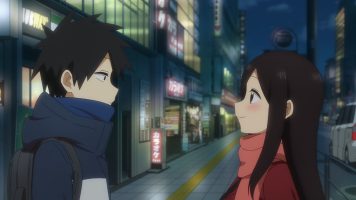 Natsumi is at Futaba's apartment for New Year's Eve. She teases Futaba about Takeda. Futaba's grandfather calls to show off the large fish he caught on his fishing trip. Meanwhile, Kazama and Sakurai eat instant soba and watch a comedy variety show. They make plans to visit a nearby shrine the following day.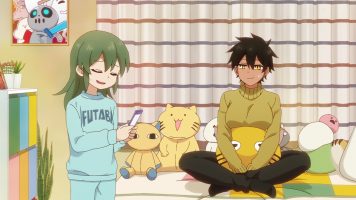 As the sun rises, Natsumi wakes Futaba so they can watch it together. Likewise, Sakurai and Kazama enjoy the sunrise as they walk to the shrine. Once there, Natsumi spies Takeda, so she races to him. Once Futaba joins them, Natsumi ditches. As such, the pair go to get their fortunes, but don't get good luck. As such, Takeda takes Futaba to the ramen place.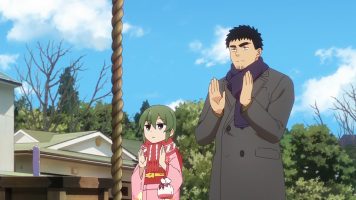 While there, Futaba notices Sakurai and Kazama being interviewed on TV. When Kazama starts showing pictures of Futaba and Takeda together, Futaba races back to the shrine to stop this. After beating up Kazama, Sakurai lets him rest on her lap. Later, she goes to get them drinks. A little girl goes to show Kazama the picture she has of Sakurai kissing Kazama. However, Sakurai intercepts this act and deletes the picture.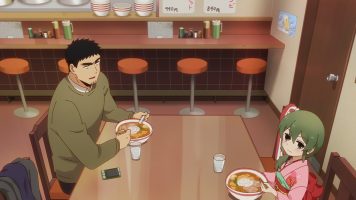 Thoughts/Review:
Much of My Senpai is Annoying 11 happened early in the manga. However, the writers probably wanted to do a New Year's episode now so as to match the time of year when it aired.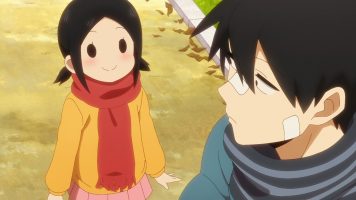 New Year's Trope Episode
For the most part, My Senpai is Annoying 11 followed the typical tropes for New Year's anime episodes. You have the staying up all night, viewing the sunrise, and then going to the shrine. And of course at the shrine, it is time to get your fortune. One slight variation to the fortune theme wasn't the jokes about good luck vs. bad luck. It was instead an argument between Futaba and Takeda on the subtle differences in luck rankings, which wouldn't be there in English.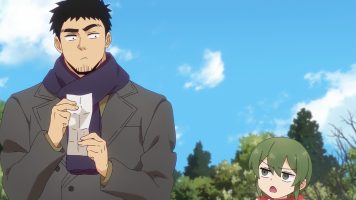 Nevertheless, it was fun seeing Futaba in her kimono, hanging out with Takeda. And I admit, I did get a chuckle out of her storming back to the shrine to stop Kazama from showing off photos of her and Takeda.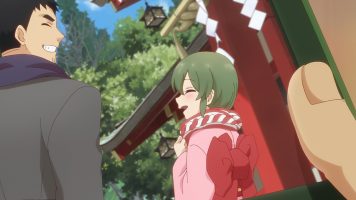 As to Sakurai and Kazama, this is the more frustrating relationship. Both really like each other. Kazama being hesitant is understandable, considering he considers Sakurai out of his league. But Sakurai should be a bit more open, in my opinion. After all, one of the reasons I think she likes Kazama is that he doesn't fawn all over her like other men.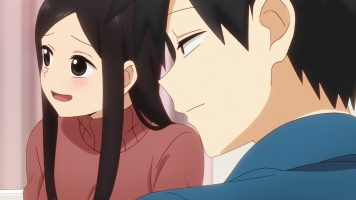 Still, I felt bad for the little girl who took the picture of Sakurai and Kazama. The moment played out as it did in the manga, only with a different setup. One would have thought Sakurai might have wanted a copy of said picture rather than delete it. But then, these two are never going to advance their relationship beyond where it is now.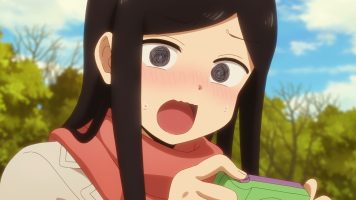 Final Thoughts and Conclusion
As normal, I'm behind so let me wrap up my review of My Senpai is Annoying 11 with some final thoughts.
I'm pretty sure that the show Sakurai and Kazama watched was a parody of Downtown no Gaki no Tsukai ya Arahende!! One of their popular comedy elements are the No Laughing batsu (punishment) game series, such as Silent Library. Anyone who laughs gets called "out" and is subsequently punished. These are generally played on New Year's Eve.
The office party reminded me of my own time in Japan. That's pretty much how Japanese work parties are.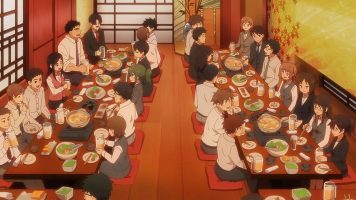 In the end, My Senpai is Annoying 11 is fine and enjoyable for what it is. Just don't expect any relationship to advance any further than it is now.