Tonikaku Cawaii Chapter 166
Tonikaku Kawaii Fly Me to the Moon 166
トニカクカワイイ 166
Spoiler Summary/Synopsis:
At school, Nagi's students start asking him probing questions. For a start, they ask if he and Tsukasa wear matching outfits. Then they question him on what he has Tsukasa wear underneath.
After class, Nagi checks with Yanagi-sensei to see if she and her boyfriend wear matching outfits. She confesses that they do. Not only that, they wear them in public. She feels it signifies the couple have identical interests. However, she concedes that it takes more courage to do this in Japan than in other countries.
When Nasa comes up, he broaches the subject of matching outfits to Tsukasa, who turns up her nose at the idea. Using his conversation with Yanagi-sensei, Nasa tells Tsukasa that they could have matching bowls, chopsticks, or the like. Tsukasa tells him that she would prefer to be different. And wearing matching outfits would embarrass her in public. However, she would do it for Nasa.
The couple settle on getting matching pajamas. Nasa tries on pajamas for the first time and realizes how comfortable they are. Tsukasa emerges with her pajamas on. As such, Nasa takes advantage of the situation to feel up his wife. She asks him to turn out the lights, so he obliges.
Thoughts/Review:
And so we get another fluff episode with Tonikaku Cawaii Chapter 166. But I don't mind.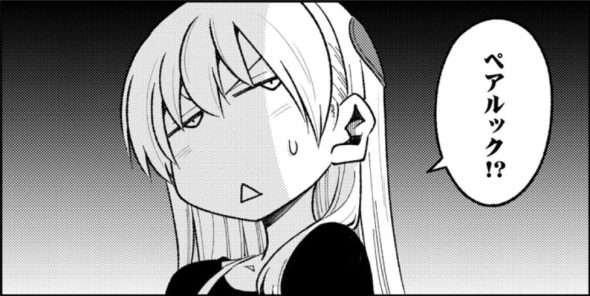 Matching Outfits
I have to admit, Tonikaku Cawaii Chapter 166 made me think about couples wearing matching outfits. As I think back, the only time my parents wore matching outfits was at sporting events, or possibly on vacation with souvenir t-shirts.Otherwise, they wore their own things.
And I think that's how it was for most couples in my orbit. Growing up in the South, we are very strong college football folks. So matching (or even rival) sports t-shirts did happen. Maybe Christmas sweaters. But honestly, I don't remember a lot of couples wearing matching outfits.
Still, I guess Hata-sensei wanted to share his own experience in this subject via Nasa and Tsukasa.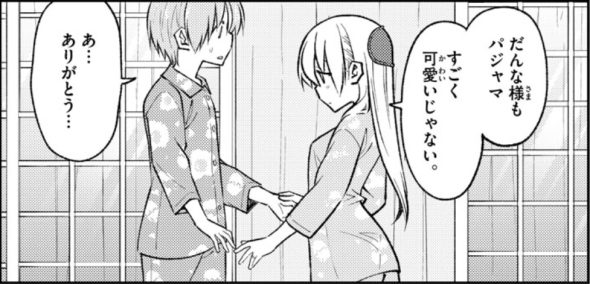 Final Thoughts and Conclusion
Let me wrap up my review with some final thoughts.
It was nice to see Yanagi-sensei again. Her boyfriend Tanigushi-sensei also got a flashback cameo.
Nasa's students stir his pot in a humorous way. Well, except for Kaguya, who never seems to attend class.
Ultimately, Tonikaku Cawaii Chapter 166 is just more fluff. But fluff is OK with me as I enjoy seeing Nasa and Tsukasa together.