School Rumble "What's Up Doc"

While working on reviewing the final volumes of School Rumble, I was checking on some hideous rewrites that Kodansha did. While doing this, I discovered that Kobayashi-sensei has written four additional School Rumble chapters that haven't been published in tankoubon form. One of the chapters I did mention as it was published with a Negima special chapter.
The first of the four School Rumble extra chapters is "What's Up Doc", which was published February 9. 2010.
Spoiler Summary/Synopsis

Tenma returns to Japan from America to visit her friends. Akira, Tenma, Suou, and Eri are under the kotatsu. Eri asks to use the bathroom. Tenma asks Eri to fetch some milk from the fridge. Akira asks Eri to grab a trash can for her. Suou asks Eri to get the TV remote control. Eri does not want to do this. She feels doing these things for her friends will cause her to "lose".  So she decides not to go to the bathroom.
Eri asks Yakumo to fetch the items, but Yakumo has Iori and Sarah sleeping on her lap. A war of attrition begins between the four friends. Eventually, the three girls drag the futon to and fro to get what they want without leaving the kotatsu. Harima emerges, complaining about the noise since . The defeated Eri then goes to the bathroom. Afterward, Tenma leaves to return to America.
Thoughts/Review
Well, it is always nice getting a bit more School Rumble. And "What's Up Doc" is a nice little chapter.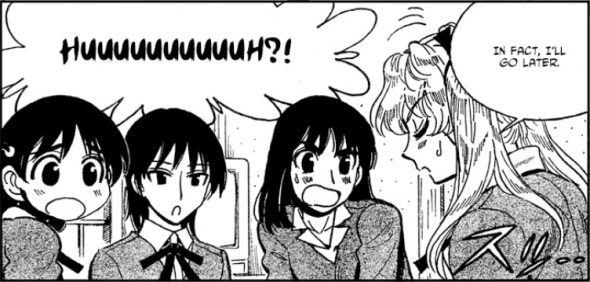 A Funny, Fluff, "Sometime Later" Chapter
I like how this chapter is set after Harima moved in with Yakumo and Sarah in chapter 282. And it is a nice touch that Tenma came back from America for a visit. Not sure why they are all in their uniforms, other than that helps with the nostalgia. School Rumble ended toward the end of 2008, and School Rumble Z was only one volume release June 2009.
As to the war of attrition, that was pretty funny. The trope in anime and manga is the joys of the kotatsu. So naturally, no one wants to leave. When Eri casually is going to leave to take a wiz, the other girls want to use her to get stuff. So while Eri may have been selfish, I did understand her sudden reluctance. And the resulting efforts to move the kotatsu to and fro to get the things the girls wanted was pretty funny.
The only thing that was odd was Hanai's cameo in the house. Not sure what he was doing.
Finally, the last panel let us see Lala, Karen, and Imadori in a cameo. But the gag was lost on me, and I think it had to be a translation issue. So that was nice.
Final Thoughts and Conclusion
In the end, School Rumble "What's Up Doc" was a humorous, fun chapter, allowing us another jaunt with the main female characters of the series.