A Look at Beastrings (Japanese Tankoubon ビーストリングス)
Back in January 2018, I did a blog post about the fantasy artwork of YAMAMOTO Shikaku-sensei. I mentioned how I wish he could turn this into a manga series. Fast forward to today and Yamamoto-sensei has released his first tankoubon collection of his manga short stories, entitled Beastrings.
A Quick Look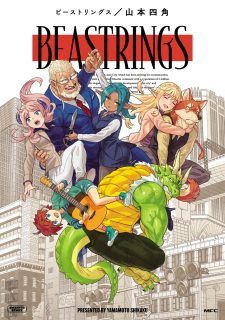 If you've followed Yamamoto-sensei's Twitter feed, you will have seen most of the content in the Beastrings tankoubon.He tells little short stories centering around Juso City. This city is 21st century in design, but it is populated by races from the fantasy genre. As such, the mayor of the city has a dark elf PA (secretary) and a succubus on his staff. A high elf ojousama mage is also a detective and has a red wolf-man for a butler. And so on.
However, the tankoubon does add 23 new pages of content. Further, the tankoubon organizes the short stories into thematic chapters. For example, the first chapter is titled "A Mayor and a Secretary" and contains all of the stories centering around the mayor. "The Zodiac" chapter contains stories with different Zodiac protagonists. "A Lady and a Wolf" are the stories with the high elf ojousama and her wolf butler. "A Dragon and a Girl" are about the dragon-man and the tomboy human (?) girl bard.
Even though I can only understand a fraction of what's being said, I love this world Yamamoto-sensei has created. Placing fantasy characters into a modern world setting is just brilliant. Further, the character designs and art are quite enjoyable to look at.
Final Thoughts and Conclusion
Unfortunately, the only way to get Beastrings is to import it from Japan, and that's not cheap. I "lessened" my burden by scoring all of the Tonikaku Kawaii tankoubon releases out of Japan (I can't stand Viz's butchery of the series). However, I was more than happy to buy the tankoubon, which is 5.83 x 0.63 x 8.27 inches in size. So this isn't your normal tankoubon release. And it is in full color.
Now to get Kadokawa to release an English version (or get an American publisher to do it).