Keroro Gunsou Episode 119
ケロロ軍曹/Sgt. Frog Anime Review
SPOILER Summary/Synopsis:
Natsumi's class is on a summer camping trip in the mountains. She's not happy when she finds Keroro's platoon nearby. Giroro has the platoon engaged in survival training, though none of the others are really up for it. As such, he bans comforts, going so far as to put Keroro, Kururu, and Tamama on rope leads. However, he finds himself in a rivalry with Koyuki on gathering ingredients. Keroro, Kururu, and Tamama become collateral damage. Giroro falls and is saved by Koyuki, who is hurt in the process. Dororo finds them and Natsumi is happy with Giroro.
Keroro discovers Natsumi is suffering from the summer heat. Fuyuki informs Keroro about Unagi Day, where Japanese people eat unagi (eel) to recover from the summer heat. As such, Keroro enacts a plan to buy up all the unagi. However, despite having a lot of cash, he doesn't have enough. As such, he and the troop start helping local shops sell out, but there are too many shops. Undeterred, Keroro tries to capture all the eel, but that fails. Finally, he decides to have a BBQ and get Natsumi to scarf out on expensive steak and more. She does, but to Keroro's dismay, she revives and eats unagi anyway.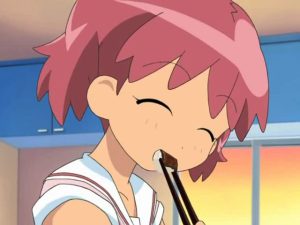 Thoughts/Review:
Another 2-story episode in Keroro Gunsou Episode 119. However, the writers do give them a minor link.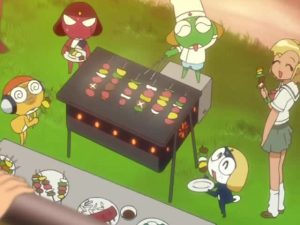 Summer Camp
I didn't expect to laugh as much as I did for the first story in Keroro Gunsou Episode 119. The gags were old classics, but still struck me as funny in their execution. For a start, there was the competition between Koyuki and Giroro. He's trying to gather edible things in the woods for his survival training class. Further, he had the others tethered to him so that they wouldn't slack off, which was funny. She's also gathering ingredients and the race is on.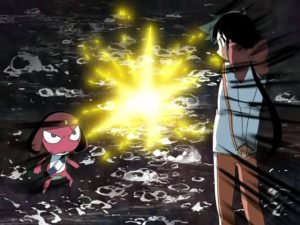 The part that had me laughing out loud centered around Keroro, Giroro, and Tamama being tethered to Giroro. He's so into racing Koyuki here and there, he doesn't even know he's dragging three bodies around. 😂 Then one by one, the others run into their "demise" and get disconnected from Giroro. 🤣 So despite being a classic gag, I still had a good laugh.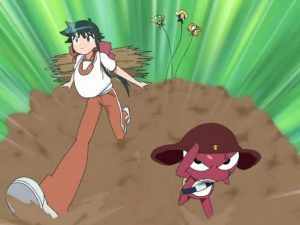 Unagi Day
I'd never heard of "Unagi Day" in Japan (at least, not that I recall). But that was the featured food in Keroro Gunsou Episode 119. The episode is a joking reflection of how much the Japanese apparently love their unagi. Also, there's the joke of how much the Japanese love their beef. So a fun story, that made me hungry.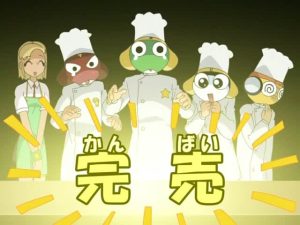 Final Thoughts and Conclusion
In the end, Keroro Gunsou Episode 119 was a fun episode. The first story actually made me laugh out loud and the second story made me hungry.