Lupin the Third Part 6 – 21
Lupin III Part 6 21
ルパン三世 PART6
SPOILER Summary/Synopsis:
Lupin, Jigen, and Goemon are in their Fiat 500, filled with loot. An accident on an island draw bridge injures Lupin and puts him in the hospital. Further, the bridge will be out of action for three days. Fujiko joins the group for her share of the loot.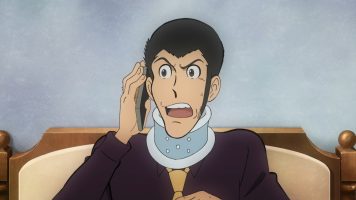 A local teenage girl named Muru, observes the actions of Lupin's crew. She envisions Fujiko as the legendary island mermaid and a madam. Jigen is a "dandy" who's in love with her. Goemon is a poor student, forced to wear samurai clothing to save money. As such, she draws and writes a story to match.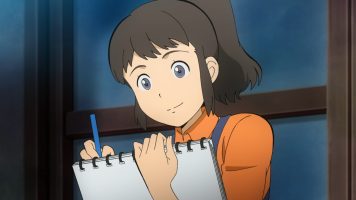 Fujiko is going to leave when she learns of the legendary mermaid fish, which grants one's true love. She reports it back to Lupin, who agrees to hunt for this fish. Meanwhile, Muru is disappointed when Lupin shows up with Fujiko. She later talks to him about love.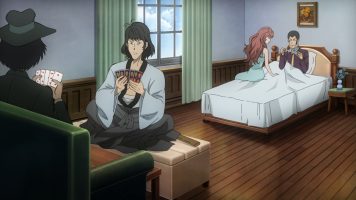 Muru thinks all three are in love with Fujiko, so she stages an event where they confess to her without knowing she's there. Fujiko turns them all down. Muru confesses she doesn't know how to catch the mermaid fish. As such, the group leave town as soon as the bridge is repaired. Muru comes up with a new story. This time, Fujiko is a spy.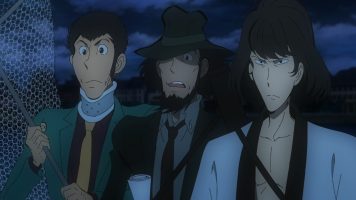 Thoughts/Review:
This is going to be a short review. Why? 'Cause Lupin the Third Part 6 – 21 is just "meh" at best. Yes, it tries to be cute by having a cute teen girl's imagination run wild. But I didn't care. This was just a random adventure that has NOTHING to do with the story. And such storytelling is piss poor at best.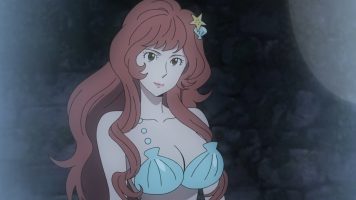 Were this the old Lupin III with episodic stories, then it would have been fine. But in a series that is supposed to tell a serial story, random side tales don't fit.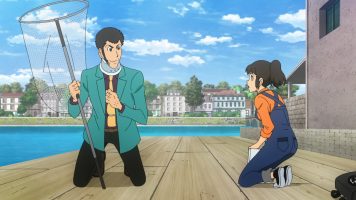 From a fanservice point of view, it was fun seeing Lupin and crew in a Fiat 500, filled with loot. But alas, that's the only good I can find in a random episode within a series that's supposed to be about Lupin's "mom".