Princess Connect! Re:Dive Season 2 – 09
プリンセスコネクト!Re:Dive S2 episode 09
SPOILER Summary/Synopsis:
Pecorine attempts to knock on Karyl's door to reveal her secret, but cannot find the courage to do so. Karyl makes some onigiri and takes off for the palace. There, she finds the Queen in her bedchamber, apparently experiencing troubled sleep. When the Queen awakens, she remembers Pecorine's words and decides to eat the onigiri with Karyl.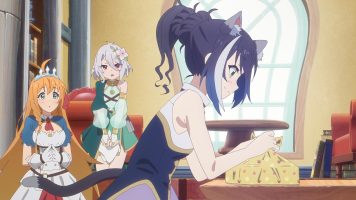 Down in the sewers, Jun decides to investigate after Christina's words about a beast (the Queen) on a human throne. She finds the captured Metamorregnant in a room. Jun turns and fires an attack down the sewer tunnel. The Queen emerges with Shadows.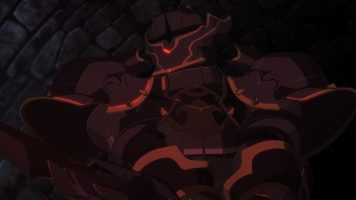 In Landosol, the people hold a festival. So when Karyl returns home, Pecorine, Kokoro, and Yuuki drag her to it. The group meet Shizuru and Rino, then Labyrista. Yuuki is dragged off to try a new crepe. Eventually, Yuuki and Labyrista chat a bit before Yuuki returns to his guildmates.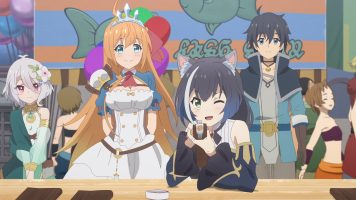 Back at the palace, Labyrista snares the Queen, identifying her as Mana, aka Kaiser Insight. Labyrista is determined to end Mana. However, Labyrista's horror, Mana uses Metamorregnant's powers. Labyrista takes damage, but notices Mana is not using her own powers. Further, Shizuru and Rino are preventing the Shadows from entering Labyrista's sphere.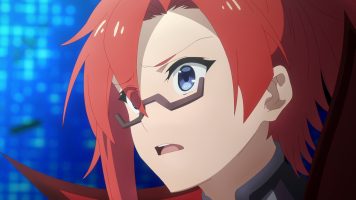 Labyrista goes for a killing blow, but suddenly Karyl is teleported in as a living shield. As such, Labyrista stops her attack and is stabbed by the second Mana. She falls away as Karyl is dragged off by the two Mana's.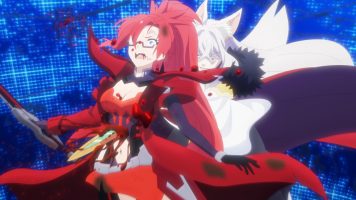 Thoughts/Review:
With Princess Connect! Re:Dive Season 2 – 09, we had a very enjoyable, mostly plot-filled episode. And though a lot of interesting things were revealed, the weight of the, "This isn't a real world" element still hangs overhead.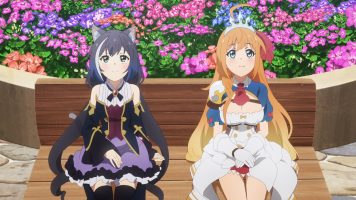 Kaiser Insight, aka: Mana ("The Queen")
Finally, Princess Connect! Re:Dive Season 2 – 09 gives us the name of Karyl's queen — Mana. And we learn she has the title of Kaiser Insight. (Why the official Western version had to change her name to Omniscient Kaiser, I'll never know 'cause THERE'S NO BLOODY GOOD REASON TO CHANGE THE NAME!!!!) Further, if I understood things, Mana may be one of the Seven Crowns. (Correct me if I'm wrong there.)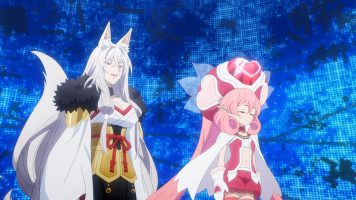 Mana has multiple copies of herself roaming about. I believe this is her borrowing Metamorregnant's power. At minimum, Mana has one copy of herself. But she may have more, since a Mana went down to the sewers to attack the investigating Jun.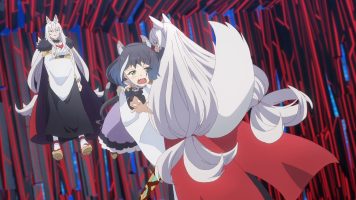 That aside, I found it interesting that Mana seems to have somewhat different personalities for the copy. For example, the copy in bed seemed troubled. She was kind to Karyl and shared onigiri with her. Yet a second Mana lurked outside and observed. I got a more sinister vibe there.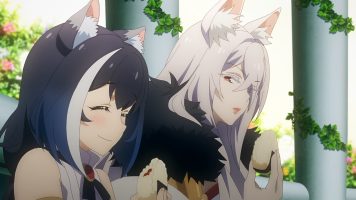 Finally, when Labyrista battled Mana, that version seemed mostly calm and collected, though did seem taken aback at times. Yet the second copy that got a sneak stab attack on Labyrista seemed insane. It will be interesting to learn why there's this apparent dichotomy.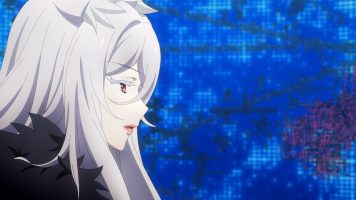 Labyrista
Clearly, Labyrista knows Yuuki from the past, as evidenced in Princess Connect! Re:Dive Season 2 – 09. While I do think that Shizuru and Rino care about Yuuki (above and beyond the older sister/younger sister element), Labyristra seems to have a deeper, more meaningful relationship. There's some kind of special reason that she cares about his welfare, so much so that she apparently helped Ameth turn back time (re:dive).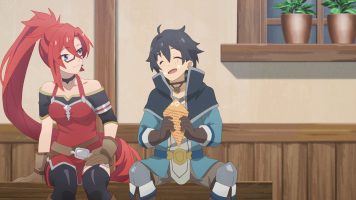 That said, why is she only now taking an active role in stopping Mana? Labyristra is one of the Seven Crowns and is clearly, massively powerful. She was able to hold her own with Mana, who used Metamorregnant's powers. Granted, Labyristra had her guildmates keeping Mana from getting Shadow reinforcements. But still, Labyristra had Mana defeated until Mana made Karyl a cat girl shield.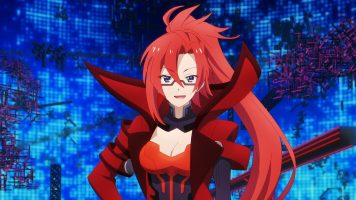 I doubt Labyristra is dead. At worst, Mana will capture her for her powers. At best, Ameth pulls her away to Ameth's realm.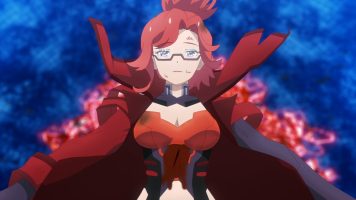 Final Thoughts and Conclusion
I'm running way behind (my fault), so let me wrap up my review of Princess Connect! Re:Dive Season 2 – 09 with some final thoughts.
Christina pointed out ages ago that it made no sense for a beast to be on a human throne. So why didn't she do more about this? Why did it take Jun so long to check into this? I'm guessing there was a spell of some sort.
I'm bummed that Pecorine couldn't confide in Karyl. And now, she won't be able to until after everything is resolved, if I had to guess.
It seems that time in this world has been reset multiple times (re:dive). Why has this been happening, beyond stopping Mana? Why have the resets sapped Mana's natural abilities?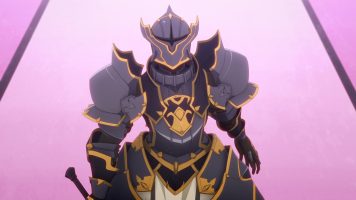 In the end, I really enjoyed Princess Connect! Re:Dive Season 2 – 09. Now that we are into actual plot, things are very interesting and I'm very engaged. I'm just concerned about the "real world" element that was hinted at.