A Certain Scientific Railgun T 20
とある科学の超電磁砲T
SPOILER Summary/Synopsis
The injured Frenda gets Saten to what she thinks is a safe place. However, the assassin Yumiya nails her again. Frenda races off with Saten in tow. She recognizes the assassin is playing with her, otherwise she'd be dead. Meanwhile, Frenda sets a trap that some fat guy with a golf bag falls into. After Saten shows her this isn't the assassin, the two flee. Frenda sets some doll bombs around. However, Yumiya doesn't go for any of Frenda's feints or traps. Instead, she shoots Frenda in the ear.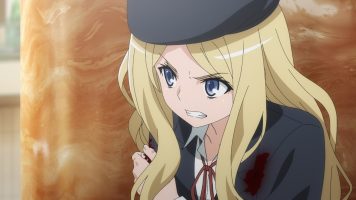 Yumiya is about to go for the kill shot when she sees the two classmates who'd invited her out. As such, Yumiya freezes and lets them pass. Frenda is about to suggest to Saten that they split up. However, Saten makes the suggestion first. Since Saten insists, Frenda decides to use Saten as a decoy and sends her back along their previous track in the mall. Yumiya sees Saten and realizes she's a decoy to allow Frenda to escape. However, Yumiya then notices that Saten is carrying a load of doll bombs. She goes to take cover, allowing Frenda to attack.
The two young teen girls use their abilities to attack each other. Yumiya gets the advantage of Frenda until Frenda remote detonates bombs everywhere. The dust and lack of oxygen temporarily has Yumiya at a disadvantage. Frenda uses the moment to stuff miniature bombs in Yumiya's mouth. She kicks Yumiya out the window and detonates the bombs along with more doll bombs.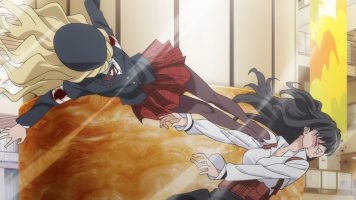 Later, SCHOOL leader KAKINE Teitoku, the number 2 Level 5, thanks Yumiya, who now has a metal mask and voice box. He refuses her request to go after Frenda and she storms off. As such, he tells a girl in a dress that they may need another sniper.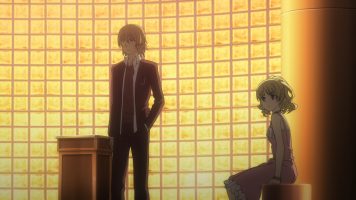 Thoughts/Review
Someone reminded me that I had promised to return to the world of Railgun and finish the Railgun T anime series. As such, I finally forced myself to watch A Certain Scientific Railgun T 20.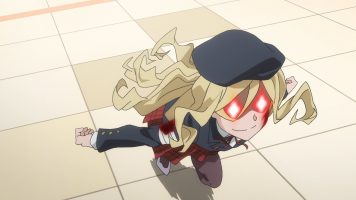 Changes to the Source Material
I had to seriously dust off volume 12 of the manga for this. 😅 That aside, chapters 82 and 83 were covered by A Certain Scientific Railgun T 20.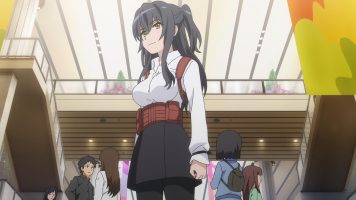 Pretty much, this episode was spot on accurate to the source manga. There was one change to the source material of any significance. In the manga, the two shoppers who saw the fat guy with the golf bad lose his pants were just random girls. In this anime episode, they were cameos by Komoe-sensei and Himegami from the Index part of the franchise.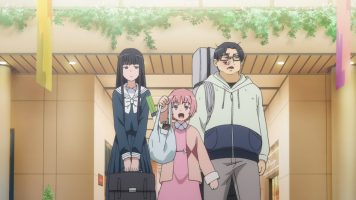 Frenda
It is strange to think that in the Railgun S series, Frenda was one of many opponents for Mikoto to overcome. In getting back up to speed on things, it was weird seeing her friendship with Saten develop in the previous episode. Yet here in A Certain Scientific Railgun T 20, she is again a friend to Saten, doing the right thing even though she knows she shouldn't.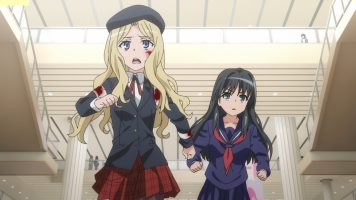 Despite having disliked her so much in the previous series, I felt sorry for Frenda as someone being hunted. Of course this feeling is aided by the fact that Frenda previously saved Saten from a kidnapping. Granted, Frenda was able to pull out a win, but man.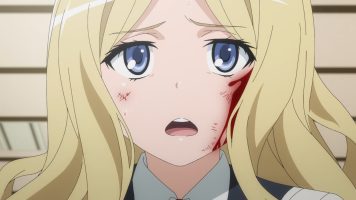 I have the feeling that the reason Frenda didn't show up for dinner with Saten was because Frenda was dead. I don't know why I think that, but someone may have stated it as such. The thing about the Railgun series is that while it does intersect with the Index series, Railgun isn't going to follow up on events that don't intersect. As such, I doubt we see Frenda in this manga again.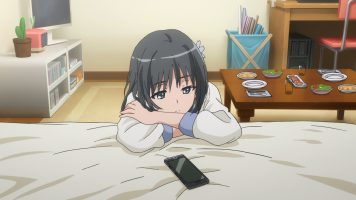 The Hideousness of the World
I think one of the reasons I may have been reluctant to get back  into the world of Railgun, whether anime or manga, is how depressing this hideous world is. Frenda has to be 13-14 tops, yet she's forced to be a soldier for ITEM. After seeing her as a normal teen in the previous episode, A Certain Scientific Railgun T 20 shows her both as prey and as the huntress. And if she is dead, that makes things more depressing.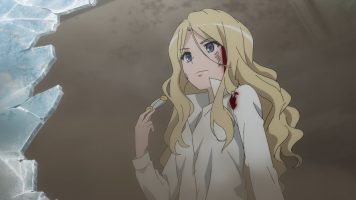 Then there's Yumiya. Under normal conditions, she's 14-15 years old and just wants to have friends. In that light, it is already depressing that she's so alone. And yet when it comes to being a master assassin for SCHOOL, she's freaking insane. Despite her sadistic nature as she attempted to kill Frenda, I felt sorry for Yumiya when Frenda stuffed her mouth with mini bombs, then shoved her out a window with a pile more bombs raining down on her.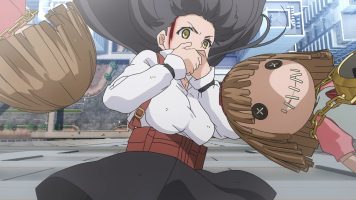 I don't know how Yumiya survived, but she was horribly injured. I guess she can be healed so she doesn't have to use that metal mask and voice box. But it seemed clear to me that she's disposable as SCHOOL plans for Yumiya's replacement. That depressed me as did Yumiya's mental instability, by which she interpreted Frenda's actions as a sign of wanting to be friends. Yumiya still wants to kill Frenda, and maybe she does eventually. Who knows. I just know that all of this depresses me to no end, even if the story was good.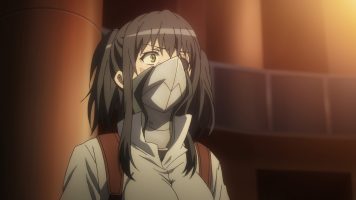 Final Thoughts and Conclusion
In the end, A Certain Scientific Railgun T 20 was an accurate adaptation of the source manga chapters. While the story was quite good and gripping, it depressed me to no end as I felt sorry for both Frenda and Yumiya.