Spy×Family 08
SPOILER Summary/Synopsis
At school, Anya gets a math fractions question horribly wrong. At Yor's official job, the Secret Police arrest a manager for selling secrets. The office ladies discuss things, including the fact that Yor hasn't told her little brother Yuri about her marriage. Meanwhile, at the Secret Police HQ, they have roughed up the manager something fierce. The interrogator turns things over to Yuri, who has kept Yor in the dark about his real job.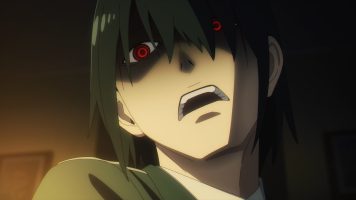 At the Forger residence, Anya watches her spy anime intently. Twilight wishes she'd study that hard. However, he is impressed when she's able to relate something on screen to math fractions she's had trouble with. Yor rushes home with the news that her brother Yuri is coming by that evening. Anya wants to meet her uncle, but falls asleep and is put to bed.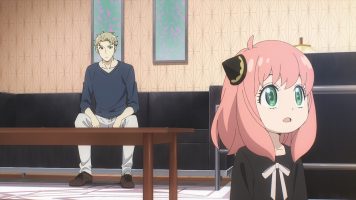 Meanwhile, Yuri arrives at the Forger residence with a massive bouquet of roses. Even though Yuri is unhappy with the situation, he puts on a happy face. Yuri and Twilight size each other up. As Twilight prepares snacks, Yuri demands Yor tell him why she neglected to mention she'd been married for a year. Twilight is stunned when Yor says she forgot to tell Yuri, and Yuri accepts this.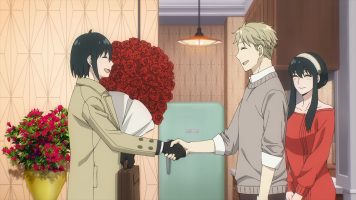 Yuri starts guzzling the wine. As he and Twilight talk, Twilight realizes Yuri is giving him stock, somewhat out of date answers, usually given by the Ostanian Intelligence Agency. While this makes Yuri an enemy of Twilight's organization, it also makes Yuri a source of information. Yuri finally demands proof of a loving marriage, so Twilight goes in to kiss Yor.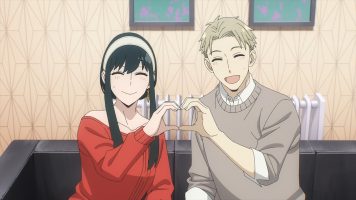 Thoughts/Review
It is time for part one of a two part episode in Spy×Family 08. And as usual, it was a dandy.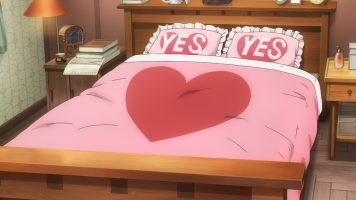 The Little Brother
Yor's little brother Yuri shows up for real in Spy×Family 08. As expected, Yuri has a secret job he keeps from Yor. It makes sense, seeing as how Yor has a secret assassin job, Twilight is a secret spy, and Anya is a secret telepath. The interesting twist is that Yuri's job at the Secret Police puts him at direct odds with Twilight and his organization (WISE). Funny thing is, even though Yuri knows of Twilight, he didn't recognize Twilight.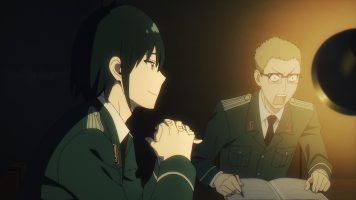 Unfortunately, we get the cliched, somewhat cringe moment when Yuri demands Yor and Twilight show affection by snogging. This is a common trope in anime and manga. I think the first time I encountered it was the Love Hina anime. It amused me then, but after seeing it as many times as I have over the years, it feels cringe to me now. And it is worse here, since Yor and Yuri are adults, not kids.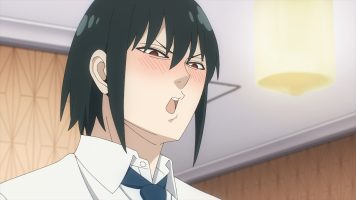 I was disappointed that Anya didn't get to meet Yuri. However, after watching the episode a second time, I realized Anya would have stolen the show by constantly reacting to Yuri's thoughts. Still, Anya has to meet Yuri sometime, right?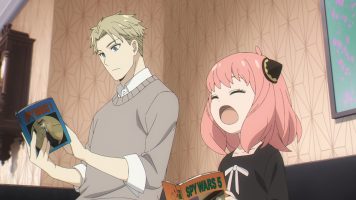 Finally, the flashbacks to Yor raising Yuri made me laugh. Even at a young age, Yor was out slaughtering people for money. But what made it funny is how she'd be covered in her victim's blood, but she's blow it off and Yuri would just accept things. Funny stuff.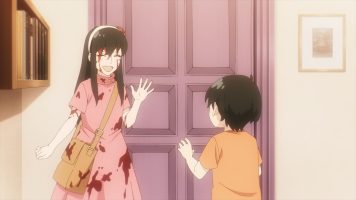 Final Thoughts and Conclusion
Let me wrap up my review of Spy×Family 08 with some final thoughts.
I admit, I did laugh when I saw Anya's face after the got the fraction question wrong in her math class. I do hope she gets better at school.
Interesting that Twilight saw Yuri as a threat to his family, not his mission. Granted, his family is part of his mission, but I like to believe Twilight is getting used to the notion of having a proper family.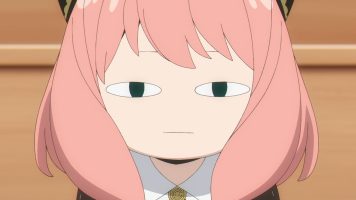 In the end, Spy×Family 08 was a lot of fun, even if light on the Anya elements. It will be interesting to see how things play out since Yuri and Twilight are mortal enemies, even if Yuri doesn't recognize Twilight.