Spy×Family 09
SPOILER Summary/Synopsis
Yuri demands to see Loid (Twilight) and Yor kiss to prove their marriage isn't a sham. Twilight moves in, but Yor decides she can't do this without a large helping of wine. She flings a fork at Yuri when he protests her moving in on Twilight. He recalls being a kid and vowing to marry his sister. As such, he moves in to stop her just as she's having second thoughts and goes to slap Twilight. Yuri takes the slap and if flung across the room.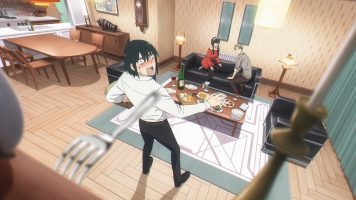 Yuri takes this as a rebuke and "allows" Twilight to take his sister's lips. This results in another slap from Yor, sending him flying again. Twilight calms things down by praising the siblings. Yuri retreats in defeat, vowing to harm (execute) Twilight if he makes Yor cry.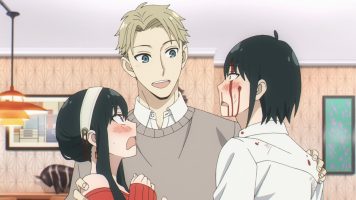 The next day, Anya reads Twilight's thoughts about Yuri and is excited to learn he's part of the Secret Police. However, she senses the tension between Yor and Twilight, but verbally blames the terrible breakfast Yor made. Twilight plants a listening device on Yor. Anya asks that they get along.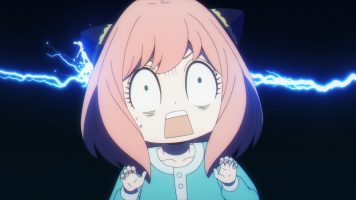 At work, Yuri is admonished for being too close to his sister. Twilight enlists Franky to impersonate members of the Secret Police. They intercept Yor and grill her in an ally. Twilight becomes convinced Yor knows nothing of Yuri's actual job. That evening, he intercepts Yor on the way home. They discuss things and come to a happy understanding. At home, Anya senses that there's no longer a gap between her foster parents and is happy.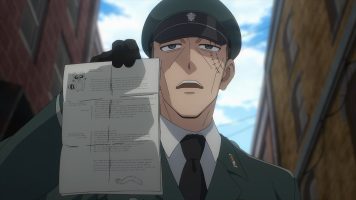 Thoughts/Review
There was a lot of slapstick humor in Spy×Family 09, but also an interesting look at relationships in general.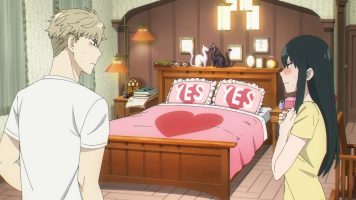 Blind Stupidity…in a Funny Way
There's a whole lot of the cliched "PROVE YOU ARE IN LOVE!" stuff going on in Spy×Family 09. As a result, there's a whole lot of the cliched, "I CAN'T DO IT!" reaction stuff. However, in this case, instead of the lead male getting a beating simply because the girl can't go through with it, the girl's brother gets the beating…twice. 🤣Further, she uses a fork in an expert way as a ranged weapon that could have killed Yuri. So for comedic purposes, I laughed at Yuri getting beaten and literally knocked across the room.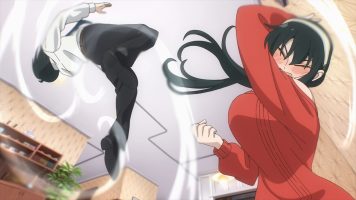 Still, this episode goes into another cliche about hidden lives. Granted, that has been a theme throughout, but with Yuri being part of the Secret Police who are hunting Twilight (not sure why they don't have a picture of him), it took a new level. Yor doesn't know Yuri is in the Secret Police. And to be fair, there's no reason for her to know. But why wouldn't Yuri be aware of Yor as an assassin? Secret Police know a great deal, but here, they are stupidly blind to Yor and Twilight.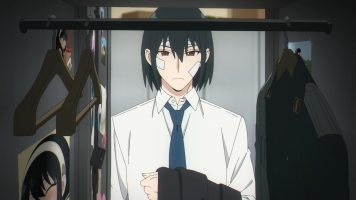 Speaking of Twilight, he's clever enough to figure out Yuri is a member of the Secret Police. However, he (and subsequently his spy organization) are stupidly blind to the painfully obvious when it comes to Yor. Twilight has repeatedly witnessed Yor doing amazing things that a normal civilian couldn't. Just in this episode, he saw Yor precisely fling a fork that nicks Yuri and embeds itself into the wall. He sees Yor knock Yuri across the room twice. And later, he witnesses her expertly take down Franky. Despite this, he never questions whether she might be an assassin or the like.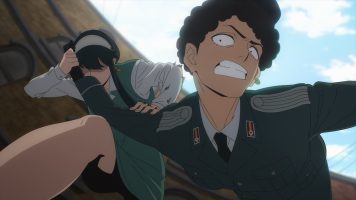 Final Thoughts and Conclusion
As usual, I'm massively behind, so let me wrap up my review of Spy×Family 09 with some final thoughts.
Twilight's conversation with Yor at the end of the episode was interesting. Both of them have secret lives they are hiding from the world. But with this sham marriage, both of them are now putting on an additional layer to protect themselves. I imagine that does get tiring after a while.
I figure that we won't see Twilight and Yor become a real couple, which is a shame. They are already a couple in nearly every sense except sexual.
Not much Anya in the show. Makes sense seeing this was a Twilight and Yor episode. Still, it was amusing to see her read Twilight's mind and learn the truth about Yuri. Further, her ability to read the shifting emotions of Yor and Twilight only cause Twilight to find her to be very observant.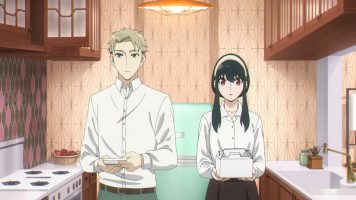 In the end, Spy×Family 09 is another very enjoyable episode, even if Anya isn't around much.