Tonikaku Cawaii Chapter 189
Tonikaku Kawaii Fly Me to the Moon 189
トニカクカワイイ 189
Spoiler Summary/Synopsis:
Nasa informs Tsukasa and Chitose that he believes Tokiko left them a clue in Kyoumaru Mansion. Chitose suggests splitting up to find this clue, but Nasa says he thinks he already knows what it is. He references an active clock on the wall. Since the house had been abandoned for years, the clock should still be working. Nasa believes Kaguya noticed the clock as well. He thinks Tokiko's name (time + child in kanji) also points to the clock.
Nasa takes the clock off the wall. On the back side is a taped note from Tokiko. Nasa suspects that the brief note may have something to do with the pendant she gave him, containing the 5D data crystal. However, he also believes that Tokiko is warning him that making Tsukasa's wish come true is nigh on impossible.
Charlotte shows up and assures Tsukasa that the stuff selected to save will be brought home. She asks if Tsukasa is sure about everything regarding Kyoumaru Mansion. Tsukasa is sure. Nasa suggests taking a photo before they leave. Tsukasa agrees, as does Charlotte. Nasa then suggests the living room, but changes his mind when Tsukasa mentions all of the ghosts that might appear. Instead, she suggests the engawa were she often sat over the centuries. Charlotte snaps the picture of Nasa, Tsukasa, and Chitose.
Thoughts/Review:
We get a somewhat poignant chapter with Tonikaku Cawaii Chapter 189.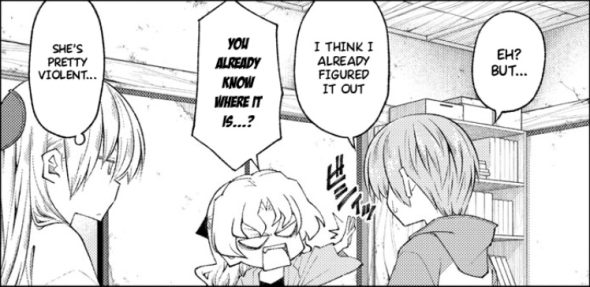 The Clock Clue
In some ways, Tonikaku Cawaii Chapter 189 felt like Hata-sensei spinning his wheels, reluctant to leave Kyoumaru Mansion. At the end of the previous chapter, we were left with an indication that Nasa found something. However, in this chapter, it takes four pages before Nasa actually finds what he's looking for (not counting the splash page). Then it takes another five pages to reveal the note from Tokiko.
I don't know what Tokiko's clue means. "The answer is in the heart of time" is pretty cryptic. So maybe the pendent goes into the heart of some machine for some reason. Maybe to read the data on the 5D crystal. I guess we'll find out more later.
Final Thoughts and Conclusion
As normal, I'm behind. So let me wrap up my review with some final thoughts.
Charlotte normally comes off as the cheerful, airhead maid. However in this chapter, she is rather poignant about leaving anything behind at Kyoumaru Mansion. I liked seeing this side of her character.
Tsukasa made me chuckle with her ghost remark. I wonder just how many folks she's sheltered at the house over the centuries.
In the end, Tonikaku Cawaii Chapter 189 conveyed an interesting plot point, but took an insane amount of pages to do it. And thus Tsukasa's former residence will soon be no more.