Lupin the 3rd: Part 1 16
ルパン三世
Lupin III Episode 16
SPOILER Summary/Synopsis
Jigen and Lupin confirm a tip on diamond smuggling by the Beaver gang. However, Lupin passes on stealing the load as there are too many armed, gang members. Fujiko comes to pick them up in a white, Fiat 500. She's unhappy that Lupin didn't steal the diamonds and goads him into stealing them from the Beaver's jewelry store. Fujiko poses as a wealthy customer while Lupin and Jigen pose as septic/blocked toilet folks, complete with a truck.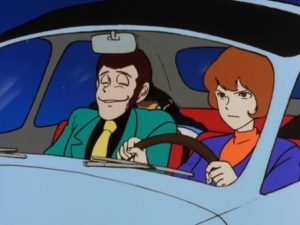 Beaver attempts to get the guys thrown out, but they spill a glue-like substance on the floor. Lupin opens the safes in the back and uses the septic truck's vacuum to suck up the diamonds and other gems. Lupin is going to leave, but Fujiko goads him into stealing every gem and piece of jewelry in the joint. As such, folks report the robbery and Zenigata is on the case.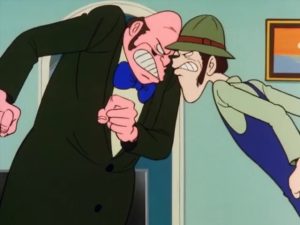 Lupin and Jigen flee, pursued by Zenigata. They abandon the septic truck, which has the Fiat 500 inside. However, before they can drive the car home, both front tires spring a flat, thanks to nails in the road. A tow truck pulls up, but it is Fujiko, disguised as a man. She makes off with the gems, so Lupin puts Beaver onto Fujiko's new sea plane. Beaver and a henchman use a modified prop plane to shoot down Fujiko. Lupin and Jigen are ready and take the gems from her.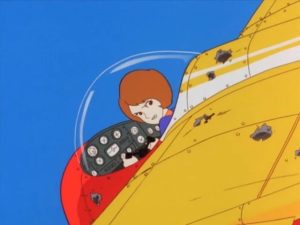 However, Fujiko prevents the guys from escaping, leading to a standoff with Beaver's men. Zenigata arrives with armored police trucks. They take Beaver's men into custody. Zenigata goes after Lupin, who makes an impossible escape with Fujiko and Jigen. However, they lose the diamonds in the process.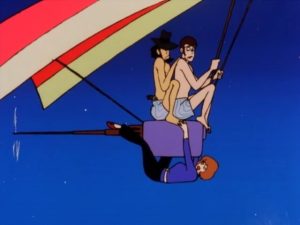 Thoughts/Review
Lupin the 3rd: Part 1 16 is kind of average fare as far as stories go. Initially, he plays things smart and Jigen is the one acting stupid over the diamonds. The odds were not in their favor to steal the smuggled diamonds on the beach.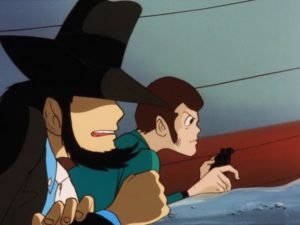 However, Lupin gets plain stupid when Fujiko goads him into a new plan to steal the diamonds from the jewelry story. Even here, Lupin plays things smart, as he normally does. But then he lets Fujiko goad him into getting greedy, thus leading to Zenigata getting on their tail. And of course, Fujiko was always going to double cross Lupin and try to take the diamonds and other gems for herself.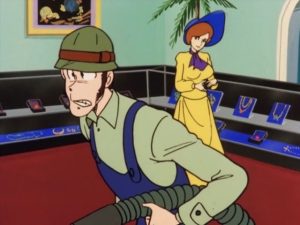 There's a lot of silliness in the episode. Most of it is small, save for the cabin on the cliff. Under realistic conditions, said cabin would be build on the ground. But for reasons of "plot", this cabin is built on stilts so that it hangs over the cliff. That way later, Lupin can anchor two ropes and zipline the cabin partway across a valley.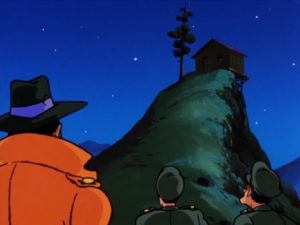 Then in further cartoon fashion, the cabin is destroyed, but Lupin and company walk the rest of the rope and over Zenigata to escape. There's Lupin physics, and then there's cartoon rubbish. In a Bugs Bunny cartoon or some slapstick comedy, I'm cool with this kind of silliness. But here, its just, "meh", more so because Lupin is stupid to let Fujiko goad him.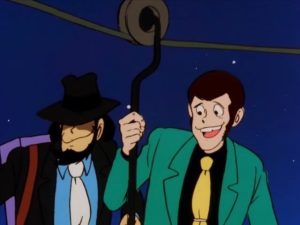 Final Thoughts and Conclusion
In the end, Lupin the 3rd: Part 1 16 is a pretty forgettable episode in terms of story. There's a lot of silly, cartoon things that happen, and Lupin gets stupid because of Fujiko. But its not the worst thing I've ever seen either.