Lupin the 3rd: Part 1 18
ルパン三世
Lupin III Episode 18
SPOILER Summary/Synopsis
Lupin and Jigen are at the airport, noting the arrival of the contestants of the Miss Global beauty contest. Lupin points out the main promoter, named Smith, is a former art thief. Further, the judges are art collectors. Lupin arranges for Jigen, Fujiko, and himself to be part of a TV crew, covering the event. Lupin hopes that their cameras can help uncover what is really going on. And to help, Lupin has sent Smith a letter, announcing his intention to steal beauties.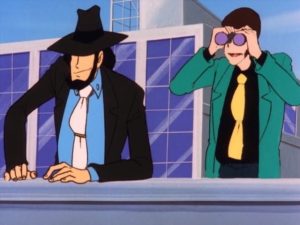 Smith has Zenigata come in to attempt to nab Lupin, which is what Lupin wanted. In order to create chaos, Lupin has Goemon literally drop in on the contest, cutting everything in his path. Lupin follows with a camera. Goemon escapes Zenigata and the game meet up in the TV production truck to look at the tape. Goemon brings proof that Smith is selling stolen art. Lupin realizes the art is in the model's clothing boxes.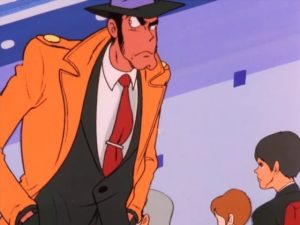 Smith arranges for the finals and photo shoot to be held on an island. Lupin gets permission for he and his camera crew to do interviews. A disguised Goemon lures Zenigata away. Lupin hijacks the boat with the models, allowing Jigen and him to disguise themselves as boat's crew. They deliver the boxes, and Smith starts collecting the cash for the art the collectors have purchased.
Meanwhile, Zenigata returns. He questions why Smith and the others have massive piles of cash. One of the boxes open, revealing a bound, beauty contestant. Zenigata arrests them all on human trafficking charges. Lupin and gang pull up in Zenigata's boat and reveal a sail made from stolen paintings. Zenigata is foiled, but has his consolation prizes.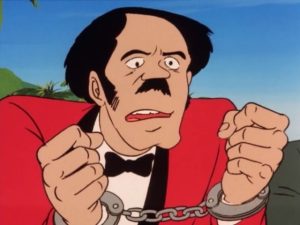 Thoughts/Review
We have a more interesting episode in Lupin the 3rd: Part 1 18. I rather enjoyed watching Lupin doing his casing work. Then he sets about with his plan. And it was fun watching him execute things and figure out what was really going on with Smith. Further, it was nice not having Fujiko on the betrayal side. And Goemon had a nice bit to do.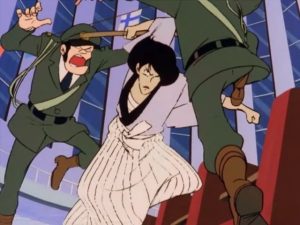 Because Lupin, Jigen and Fujiko were disguised as TV crew members, I couldn't help but think of Lupin III: Castle of Cagliostro. Of course in that movie, they didn't follow the action with a giant, TV studio camera from the 1970s, as they did with this episode. That aside, seeing and hearing Lupin's fast commentary reminded me of how he hammed it up in the movie.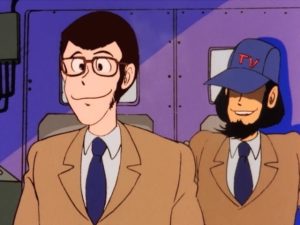 Final Thoughts and Conclusion
In the end, Lupin the 3rd: Part 1 18 is a fun caper episode with all hands on deck. And elements from this episode were reused in a new way for the Castle of Cagliostro movie.