Spy×Family 13
SPOILER Summary/Synopsis
Anya is excited as Twilight is going to reward her Stella achievement with the purchase of a dog. However, the first pet shop they enter, run by Twilight's agency, only has scary dogs. Twilight and Yor take Anya to a dog adoption event. Anya loves all of the small, cute dogs. However, Twilight gets a signal for a mission. He makes the excuse of an upset stomach. Anya tries to cover for him by saying it will take Twilight a long time to finish his bathroom business.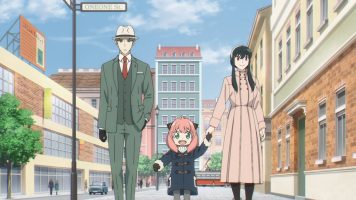 Twilight disguises himself as a known terrorist named Keith to get a captured guy to reveal all he knows of a terrorist plot. Keith plans to use dogs with bombs attached to kill a visiting government official, thus starting a new war. Meanwhile, Anya spots one of the dogs and sees herself and her adoptive parents in the dog's mind. She sneaks away to find the dog, only to be captured by the terrorists.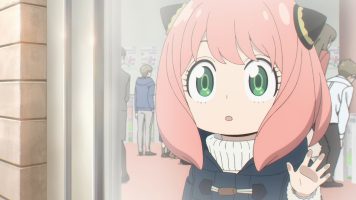 The dog helps Anya escape, but goes in circles around the block. As such, Anya is recaptured. Keith orders her death since she can ID the terrorists. However, Yor has found them and with her usual style, takes Anya back.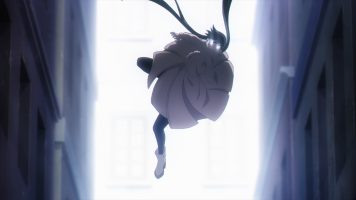 Thoughts/Review
Man, I'm so glad that Spy×Family is back in anime form. I'm not so happy with Crunchyroll's subtitles for Spy×Family 13.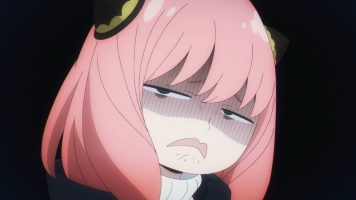 A New Story Arc
Manga chapters 18 and 19 were used to adapt Spy×Family 13. The adaptation was pretty spot on (a bit of acceptable padding here and there) and very enjoyable. I love the manga, but there's just something about seeing a properly, animated adaptation that is such a joy to watch.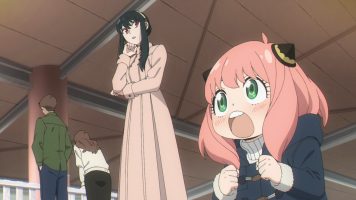 Gushing aside, this is where we start the new story arc to introduce the dog Bond to the series. It is easy to understand why Anya would form a bond with the dog. Like her, the dog has a supernatural ability. Second, the dog is shown that he will protect her, though he was a little stupid in his escape route. 😅 I look forward to seeing more of the Anya and Bond stuff in future episodes.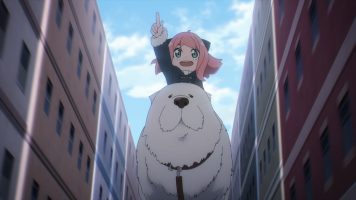 As to Twilight, the stuff he does is pretty standard fare. It wasn't boring or anything. However, his part of the story only serves to help push the plot forward, and it does that well. Its just lacks pzazz.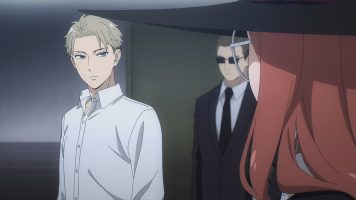 On the other hand, I never get tired of seeing Yor go full Mama Bear! She may have mistaken the terrorists for human traffickers, but who cares. Yor saved Anya as only she can. I loved the look on Anya's face when Yor rescued her. Priceless.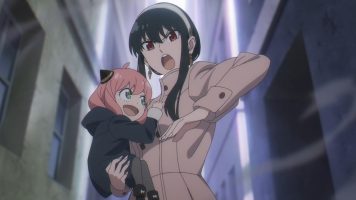 Crunchyroll Rubbish
Due to the numerous work projects going down this weekend, I didn't get to watch Spy×Family 13 until late at night. But I did have my Twitter feed up and saw someone post this screenshot.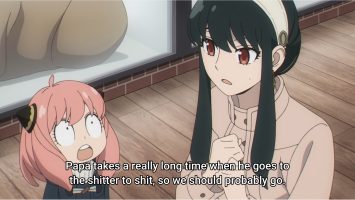 I ended up checking into this and confirmed that this was indeed an official Crunchyroll line. Anya didn't say "shitter" or "shit" in the Japanese. It is clear to me that the translator/adapter thought it would be funny to may Anya use profanities rather than just say "crap". And considering the thousands of likes and positive responses, the translator got the clapping and barking accolades from the seals.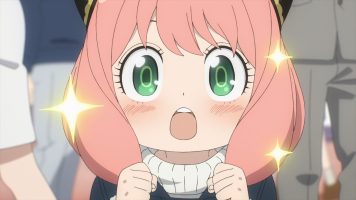 Remember when fansub groups who did this kind of thing were called unprofessional? And this kind of rubbish in subtitles was used as proof of why fansubs sucked? Now we have this rubbish in official subtitles. Good times!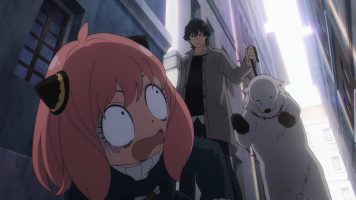 One thing I learned from this is that each streaming service airing Spy×Family has their own unique subtitled translations. Now that I think about it, this makes sense. No one streaming service has exclusivity, and they'd all need to get their own translator. Someone shared some other subtitles of Anya's line. The other subtitles reportedly come from Netflix, Muse, and Bilibili. I think that is bottom up, but if you have a Netflix account, you can tell me which one is theirs.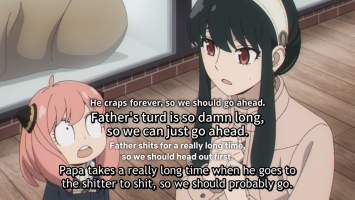 Final Thoughts and Conclusion
In the end, Spy×Family 13 was a great episode, accurately adapted from the source manga. My only issue was with Crunchyroll deciding to insert profanity into the subtitles.