SPY×FAMILY Volume 07 Manga Review
スパイファミリー
–> Buy SPY×FAMILY Volume 07 from Amazon.com!
I had planned to write a review for SPY×FAMILY Volume 07 earlier. Then I realized that I still hadn't read it. 😅 But now that the second season of the anime is out, I carved out some time to finally read this volume.
* * * S P O I L E R S ! * * *
The Story, in Brief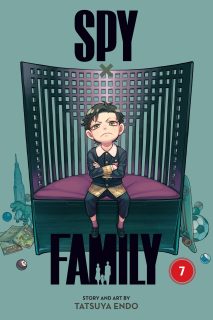 Twilight manages to have a discussion with his target, Donovan Desmond. This allowed Damian to actually open up to his father. Later, Damian oversleeps in the dorm and gets punishment duty. His friends Emile and Ewen decide to get punished too. After dorm duties, the trio are sent on a survival trip, where they are taught to fish and the value of self sufficiency.
Bond learns that Yor will be making his meal. As such, the dog escapes to find and assist Twilight so that Twilight will make his food. Elsewhere, Yuri is assigned a case about a subversive writer. Yuri learns the writer is doing this to try to support his poor family.
At Eden, Anya learns that she might be separated from Becky if she doesn't do well on the tests. A rumor spreads about a rare dessert that can improve one's intelligence. George secures the last one, so the group has a game of Old Maid to divide the spoils. Meanwhile, Franky ends up working with Yor to find a missing cat for a woman Franky fancies. Yor gets the cat, but Franky learns the girl has a boyfriend/husband.
Yor gets summoned to meet the boss of her assassin organization. He assigns her the task of secretly guarding a widowed mafia boss's wife and child. As such, she will have to take a cruise ship to get the two to safety. At the same time, Anya wins the grand prize for a trip on the same ship at the same time.
Plot Advance
We finally got to see the main plot advance in SPY×FAMILY Volume 07. I get that Anya's attempts to get Stella awards and befriend Damian are part of the plot of this series. However, the main goal has always been for Twilight to get close to Damian's father, Donovan. As such, I was happy to see Twilight finally make that contact.
Still, on the secondary front, Anya is getting closer to Damian in a weird sort of way. Anya is a master of card games when using her telepathy. But when she purposefully makes a mistake and takes the joker card to throw the others off, we get the cliched moment of her giving away the store with her expressions. That aside, she did get Damian to take pity on her so she'd win.
Side Stories
There were a lot of side stories told in SPY×FAMILY Volume 07. Bond's story was humorous in that he didn't want Yor's food. His imagined scenarios were amusing.
We also got a side story with Damian and his two friends. I liked this because it does help flesh Damian out as a character. We already know how desperate he is for his father's approval. Now we see how honorable he is. He may be a rich brat on the surface, but underneath, he's a kid looking to do the best he can and win favor from his father.
Franky also scored a side story. I liked that he got paired with Yor. While the chapter involving getting the cat was amusing, I didn't care for the cliched ending. Franky is the designated loser of this series, so naturally, he won't get the girl.
Finally, Yuri scored a side story as well. As with Damian, Endo-sensei used the chapter to provide more character development for Yuri. He is very gung-ho about his job and protecting the regime. But when he learned the full truth about the subversive writer, he still did his duty to arrest the man. But Yuri didn't make a spectacle of it. Further, Yuri arranged to have the government take care of the man's family. He didn't have to do that, and it makes Yuri more human.
Yor's Story
I've long wanted to see a chapter or so dedicated to Yor's assassin job. Boy did we get that in SPY×FAMILY Volume 07. Actually, we only got the start of it. Nevertheless, this looks to be the start of something interesting. We got to meet the head of Yor's organization. And we learned that Yor's boss at the city is also tied to the assassination organization.
Endo-sensei did the convenient thing by having Anya win tickets for herself and Twilight on the same cruise ship. I did get a laugh at Anya using her telepathy to defeat the guy running the contest, who was cheating. Then there was the hilarious moment when Angel Anya caved to Devil Anya so that all three where expressing their deep desire to go on the ship despite the danger. Also, I couldn't help but smile at how excited Anya was to see the ship.
What will be interesting is that Yor has to be a bodyguard rather than an assassin. And she will have to do it while maintaining her cover for Twilight. (Anya doesn't count 'cause Anya knows.) I doubt Endo-sensei using the ship story to cause Twilight to learn about Yor or vice versa. I suspect Anya will try to get involved in some way without Yor or Twilight knowing.
Omake
As to the omake stuff in SPY×FAMILY Volume 07, we get a short chapter about Handler (Sylvia) meeting clandestinely with Twilight. We get a one-page tie-in showing Anya sleeping in as compared to what Damian did the one time. There's a page talking character designs for three characters. In addition, there's an alternate cover art, only with Anya in the chair, imitating how Damian looks on the actual cover.
The note from Endo-ensei was just a few words. 😅
Final Thoughts and Conclusion
In the end, SPY×FAMILY Volume 07 is another great entry in the series. There were a lot of fun, interesting side stories. Twilight got to meet his target. And Yor is going to get some serious love as we see the start of the new story arc, featuring her.