うる星やつら episode 02 (2002)
Urusei Yatsura 02 (2022) review
SPOILER Summary/Synopsis:
Lum is all over Ataru while he's in class, wanting to make out. After giving him a big kiss, Shinobu goes nuts and buries Ataru under a pile of desks. That evening at home, Lum attempts to apologize, but electrocutes him in her exuberance. Ataru runs away, but finds his disguise is already known, thanks to a TV program. He flees a ramen restaurant, only to run into a woman on the street.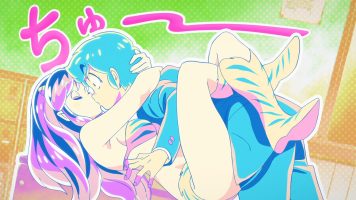 The woman complains of chest pains, doesn't enjoy Ataru coming onto her, but at the same time, seems to lust for him. The woman takes him to her home to exorcise Ataru's bad luck. There, Ataru discovers the woman's name is Sakura, and her mother resembles Cherry. Sakura starts the exorcism, but her troubles increase. Then, a hoard of youkai emerge, surrounding Ataru. Suddenly, Sakura is cured and has to dispatch the youkai.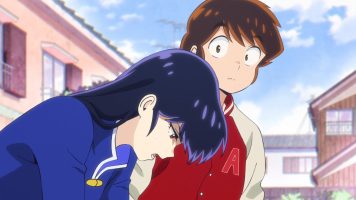 After Ataru gets out of hospital, he goes to Cherry to complain about how Lum constantly electrocutes him. Later, one of Ataru's friends (Megane, unnamed) visits him at home with a present from Cherry. It is a ribbon that will take away Lum's Oni powers. Ataru gives it to a happy Lum. However, when Lum goes to show off the ribbon, she falls out of Ataru's window, powerless.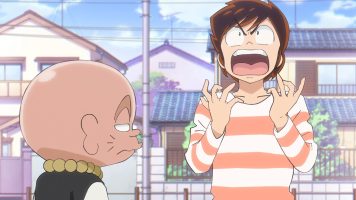 Lum attempts to try shocking a guy (Chibi), but fails. Ataru and Megane observe then and take Lum's side. Shinobu shows up, so Lum decides to score points on her. When Ataru stops Shinobu from taking Lum's ribbon, Shinobu beats Ataru and leaves. That evening, Ataru and Lum are annoyed by Chibi and Megane hanging around.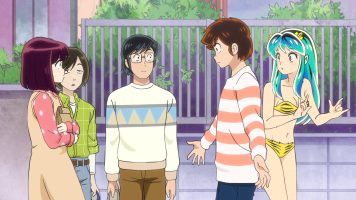 Lum finds out the truth of the ribbon and attacks Ataru. He's forced to remove it and gets electrocuted.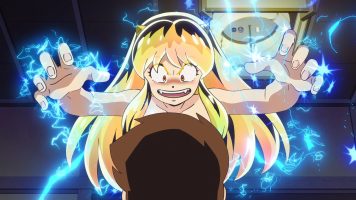 Thoughts/Review:
I gotta say, I enjoyed the 2022 version of Urusei Yatsura 02 way more than I did or part 1 of the OG episode 5, and part 1 of the OG episode 7.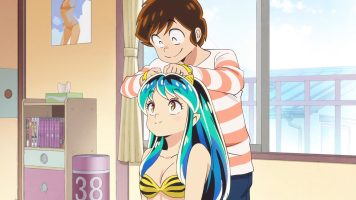 Enter Sakura
You know, I laughed pretty hard early in Urusei Yatsura 02, when Ataru ran away and holed up in a ramen shop. He did that in the OG episode 5, but there, it was a very cliched, cartoony experience. In the 2022 version, everything is mostly grounded in reality, sans Ataru's pratfall, but even there, it wasn't as cliched as before.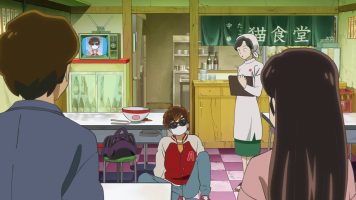 That aside, Ataru meets Sakura immediately after this. There's no mob chasing Ataru. Ataru isn't forced to carry Sakura. The two don't end up in the woods, followed by a long trip up stairs to a shrine. Instead, Ataru assists Sakura as she walks home. Her home is more traditional, in a residential neighborhood. And while Sakura retained her miko powers in the current version, again, she felt more real as a character.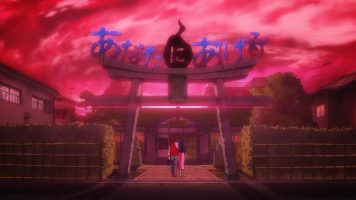 In the OG anime story, things end with the gag of Ataru swarmed with youkai. However, in the 2022 version, Sakura sends all the youkai packing, only to have the Grim Reaper show up and put Ataru in the hospital. I laughed so hard at that as it was unexpected.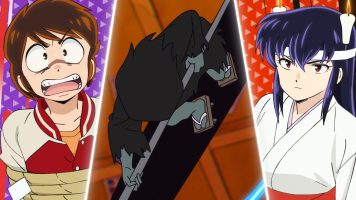 One other note — in the OG anime, Sakura addresses Cherry as "Cherry-ojisan". Here, she addresses him as Ojiue, which is much more formal.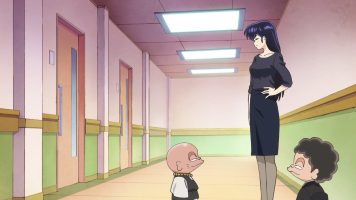 Ataru's Gift to Lum
The second story in Urusei Yatsura 02 was adapted in the first part of the OG anime episode 7. While the story is the same, the telling of it is so vastly different. For a start, Lum doesn't go to an empty lot to be depressed. Instead, she seeks comfort from Ataru when he shows up on the street. Thus when Shinobu finds them, it makes more sense. She's on the way to Ataru's house with baked goods for him, only to find Lum.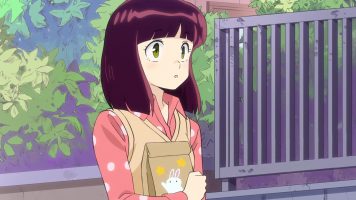 Next was Ataru defending Lum from Shinobu attacking her. The moment is in the OG episode, but here, it carries much more impact. From Lum's perspective, this is the second nice thing Ataru has done for her that day. She has no clue that the ribbon Ataru gave her is stopping her powers. One one hand it is sad, but on the other, I did like seeing Lum happy.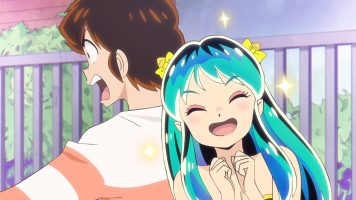 The ending of the 2022 episode is another massive change that tells the same thing. Lum feels much more aggressive about getting rid of Megane and Chibi. She even throws volume 3 of Maison Ikkoku at them, which made me cheer at the reference.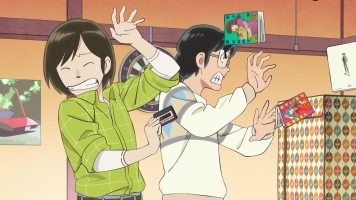 That aside, in the OG anime, Ataru accidentally releases the ribbon. For the 2022 version, he doesn't and Lum resorts to physical violence, beating Ataru up. She forces him to remove the ribbon, which again, felt more real to me. I'm more than happy to go this route!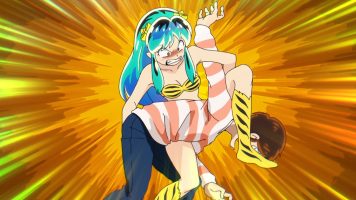 Final Thoughts and Concusion
Let me wrap up my review of Urusei Yatsura 02 with some final thoughts.
Kotatsu Neko makes his cameo debut in this episode.
I'd forgotten that Sakura's mother and Cherry's sister was in this series. I don't remember her much from the OG anime adaptation.
Megane and Chibi are similar yet different in this episode. I'm informed they don't have as much of a presence in the source manga. And to be honest, if they don't have much of a presence in the 2022 anime, I'll be fine with that.
Lum is much more alluring in this episode than she was back in the day. I had an easier time in the OG anime of seeing why Lum annoyed Ataru in the early episodes. Here, were I a teen boy, I don't think I could resist her advances. 😅
NO TEN-CHAN!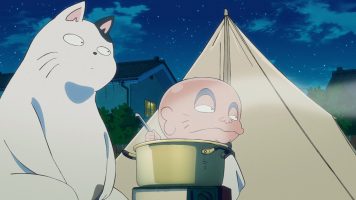 In the end, Urusei Yatsura 02 was a really fun and funny episode that entertained me far, far more than the OG episode's did.