うる星やつら episode 08 (2002)
Urusei Yatsura 08 (2022) review
SPOILER Summary/Synopsis:
Ataru is unhappy when Lum officially transfers to his school and class. At the school's sports festival, Ataru discovers a pink haired girl. He immediately begins hitting on her. Lum electrocutes him. As she drags Ataru away, Lum tells the girl they need to meet behind the gym. The girl tells her friends this is scary, but she'll go just the same. Turns out the girl is Ran, a childhood friend of Lum.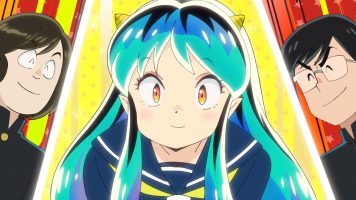 As the two talk, Ran eventually drops the cutesy facade. She wants revenge on Lum as Lum was at one point engaged to a guy named Rei, whom Ran loved. But Rei loved Lum. As such, Ran plans to not only steal Ataru from Lum, but to take his life force as well, using her alien powers. To that end, Lum tries to keep Ataru away. However, even when Ran accidentally kisses some other guy and drains him, Ataru doesn't care. He just wants to make out with Ran.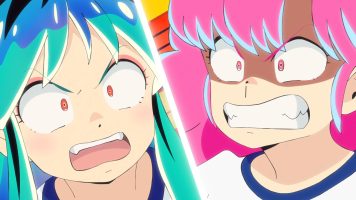 Since Ran failed to snag Ataru at school, she invites Lum and Ataru to her UFO home. Lum is on her guard and avoids eating anything made by Ran. When Lum steps away for a bit, Ran puts Ataru off, puzzling Lum. However, Ran's scheme is to bake a clone of Ataru to send off with Lum, allowing Ran to steal and kill the real thing.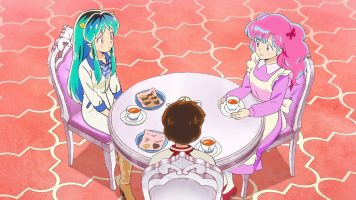 Ataru goes wandering through Ran's place and runs into his clone. His clone has a "tick" over his head, which the real Ataru grabs. Ran sees this and thinks he's the clone. As such, she sends him off with Lum, only to discover her mistake later.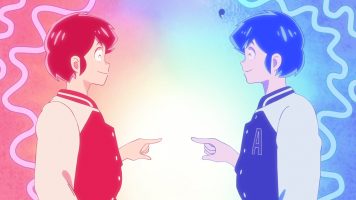 Thoughts/Review:
While I have really enjoyed the 2002 version of Urusei Yatsura, Urusei Yatsura 08 wasn't as good to me. But that may due to the introduction of Ran, whom I never cared for as a character.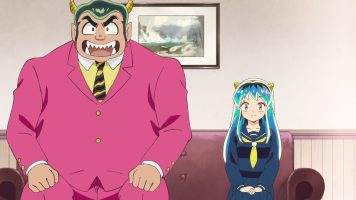 Transfer Students
Lum finally transfers to Ataru's school in Urusei Yatsura 08. I really wish I had access to my OG anime episodes (I will soon) so I could see how things went down there. But as it was, Lum comes to school, then we are immediately in a sports festival. And of course, that's where we get introduced to Ran.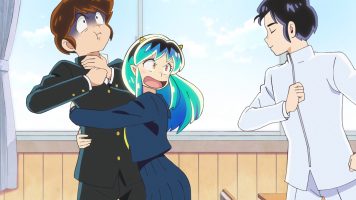 As a character, I find Ran to be annoying. I can't stand her fake, cutesy persona. Sure, this is done to be one one extreme end so that when her rage-filled, true persona emerges, it creates comedy. Alas, I don't remember finding Ran stories very funny as they all tend to be the same thing over and over. Ran does some stupid plan to get revenge on Lum, only to fail utterly. And all the while, she is bipolar to the max.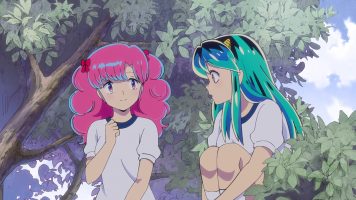 And to make matters worse, Ataru has to go major ga-ga for Ran, even after seeing what she can do to someone. Heck, it would be easier for Ataru to just hang with Lum, despite her clingy nature. But we need the forced comedy of Ataru acting dumb and Ran acting nuts. Oh well.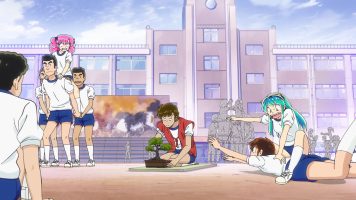 Final Thoughts and Conclusion
Let me wrap up my review of Urusei Yatsura 08 with some final thoughts.
I think this is the first time we've seen the school principle in the series. I'd forgotten about him and his love of ocha, and the frequent visits from Kotatsu-neko.
As much as Lum seems to dislike Shuutarou, I wish she'd fry him.
The official subtitles for this series are trash as far as I'm concerned. I really despise those who decide that leaving Japanese honorifics in subtitles is gauche and lazy. Yet the utter TRASH translator/adapters come up with as substitutions (when they aren't lazily ignoring the honorifics) just drives me spare. Lum says "Ran-chan", adaptation ignores it. Ataru says "Ran-chan", adaptation comes up with a whole slew of rubbish. Ran says "Lum-chan", this becomes Lumy-poo. Piss off!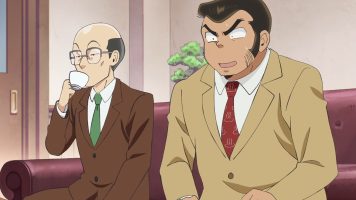 In the end, Urusei Yatsura 08 wasn't that fun or enjoyable to me. But then I don't like Ran as a character, and this was a Ran episode.