うる星やつら episode 11 (2002)
Urusei Yatsura 11 (2022) review
SPOILER Summary/Synopsis:
Ataru catches a floating, scented handkerchief. He tracks its owner to an ox-drawn carriage with bodyguards. Ataru expects a cute girl to thank him, but gets a skeletal entity instead. He and Lum flee to school, where Ataru goes on and on about the youkai he met. Shuutarou finds this nuts, but the more Ataru talks, the more Shuutarou starts to wonder.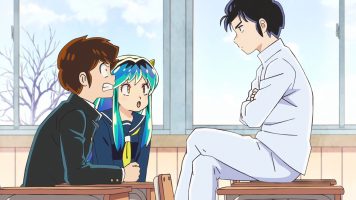 A teen girl in a kimono arrives in the ox-drawn carriage and delivers a bento to Shuutarou.  She identifies herself as his fiance, causing rage among the classroom girls. Ataru starts hitting on her, causing her to reveal she was the girl he met earlier. She then reveals Shuutarou is her oniisama. The bento she delivered was from Monday and it is now Friday. She insists Shuutarou eat the stench-filled, spoiled bento, but he declines.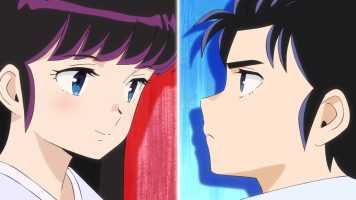 Ataru offers to eat it, but Lum interferes. Ryoko and Lum start arguing while Shuutarou gets angry with Ataru addressing him as "Oniisama". Ryoko has Shuutarou thrown into a locker, where his phobias are revealed. They guys in the class are dismayed when they see the girls find Shuutarou more attractive.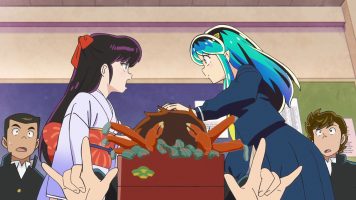 Ryoko decides to have more fun and invites Ataru to the Mendou estate for New Years. Lum, Shinobu, and Sakura-sensei also arrive in kimonos, having been invited. Benten and Oyuki arrive after they learned where Lum had gone. After taking a moving sidewalk to the house, Ryoko greets them. They are shown in, where the invited guests become figurative game pieces for the amusement of Ryoko and her parents.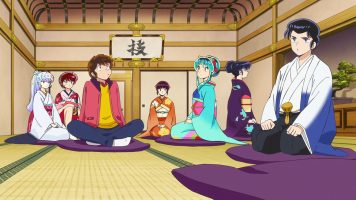 Thoughts/Review:
Interesting that 2022 Urusei Yatsura 11 takes content that was originally done in OG episode 50 (first half), and OG episode 185, which was near the end of the OG run. But it was a pretty fun episode.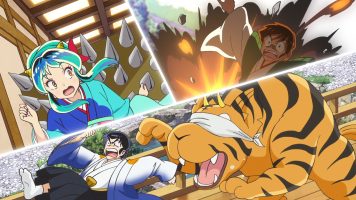 Enter Ryoko
And so we get Shuutarou's little sister's introduction in Urusei Yatsura 11. If you've ever read a manga by Takahashi-sensei, you'll know that Ryoko's sole purpose is to stir the pot. It gives Ataru another babe to fawn over, and in this case, Ryoko provides a foil to Shuutarou. As a character, Ryoko didn't annoy me. But I can't say she did that much for me either. She's just a one dimensional character with one role to play.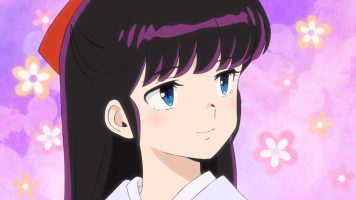 I don't know where the New Year's story falls in the source manga. I presume it was later. It makes sense to move it up. The OG anime simply had Ryoko's first bit of entertainment be Ataru eventually becoming Romeo while she played Juliet, all to tweak Shuutarou. That was just a typical, "Shuutarou tries to prevent Ataru from reaching Ryoko" story.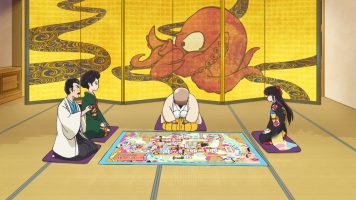 Still, the New Year's party story is somewhat different in the 2022 version. In the OG episode, Shuutarou invites Lum and Shinobu over. Ataru tags along to make sure to get in Shuutarou's way. And the girls don't wear kimonos. Oh…and there's no evil Ten-chan either!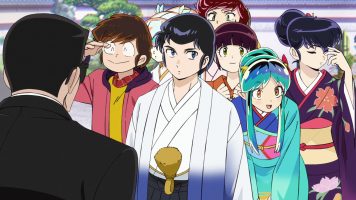 The 2022 version works better as a story where Ryoko is tweaking her brother. That element is still there in the OG episode, but it is more of Ryoko crashing Shuutarou's fun. The inclusion of Benten and Oyuki was nice, if a stretch in the new episode. Oyuki did get the funniest part of the episode. I love how she punished Shuutarou's grandfather for a terrible pun. Sadly, Sentai turned it into a rage-inducing moment.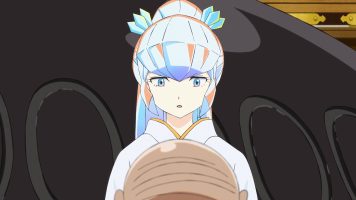 Localization Fail!
I mentioned that Oyuki scored the funniest part of the episode, and that's true. Unfortunately, this is where localization completely and utterly fails. In the fansub community, most groups felt that untranslatable jokes and puns should probably get explained. As such, the translator/adapter might use Mt. Kami (god) for the pun joke setup, then go Mt. Kami (paper) for the payoff. Sure, the most I'll do is smile, but it isn't something stupid.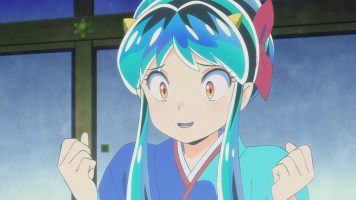 Unfortunately, the Sentai translator/adapter of Urusei Yatsura 11 decided that they MUST make up some unfunny English pun to go along with the Japanese pun. To do this, the traditional Japanese money gift (otoshidama) is rebranded as "Power Ball". That IMMEDIATELY took me out of the scene as there is no Power Ball in Japan. Further, Power Ball tickets don't display how much money you've won. Not only that, most lottery tickets are losers, SO IT MAKES NO SENSE!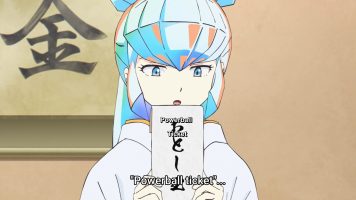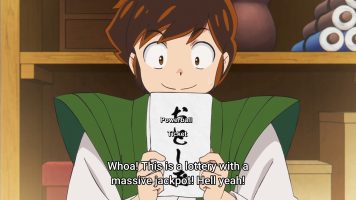 Annoyingly, this was so the translator/adapter could come up with the stupid "powerful ball drop" gag that was so funny, I forgot to laugh. Seriously, adapters should stop trying to invent idiotic, unfunny things to try to match a pun. That's worse than spelling out the joke. I would have rather had "otoshidama (New Year's money gift) than "Power Ball" any day of the history of the universe.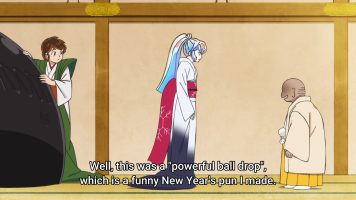 And that's just a start. They are still incorrectly using "oxcart" instead of "ox-drawn carriage". If these are the subs that will be used in their DVD/BD release, Sentai can kiss my oshiri!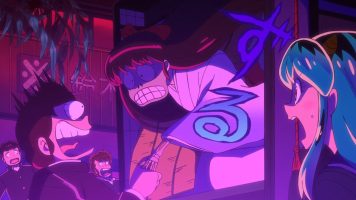 Final Thoughts and Conclusion
In the end, Urusei Yatsura 11 (2022) was a pretty enjoyable episode despite Sentai's trash subtitles.