うる星やつら episode 18 (2002)
Urusei Yatsura 18 (2022) review
SPOILER Summary/Synopsis:
Lum works in her UFO to create a a special lipstick. She puts it on, then goes to Ataru's home. He refuses to let her put it on him. Instead, she accidentally puts it on Ten-chan, forcing her to kiss him. Ataru chastises Lum for her actions and pretends to throw the lipstick outside. Lum and Ten-chan leave to get it, leaving Ataru to plan his kissing targets.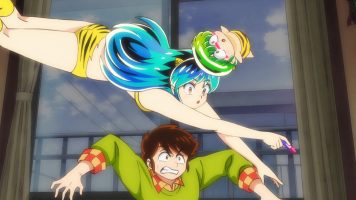 At school, Ataru gives the lipstick to Ryuunosuke. Although nervous, she's puts it on and is happy with the result. Ataru puts on the lipstick as well, but gets punched when he and Ryuunosuke come close together. Lum gets pulled in, but Shuutarou stops her, angering her as a result. Once Shuutarou realizes what's going on, he allows lipstick to be put on, only to end up snogging Ataru. Hijinks ensue, causing Ryuunosuke and others to flee or to chase accordingly.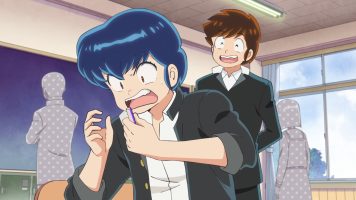 Sometime later, the class votes to have a yaminabe session, whereupon everyone brings a secret ingredient for a hot pot, that is then eaten in the dark. Lum makes some mysterious, insanely spicy hot thing that Ataru refuses to try. Eventually, Lum lands one in his mouth, causing him to be unable to speak for a while. Ataru vows revenge.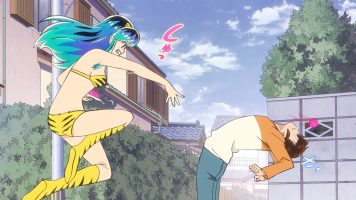 While at a ramen shop with Lum, Ataru learns that Lum finds most Earth foods bland. However, when some nearby guys get garlic gyoza, Lum has a negative reaction. As such, Ataru eats the gyoza and goes after Lum, but she's ready with air freshener. That night, Ataru gets garlic for the yaminabe, and Lum has her spicy food. The result at school is a disaster.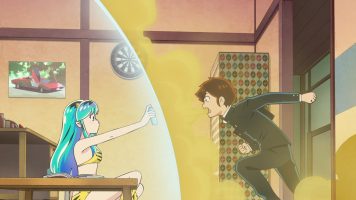 Thoughts/Review:
We get two pretty funny stories in Urusei Yatsura 18. I'm always down for that.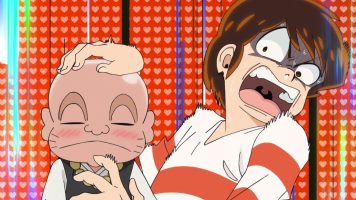 Kissing Lipstick
As is normal for the 2022 series, Urusei Yatsura 18 took a story adapted in OG episode 110, but compressed it down to its essence. That carries with it good and bad elements. On the good side, a lot of extraneous rubbish is removed, such as scenes that are literally replayed to pad out the time. Another element removed is Lum's depression due to Ataru wanting to kiss every girl but her.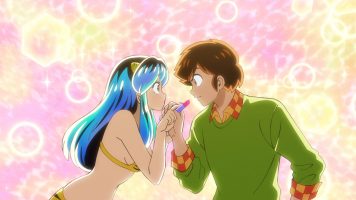 On the other, some gags are removed, including one where Ataru is violently smashed against a window separating him from Lum. And in the OG episode, Lum fries Megane and Ryuunosuke in her attempts to fry Ataru. I always enjoyed the collateral damage from Lum's attacks in the OG anime. Lum doesn't electrocute that often in the 2022 version, and she certainly hasn't hit anyone other than Ataru.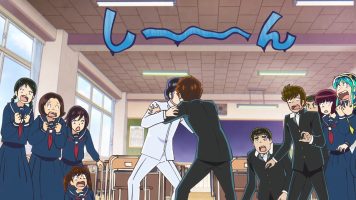 Still, I found this first story to be pretty hilarious in making me laugh out loud. So that's a major plus. Also, not going to lie, Lum looked pretty hot in that lab coat. 😅 And, I loved the 80s music (or 80s-style music, if the song is new) that played while Lum worked. We need more things to make this show feel like it is from the 80s.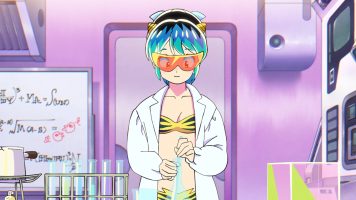 Food Wars
The second story in Urusei Yatsura 18 wasn't something I found in the OG anime. The garlic stench from gyoza was in OG episode 27, and its effect on Lum (and Ten-chan) was the same. But otherwise, that story was about Dracula. I know there was some story about Lum and insanely, spicy-hot food, but I didn't get a gander at it.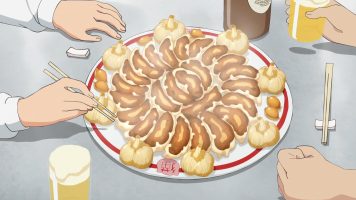 That aside, this story was the funniest of the two. I got a kick out of Lum attempting to throw one of her spicy star-things into Ataru's mouth. She had one failed attempt at bluffing him, but got him in the end.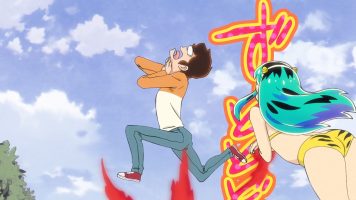 And the poor dog. 🤣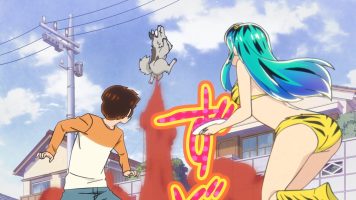 Then there was the aftermath with Ataru's swollen lips. 🤣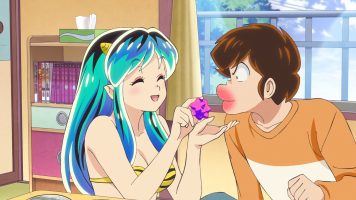 Of course, Ataru going off on Lum because she finds Earth food tasteless, but since Ataru is paying, she's scarfing it down like a pig. 😂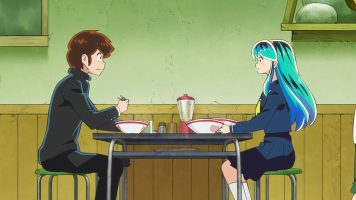 After all those great laughs, it did get stupid in the end, where Lum is trying to eat a Japanese sandal (geta) that someone tossed into the nabe pot. And Ataru getting eaten by the vegetable Lum disliked wasn't funny to me either. But those are small things in what otherwise had me laughing out loud.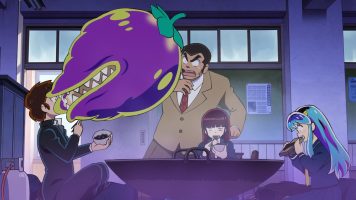 Final Thoughts and Conclusion
In the end, Urusei Yatsura 18 was funny, then got funnier, though the very end was kinda dumb. I can live with that.