Trigun Stampede 08
SPOILER Summary/Synopsis
In the past, on Ship 5, Rem watches a video of Vash and Nai's first birthday. Later, after Nai causes the fleet to crash, he reminds Vash that without Vash's codes, Nai couldn't have sabotaged anything. Vash flees and is found by folks from Ship 3, who managed not to crash. They are surprised the child has plant reactions to light, but they are more surprised that Vash can speak. They learn about Rem, so Brad heads to Ship 5's crash site to rescue a few survivors, and to gather some photos of Rem, Vash, and Nai.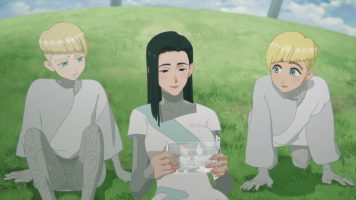 Vash is kept confined and handcuffed. However, when Ship 3's electric plant goes red, Vash manages to convince Luida that he can help. Sure enough, he helps the opened Plant return to a blue color and restore electricity. As such, Vash is given a room without handcuffs. Over the next five years, Vash travels with Brad to different settlements, restoring their ailing Plants. As a reward, Vash is given a red, SEEDS jacket.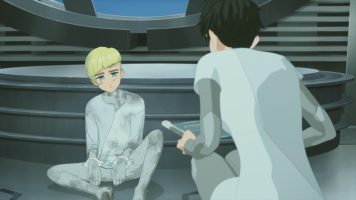 Meanwhile, Brad finally gets Ship 5's black box data. He discovers Vash and Nai's recorded conversation after the crash. Vash flees, but leaves an apology letter for lying about the other Independent Plant (Knives) and vows to make amends. He travels to a crashed ship.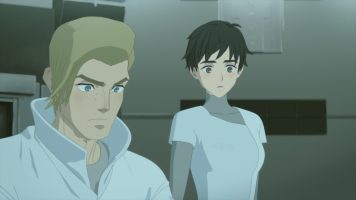 In the present, Vash wakes in his room on Ship 3, "Home". Back in the past, Vash enters the Plant area where the Plants are seemingly dead. There, he finds Nai with some other people.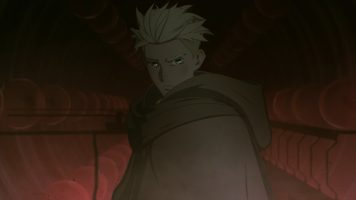 Thoughts/Review
Man, this backstory in Trigun Stampede 08 is very interesting, but there are a lot of things that don't make sense to me.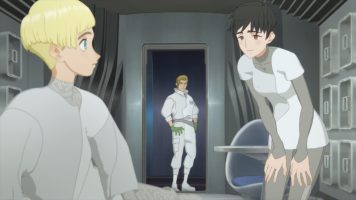 Backstory
The first item that makes no sense to me in Trigun Stampede 08 are Vash and Nai. From the little bit we learn from Luida, Plants can sometimes "give birth" somehow. These births are called Independents and replicate humanity fairly well, save for the fact that at one year of age, the two looked about 10. So the question is, why is their existence such a shock? On Ship 5, the pair seemed to have a run of the ship. That suggests their existence isn't a secret, unless Ship 5 is the secret Plant lab for some reason. Or Rem is the only awake crew member.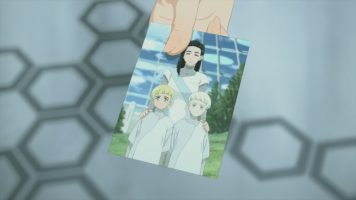 Next is Brad. He makes no sense to me as a character. He's deathly afraid of the child-like Vash, but not enough to properly handcuff him. Why? Since Vash cannot produce like other Plants, Brad wants him dead. Why? To me, Brad seemed like a plot-convenience character. He's the "baddie" when the plot needs him to be, and a reluctant "goodie" when the plot demands it. Otherwise, how do you explain Brad working with Vash for five years, helping the survivors, only to immediately turn on Vash due to the convenient black box recording after the crash? (Only to regret it later.)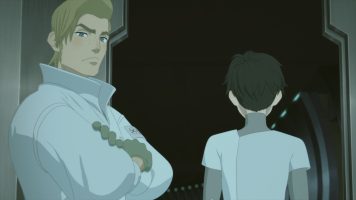 I presume after the crash, Nai was on the wreckage. But how did the black box so easily record his conversation with Vash? A black box should be recording data up until the time of the crash, after which it should send a signal to be found. So it makes no sense that Ship 5's black box conveniently recorded Nai's admission and implication of Vash.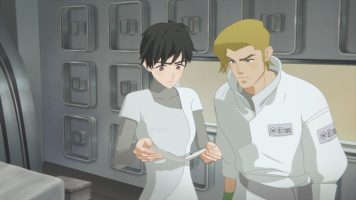 Basically, I found there to be a lot of plot convenient elements in this episode upon second viewing.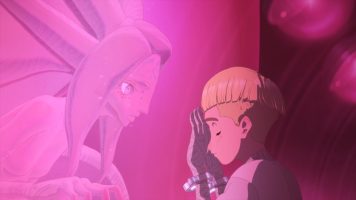 Final Thoughts and Conclusion
Since I need to get to bed, and get caught up, let me wrap up my review of with some final thoughts.
What is Vash doing to change "red" plants back to their peaceful "blue" state? Are Plants a slave race to humans like they seem to be? If so, why is Vash going along with this?
The name "Conrad" is mentioned as a team leader on Ship 5. I presume he's the Dr. Conrad performing unethical experiments on humans and working for Nai/Knives. (I think he was murdered in the OG anime and in the manga.)
Why does Vash apparently need to eat, but Nai does not?
What ship does Vash go to after fleeing Ship 3? Why would Knives be interested in the seemingly dead Plants in the ship's Plant room?
Did Ship 3 really rescue Vash from the Sand Steamer? I think it did. I suspect the sandstorm at the end of episode 7 was to disguise the ship's approach. But will Brad and Luida be there, only elderly? Or maybe Knives has taken over the ship, without Bluesummers or Zazie's knowledge.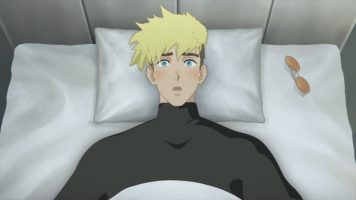 In the end, Trigun Stampede 08 was an interesting episode to be sure, but there were things that seemed too plot convenient. But if the series ends at episode 12, as predicted, I suppose Orange needed to do something to push things along at a brisk pace.