うる星やつら episode 21 (2002)
Urusei Yatsura 21 (2022) review
SPOILER Summary/Synopsis:
Oyuki summons Lum, Benten, and Ran to the normal, Japanese cafe. She tells them news of Planet Uni (Urchin). Initially, they don't care, but then they recall that their teacher robot, CAO-2, was left on the planet.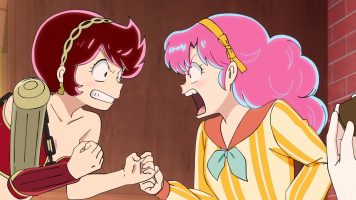 In the past at a galactic school complex, Lum, Oyuki, Ran, and Benten are playing a game and get in trouble by their chalkboard eraser looking teacher, CAO-2. As such, Lum and Benten vow revenge, goading Ran to help while Oyuki just observes. Despite Ran's fears, Benten and Lum rig a 500-ton weight to crash on their teacher when he opens the door. It does, but CAO-2 is not effected.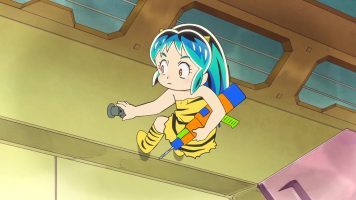 In the present, Ataru and Shuutarou join the girls to learn more about their past. The girls tried electrocuting CAO-2 and even firing a missile, to no effect. The teacher chases them, so they flee on a space bike. They manage to get to Planet Uni, where CAO-2 gets caught on a spike. Back in the present, CAO-2 is free and gets revenge on Benten, Lum, and Ran, as well as Ataru and Shuutarou.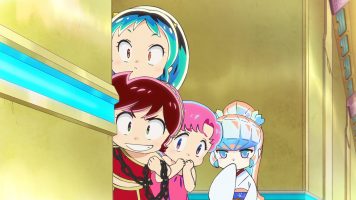 Sometime later, Ryoko constructs a cursed doll (wara ningyou) to use against Shuutarou and cause him pain. She has it delivered to Ataru. He vows to keep it on his person. The next day at school, Shuutarou keeps experiencing bad things. He comes to realize that Ataru has it, but doesn't realize what the doll is. As such, Shuutarou intercedes to prevent harm from befalling Ataru.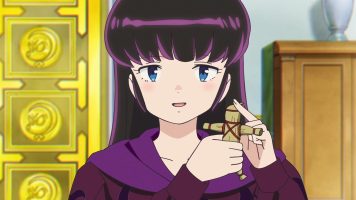 Once Shuutarou knows the truth, he attacks Ataru. One of Ryoko's guards lets Ataru know the truth, so Ataru starts abusing the doll. Enraged, Shuutarou goes home to construct his own doll, where the two battle it out via dolls.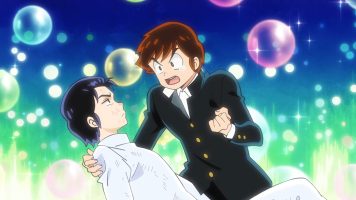 Thoughts/Review:
Two more stories made up Urusei Yatsura 21. I remembered both from the OG anime.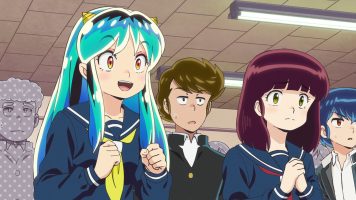 Chalkboard Eraser Teaching Robot CAO-2
The first story in Urusei Yatsura 21 goes back to Lum, Benten, Oyuki, and Ran's childhood. OG episode 85 (which I reviewed) covered this in the first half of that episode. Interestingly enough, that episode contained a second story with CAO-2 after he got his revenge.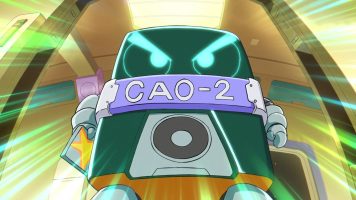 That aside, it is interesting to see what brats Benten and Lum were. Ran let herself be talked into doing things, even though she didn't want to. And Oyuki just observed from the side for the most part. No wonder Ran has so much rage.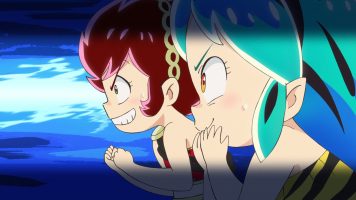 The stories in the 2022 version and the OG version (first half) play out pretty much identically. CAO-2 actually walks with steel, Japanese sandals in the OG version, whereas in the new, he had wheels, and so had to make the walking noise manually. That seemed silly to me.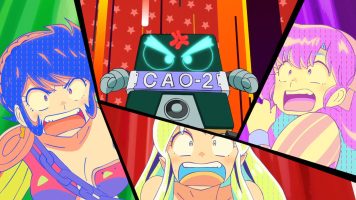 Also, in the new version, the girls steal a small space bike/car, whereas in the OG, they stole a small ship. But the result was the same.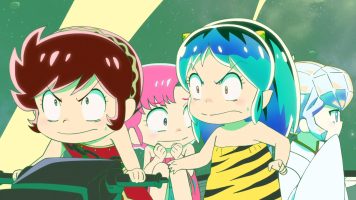 Cursed Straw Doll
The second story of Urusei Yatsura 21 was originally adapted in OG episode 131, which I also reviewed. The story beats between the OG and 2022 versions are identical. However, the OG episode really pads things out with a ton of absurdity in the name of slapstick humor. And the OG episode added a lot more Gothic horror elements, that I remember caused the humor factor to decrease for me. On the other hand, the 2022 version had Shuutarou make a doll to use on Ataru, which wasn't in the OG episode.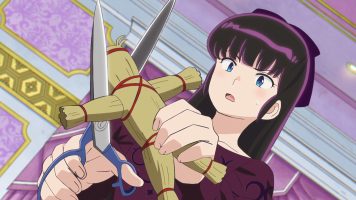 Anyway, the story was amusing to me, but not funny. And it didn't even have the forced Gothic horror elements. 😂 One would have thought that I would get a kick out of Shuutarou taking damage whenever Ataru did. But alas, no laughs for me.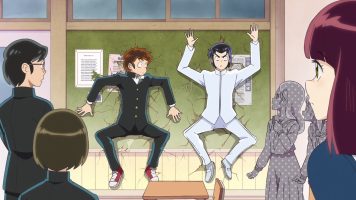 I did appreciate that the production team threw in a referenced to Ranma 1/2 during the English class. Very cool indeed.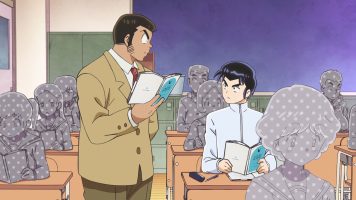 Final Thoughts and Conclusion
In the end, Urusei Yatsura 21 was enjoyable for what it was. I didn't experience any laughs, but to be fair, I am pretty exhausted from work.