Trigun Stampede 10
SPOILER Summary/Synopsis
Vash and Wolfwood ride furiously to July (JuLai), which is very modern compared to other settlements. Inside the July Red Plant chamber, Zazie continues to talk with Roberto and Meryl on whom the worms should choose — Plants or humans. However, Dr. Conner escorts them away, informing them that Luida's plan would take too long to implement. He shows them where he experimented on orphaned or otherwise unwanted children, all in the name of helping humanity.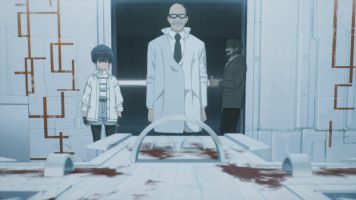 Meanwhile, Vash and Wolfwood are spotted by July military cops. One shoots Vash, blaming him for the incident at Jeneora Rock. The two escape so that Vash can treat his wound, one of many he's received over the years. Meanwhile, Dr. Conner shows the reporters the room with human-Plant hybrid children, suspended in glass storage containers filled with liquid. The oldest, Elendria, "wakes" when Meryl expresses feeling sorry for these children.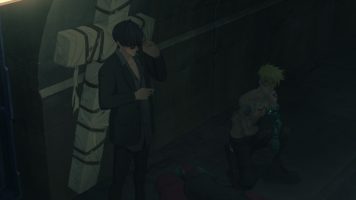 She begins attacking them by summoning giant, metal bolts that fire at them. The two flee to a giant room with a couple of elevators. Meryl wants to warn Vash since this place is clearly a trap for him. Elendria mocks the pair and toys with them. However, when the elevator car finally arrives, Wolfwood emerges. Elendria reacts with fear and anger and gets injured by one of her own bolts. Vash sends the reporters away in the elevator, where Roberto dies from Elendria's bolt.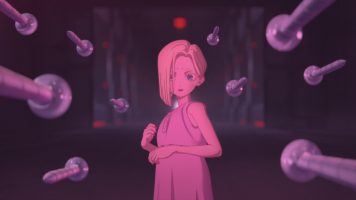 Wolfwood escorts Vash to Knives' chamber. Vash thanks Wolfwood, and the man leaves. He gets a paper from Conrad, stating that Wolfwood's contract is done. Wolfwood snarls at the man who changed him and Livio. Meanwhile, Vash and Knives discuss things, where Knives sends Vash into a deep pit of liquid in order to remake him.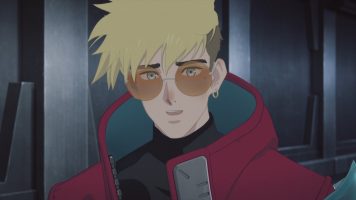 Thoughts/Review
We are coming to end game with Trigun Stampede 10, which I predict will end with the destruction of July.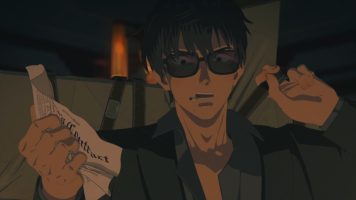 Illogical Experiments
One of the discussions in Trigun Stampede 10 are Dr. Conrad's experiments with humans and apparently Plants. Wanting to find a means to allow humans to survive the harsh, desert world on No Man's Land is fine. But Conrad's experiments are not only horribly unethical, but they don't make a heck of a lot of sense to me. Outside of Wolfwood, what about these other creations could be construed as helping humanity survive? They are all just killing machines.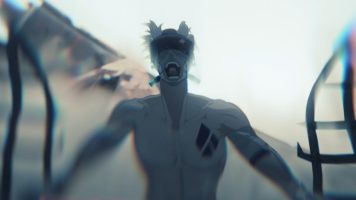 To be honest, I think Orange approached this series with the notion of giving a grounded explanation of the Gung-Ho Guns, starting with not calling them that. So to that end, Orange decided that these villain characters get an origin rooted in saving humans. Wolfwood is the only one who made sense, seeing as how he has no cybernetic implants. Not sure why he needed to be trained as a gunman though, just to save humanity.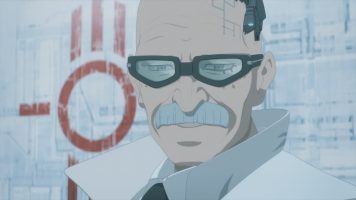 Then there's Elendria. In the source manga, this character is human, and quite skilled. However, in this episode, she's a human-Plant hybrid. I don't have a problem with that per se, but she seems to have been around for YEARS. As such, why the heck was Conrad doing dumb human experiments to create OP killers when he had a solution? Yeah, she's an OP killer too, so while a human-Plant hybrid makes sense in a survival sense, it doesn't make sense for the character that was created.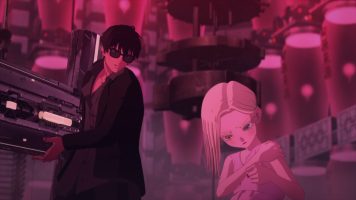 That aside, why does Elendria seem afraid of Wolfwood? And why was she stored in that vat?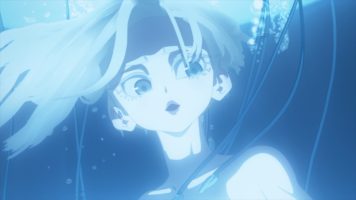 Final Thoughts and Conclusion
Let me wrap up my review of Trigun Stampede 10 with some final thoughts.
I mentioned that I think that this series will end with the destruction of July. However, I don't think this is a "prequel" to the source manga. For a start, many of the villain characters from the source manga have been killed. Further, Orange are creating something new, and attempting to ground it. To that end, I'm not even sure we'll see Vash's "Trigun", at least not in the way it was in the manga and OG anime.
Despite knowing humanity's history, I think Zazie realizes that there's a good chance Knives won't care about the Worms. Thus he asks Meryl and Roberto whom the Worms should side with.
Speaking of Roberto, I didn't expect for him to die. However, his death had zero impact on me since he was an unlikable character.
I suspect the fearful child seen with Dr. Conrad in the photo will be the first Independent Plant born in the fleet. I don't remember her in the OG anime, but in the manga, she's the reason Knives broke.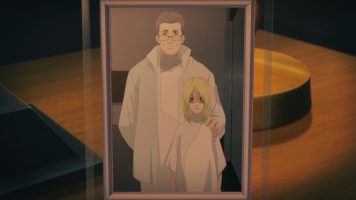 In the end, like many episodes before, Trigun Stampede 10 is interesting, but when one stops to really look at things, stuff doesn't make sense.