Lupin the 3rd: Part 1 21
ルパン三世
Lupin III Episode 21
SPOILER Summary/Synopsis
Ken Makita, a partner of Lupin's father, tasks Lupin with rescuing his daughter Rie from Jooji Takigawa. However, the young woman believes she's staying on Takigawa's ranch for fun and relaxation. As such, when Lupin takes her and escapes with Jigen, she is unhappy. Takigawa takes his men and pursues, while Rie's actions cause them to have a car accident, where she escapes. Lupin and Jigen track her to an abandoned farmhouse, where she reveals she's called the police.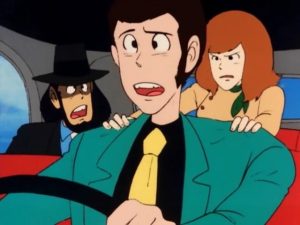 Now that Zenigata is involved, Lupin has Jigen meet with Ken. Rie thinks that Takigawa is using his helicopter to rescue her, but she starts having small doubts when Takigawa's men attack Zenigata's police support. Lupin steals a tractor, then an old steam train and manages to elude Takigawa. Zenigata springs a trap on Lupin, but the train derails and Lupin escapes with Rie. Eventually, Rie discovers an old photo of her father with Lupin II and Takigawa.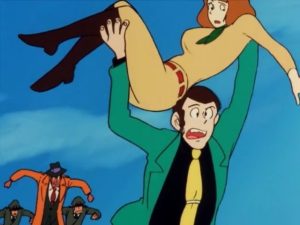 Lupin smacks some sense into Rie and works to return her to her father. Meanwhile, Zenigata has an army tank set up to block the railroad bridge, where Lupin is headed to. Lupin instructs Rie on what to tell Zenigata, thus protecting her father's criminal past and preserving the Makita family happiness. Rie reunites with her father and Zenigata pursues Lupin. Jigen decides to help his partner.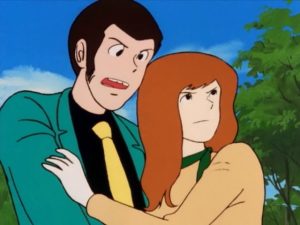 Thoughts/Review
One of the things about these old, Lupin III stories is that they are just "meh" adventures. And such was the case with Lupin the 3rd: Part 1 21. While it is interesting to get a bit more lore about Lupin's father, that doesn't make the episode.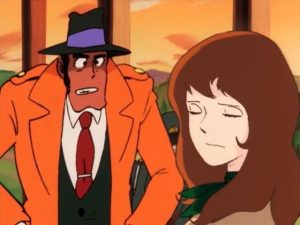 A Boring Rescue
Frankly, I found Lupin the 3rd: Part 1 21 rather boring. The whole kidnapping plot makes no sense. Rie doesn't even know she has been kidnapped. I'm not sure how that works, especially since her "uncle" won't let her go see her dad. But, it became the vehicle so that there could be conflict between Rie and Lupin. Despite this, after the initial car wreck, Lupin had no real issues getting Rie to go with him.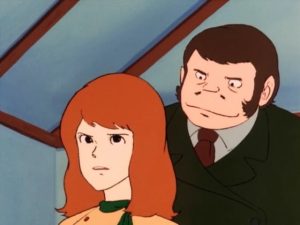 Yeah, I get that Rie observed Takigawa's men firing on Zenigata's forces, thus she began to doubt him. But everything just felt plot convenient. Takigawa fires on Zenigata to cause doubt. Then Takigawa's men blather the truth as they assault the train. And finally, Rie discovers Lupin's picture. All the while, they are pursued by Takigawa's men and Zenigata's men.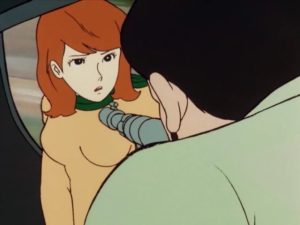 That leads to the boring action. Because everything happens at plot convenience, combined with the Lupin physics absurdity, there are no stakes. As such, no matter how much action is thrown into the mix, it is boring because nothing matters. And because things are played straight, none of this is humorous either. But I suppose lessons learned here were placed into Lupin III: Castle of Cagliostro.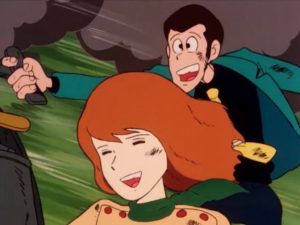 Final Thoughts and Conclusion
In the end, Lupin the 3rd: Part 1 21 is a boring, action-filled episode with zero stakes and characters I don't care about. And it is times like that when the audio sync problems of the series are most noticeable.