Tenchi Muyo! GXP Paradise Starting Episode 4 Review
天地無用!GXP パラダイス始動編
Tenchi Muyo! GXP Paradise Shidō-hen Ep. 4

SPOILER Summary/Synopsis:
Everyone but ZINV-chan bows in reverence to JURAI Masaki. She makes them quit, and requests Seina forgive ZINV-chan and Fuku-chan for assisting her in her prank. Jovia is not amused at attempts to hit Masaki, who's only an astral body. As such, Jovia uses magic to construct a new body for Masaki, then forces her astral form into it, thus giving Jovia a solid target to hit. But despite this change in Masaki's form, her combat training causes her to easily elude Jovia.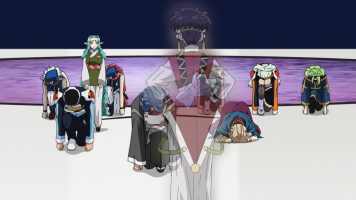 Jovia and Masaki get drunk while the rest of Seina's team land Banjo-to in the water. Kuis suggests taking Masaki to Washu for an examination while Seina and company stay on board the ship for the required 180 days as the ship terraforms itself into a proper island. Tsunami shows up to deliver food for Seina's crew and to retrieve the shocked Masaki and deliver her to Washu for an exam. Washu says there's a way they can even save Masaki's Royal tree, which still has a bit of power left.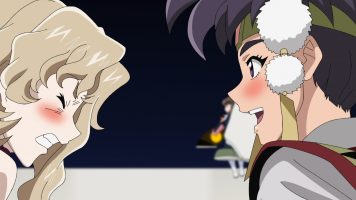 On board Seto's Mikagami, the crew observe Banjo Island, which now has a rocky surface and a barrier, where time on the surface of the island will pass by at an accelerated rate for natural plant growth. Inside, Jovia and Seina offer to take Tsukiko to the magic realm within the Kamidake II. The elves Souren and Airen greet Tsukiko. Along with Juvia, they go to Seina's manor home in this realm, where an ancient dryad Kalushushu, and a child Wau named Acha.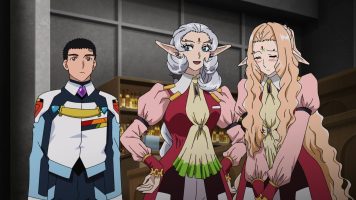 After enjoying some tea, Seina and Tsukiko plan for what to do in the magic realm on the following day. Airen has Seina scan Tsukiko, where he discovers she is growing a magic organ, which is required to become a mage.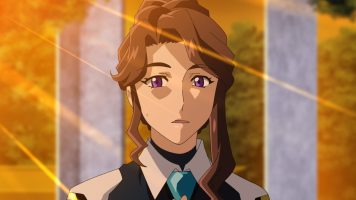 Thoughts/Review:
I really want to do a video review of Tenchi Muyo! GXP Paradise Starting Episode 4, but (1) I don't have time due to work and moving across country and (2) I don't trust EXNOA to falsely nuke my other channel. So another written review it is.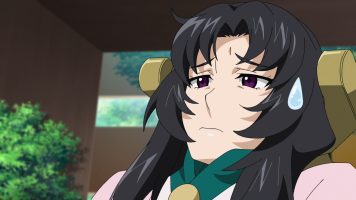 JURAI Masaki
As a LONG time fan of the canon Tenchi Muyo! Ryo-ohki storyline, I've known of JURAI Masaki for years on end, though I mistakenly had her listed as "Misaki" for some reason in the old FAQ. As such, it was really cool seeing her show up in Tenchi Muyo! GXP Paradise Starting Episode 4. One wonders why she decided to reveal herself now, especially since she doesn't want Jurai to know about her.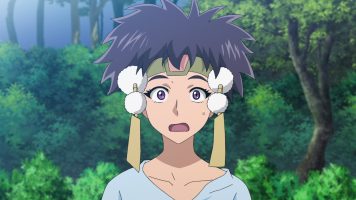 Or rather, she doesn't want them to know she has a new, physical body. This aspect does clash with what Kajishima-sensei wrote in his 21st Century doujinshi work, where Masaki got a new body from Tokimi. But, that was written YEARS ago, and the official works trump the doujin works. That makes Jovia an impressive mage to not only create Masaki a new body, but also bind Masaki's astral form to it.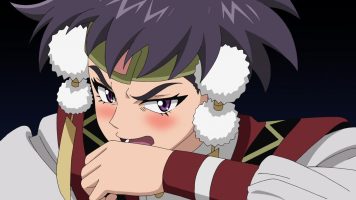 It was GREAT seeing Tsunami show up to greet Masaki. The exposition stated in the episode matches what we know from other works. But I do wonder if new/casual fans grasp the moment and why Tsunami felt as she did toward Masaki.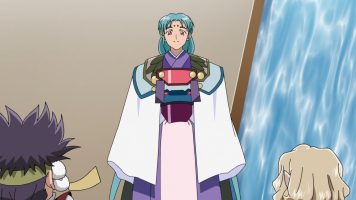 Finally, I did get a chuckle at Washu's and Masaki's chat following Masaki's examination. I'm pretty sure that joke goes back to when Washu examined Tenchi in Night Before Carnival (episode 7).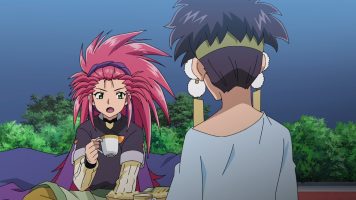 Magic Realm
A weaker part of Tenchi Muyo! GXP Paradise Starting Episode 4 was the trip the the magic realm, contained within the Kamidake II. I get this is a way for Kajishima-sensei to indulge his fantasy elements with elves, dryads, and magic. Plus he introduces more women (mostly) to be potentially part of Seina's attempt to have a harem bigger than King Solomon's. Even the cute Acha is a potential harem member.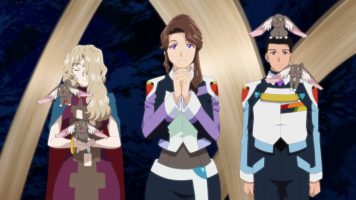 Speaking of Acha, I believe she was supposed to be on Wau planet, where Seina found ZINV. Thus she was witness to Seina saving them, assuming I'm not misunderstanding things. This is an element that I'm pretty sure would get lost on new/casual viewers. But as a long time fan, it was a nice touch.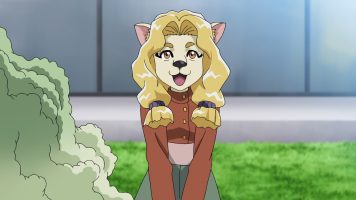 Finally, I suspect this magic realm is where Tsukiko will decide to remain in. As I understand it, this magic realm on board Kamidake II is similar to a subspace domain created by Royal trees within Royal tree-ships. After all, Tsukiko wasn't in OVA 5 (that I can remember). And she certainly wasn't part of Seina's harem. I get the feeling something bad will happen to Tsukiko, which will force her to remain there. We'll see.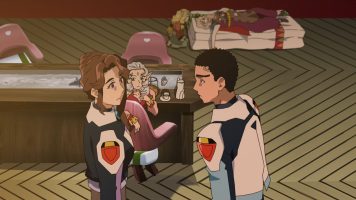 Final Thoughts and Conclusion
As usual, I'm insanely behind with work and my forthcoming move, so let me wrap up my review of Tenchi Muyo! GXP Paradise Starting Episode 4 by stating that on the whole, I liked it. The first half was more interesting to me as it brought in Masaki, and gave Tsunami a chance for an appearance. The second half in the magic realm was okay for what it was, but not as gripping.