TONIKAWA: Over The Moon For You Season 2 10
Tonikaku Cawaii: Fly Me to the Moon Season 2 10
Tonikaku Kawaii S2/トニカクカワイイ
SPOILER Summary/Synopsis:
Over a meal, Tsukasa attempts to put Nasa off the idea of camping by offering alternative suggestions. Meanwhile, Aya and Kaname get a flier for the camping trip and decide to attend. Kyuuma shows up and decided to go as well. Nasa invites Ginga. Elsewhere, Chitose decides to go as well. Her maid Aurora wants to go in a non-serving capacity. The other maid, Charlotte, figures they'll be fine to attend and have fun.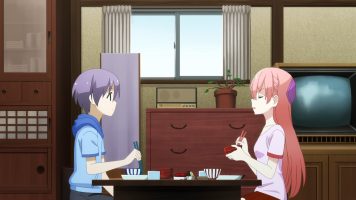 On the day of the camping trip, Aurora spells how the ways to get to the private, camp ground owned by Tokiko. Tsukasa wants to go by car, but since Nasa is keen for the hike, she reluctantly agrees to join him. Kaname has to work, so she has to go by car. As such, Aya, Kyuuma, and Ginga go for the hike option. After 20 minutes, Aya is exhausted. Kyuuma falls behind, so Tsukasa gets her, educating her on local flora, and taking a shortcut to catch up to Nasa.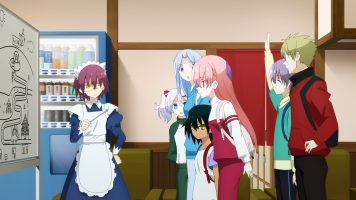 After getting to camp, Nasa goes off by a stream to rest. Tsukasa joins him. As he attempts to get romantic, Tokiko shows up. Once she leaves, they check on the others and decide to go off to be alone for a bit. Kyuuma goes missing, so Nasa tries to find her and gets lost. Tsukasa finds him, so Nasa decides to ask her why she agreed to marry him.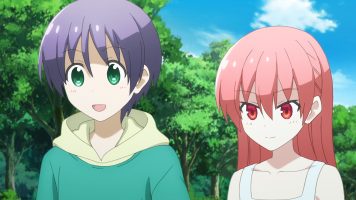 Thoughts/Review:
And so we have TONIKAWA: Over The Moon For You Season 2 10. And again, I'm struck with the excellent foreshadowing that Hata-sensei provided for the manga story.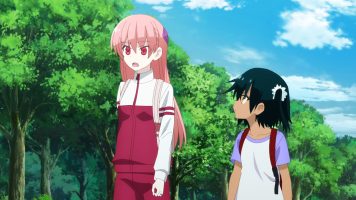 Modifications to the Source Material
Source manga chapters 96 through 99 were adapted to create TONIKAWA: Over The Moon For You Season 2 10. There's only one, notable modifications to the source material. The anime cuts out an important element whereby Tsukasa teaches Aya how to walk properly to make hiking easier. I suppose the anime writers felt it wasn't important, but it kinda is as far as explaining Tsukasa.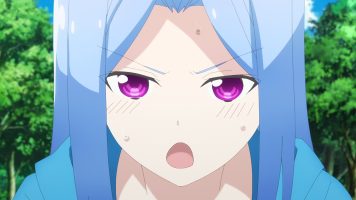 Beyond that, there were some other, minor changes. Again, the anime seems to go out of its way to demote the Aya x Ginga stuff as a panel of them glaring at each other was removed.  But I suppose that's nothing to write home about since Hata-sensei has forgotten about it in the current manga (as I write this).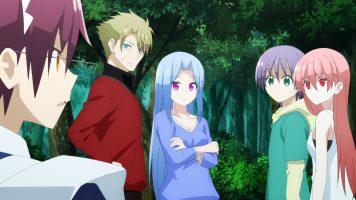 Foreshadowing
If you've never read the manga, I'm not going to give any actual spoilers, but I will say things that could be inferred in one way or the other, depending on how you view the main plot of this series.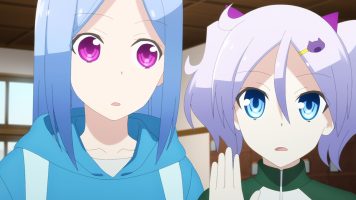 That aside, as I watched TONIKAWA: Over The Moon For You Season 2 10, I was reminded at how great Hata-sensei is when it comes to foreshadowing future things. Down the road, there will be an explanation as to why Tsukasa hates the outdoors. Further, viewers will come to see how Tsukasa traverses this camp area so easily, and why she knows the flora so well.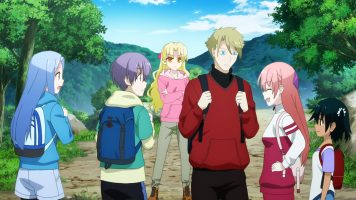 So for me, this episode went beyond the usual, newlywed marital fluff. When I wrote my review of manga chapter 97, I could see this foreshadowing. But now that it is paid off, looking back, the foreshadowing comes off as even more incredible. That's why I kinda lament cutting the training moment between Aya and Tsukasa.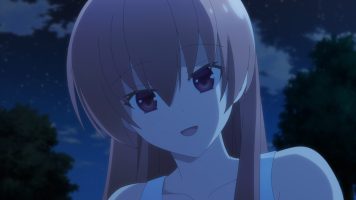 Final Thoughts and Conclusion
In the end, TONIKAWA: Over The Moon For You Season 2 10 ended up a more enjoyable episode, thanks in part to my knowing the payoff of things hinted at here.