SPY×FAMILY : The Official Guide―Eyes Only Review
スパイファミリー
–> Buy SPY×FAMILY: The Official Guide―Eyes Only from Amazon.com!
As a huge fan of the SPY×FAMILY manga series, it was only natural that I decided to buy the SPY×FAMILY: The Official Guide―Eyes Only book. And I think if you are a fan of the series, this purchase won't disappoint you.
What's Here?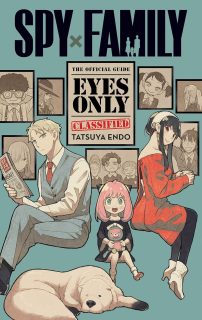 The SPY×FAMILY: The Official Guide―Eyes Only book is broken down into multiple sections. Out of the gate, we have a 2-sided, color foldout, which is quite lovely. One is a picture of the cover, and the other is of Anya in rock music attire, complete with a guitar. This leads us into the first, official, color art gallery. The images can be page-filling, or be a collection of small images. Some I had seen before, but others were new to me.
Next is the first, character breakdown section, where we get a lot of details about Loid (Twilight), Yor, Anya, and Bond. There is then a story summary of the first seventeen chapters and two omake chapters. These are separated by story, so if a story went three chapters, those are the chapters covered in that specific summary. That leads to the first world guide, followed by a simple interview with Edo-sensei. The book repeats this pattern until it gets through chapter 61 of the manga. Things wrap up with some fluffy but still fun material.
After this, we get the next, color gallery section. This moves into an incredible section of lengthy interviews with Endo-sensei, sometimes with other creators. Then the book goes to a mix of commentary by Endo-sensei, where he gives his thoughts on various characters, chapters, and scenes. There's also a gallery of sketch art done for the series. The book ends by giving us a summary of all of Endo-sensei's previous works. I'm going to have to look into some of these as they look most interesting.
Bottom Line
While I haven't finished reading all of the interviews, I am impressed with the content of this book. Sure, some of it is just stuff I already know. But I liked reading Endo-sensei's thoughts on his works. And I like what I have read of Endo-sensei's lengthy interviews. As a fan of SPY×FAMILY, purchasing SPY×FAMILY: The Official Guide―Eyes Only was well worth it.