FUNimation Goes Warring State Hip-Hop with a "Samurai Champloo" Distribution License
FUNimation pulls another surprise "distro-only" announcement with Samurai Champloo.
What?!
Josh is on the case and has already reported that Lance from FUNimation has hinted there will be more licenses today since there are 24-hours within December 31st. *lol* I'm not sure about Soul Eater, but I think for sure that Evangelion 1.0 will be the last thing licensed before 2009 hits Central Time. It is also possible that Soul Eater will hit sometime later today, but we'll see.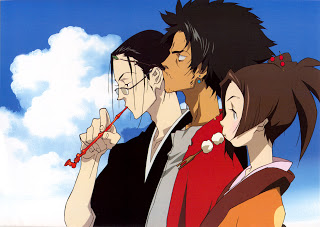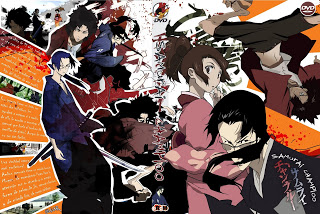 As to the Samurai Champloo series, it certainly had that unique hip-hop meets 1600's Japan setting and frankly, considering how well Afro Samurai did, getting this on Spike or some other channel would seem to be in order (I don't know if it ever aired on TV before or not).
Whew! I'm going to bed. It will be fun to see if there are more licenses throughout the day or just the one (as I suspect) tonight.
Oh yeah, FUNimation's official site is here.