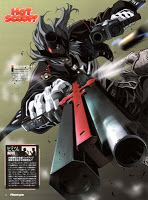 With FUNimation haven taken several titles completely away from Geneon, Geneon proves they are not totally out of the game as FUNimation only has a distribution license for Geneon's Gungrave title. From a personal perspective, it is a little disappointing that FUNimation didn't get the license free and clear as they did with the Geneon titles, but we can't have everything. Gungrave does nothing for me, but I'm sure there are lots of folks who are happy about that.
One question people have is, "was this the clue that everyone thought would be for Soul Eater?" Just for a quick reminder, here is the clue.
"Bobby,
Thought you'd like to know that your grandpa and I went to eat at Smith's Pie shop last night. Bless your soul, you always got so excited about their pies during summer visits!
Come see us soon, sweetie! All of my love, Granny"
I would put forth the following ideas.
FUNimation is going to announce it tomorrow night. That would mean the

Evangelion 1.0

license announcement is on hold.
FUNimation is going to announce

Soul Hunter

and

Evangelion 1.0

for a big finale (possibly holding

Eva

for the 31st and New Year's Eve).
FUNimation is holding off on a

Soul Hunter

license at the moment and went with

Gungrave

as the best title they had ready to go that might fit the above-mentioned clue.
FUNimation threw us a curve with the clue to make it look like

Soul Eater

but

Gungrave

was always the intended title.
Lance Heiskell, one of FUNimation's powers that be, had some interesting insights on why FUNimation is doing so many license rescues at this time.
For months people wanted more Geneon back-catalog titles well….back.
Timing on contracts for new shows add a few wrinkles into the mix with announcing. Rescue licenses are an easier contract – hence faster announcement and delivery on DVD release dates.
That "wrinkle" comment makes me think that maybe something happened with either Soul Eater or Evangelion 1.0 but we'll see tomorrow.
Regarding getting more new titles, Lance had this to say.

We've got a full year lined up. Don't worry about that.
So there you have it. BTW, FUNimation's Gungrave site is here.

Originally posted at
astronerdboy.blogspot.com
. If you are now reading this on another blog, it has been scraped from
AstroNerdBoy's
blog. You are encouraged to shun this pirate blog and come by the real McCoy. ^_^