School Rumble Z Volume 1 Chapter 03 (manga)
スクールランブルZ Chapter ♮3 "Ticket"
SPOILER Summary/Synopsis: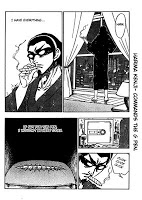 Harima is depressed, living in run-down, tiny apartment because his manga aren't selling. He passes out, only to be awakened by the god of manga. The man tells Harima that when Harima awakens, he's to keep close to himself whatever he grabs first. When Harima awakens, he ends up holding his old fish-spine pen. He's not happy by this since he's giving up on manga, but takes the pen back and sets out. After being taken in by the police for looking suspicious, Harima decides the pen is cursed and throws it. It nearly hits a large, well-dressed man in the back, but the man catches the pen. Harima thinks his life is over, but the man is a baseball scout and is impressed by the throw.
So, Harima ends up playing for a professional Japanese baseball team and does amazingly well, thus becoming very rich. In his western-styled mansion, Harima smokes a cigar and opens his safe to see the pen that got himself into this new life. As he reflects on this, Tenma is heard to be dropping by to play, causing an excited Harima to go see her and drop his cigar. That causes his mansion to burn down with everything destroyed except the pen. So, Harima decides to make some manga.
Review/Thoughts: Its interesting that Harima is the only character from School Rumble to appear in this chapter (Tenma is never seen, only heard in one panel). It works though.
As to the story itself, not much to say here. The story is an old one where someone down on their luck gets a supernatural visit and an opportunity to a better life. Since Harima was shown to be pretty good at baseball in School Rumble, having him become a baseball player worked. Of course, it was predictable that he'd lose everything in the fire but the pen, which he'd take as a sign to be a manga-ka.
I wonder how long School Rumble Z will go on though. The one-shots work as an extra for School Rumble, but I'm still not convinced that they'll work so well as a stand-alone title. Personally, I enjoyed the ongoing stories much more than the one-shots. The Japanese fans may see it otherwise though.