Happy New Year!!!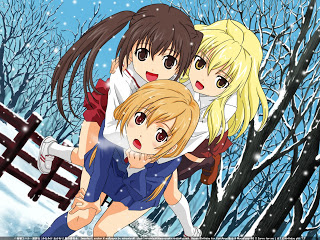 It is 2009 and time to start another new year, which will see a number of new series, including Minami-ke: Okaeri. So I thought I'd run through a list of series I'll be blogging this year.
Minami-ke Okaeri — I'm just hoping that this 3rd series will return to the goodness of Minami-ke and forget the bad stuff from Minami-ke Okawari.
Slayers EVOLUTION-R — We'll see if I get to watch this as it comes out or not but at least FUNimation does have the license.
Keroro Gunsou — I'm close to shifting this one to "fast track," meaning multiple episodes blogged about per entry. I did that with Tsubasa Chronicle. We'll see how far I get.
Urusei Yatsura — I'd really like to finish this one this year.
Space Battleship Yamato 2 — I plan to finish this, then move to another MATSUMOTO Leiji title. I won't get to watch Space Battleship Yamato 3 though unless something strange happens.
Basilisk — I have the excellent boxed set from FUNimation and having enjoyed the Kouga Ninja Scrolls manga a lot as well as the movie Shinobi: Blade Under Heart (all three of which are based on the Kouga Ninja Scrolls novel), I'm looking forward to the anime adaptation.
Fate stay/night — I also have this set from FUNimation and while it will have Geneon subtitles, I'm hoping that it will be as good as it looks.
I'm considering Toradora since I've heard good things about it. We'll see what else comes up over the next year.
I hope everyone has a good new year.