スレイヤーズ EVOLUTION-R Episode 13 (last episode)
Slayers EVOLUTION-R Ep. 13 (final episode)
Slayers Evolution-R 13 (Finale)
SPOILER Summary/Synopsis: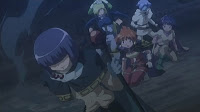 With the Dark Lord, Ruby Eye Shabranigdu having come back to life, Xellos attacks what he refers to as the "Ghost of Shabranigdu" but his attack is easily thwarted. Shabranigdu increases in power and Xellos uses the last of his strength to get Lina and company to a safe distance.
Xellos explains that this is not the same Shabranigdu Lina fought before. Much as the way the mazoku lord Gaav was reborn in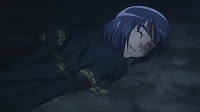 an unexpected way, this Shabranigdu was as well and thus is a threat to the mazoku. Shabranigdu sends waves of oriental dragon-like creatures their way and the party does what they can to defend themselves. Pokota casts a Dragon Slave and to Lina's amazement, it achieves some success on the dragon creatures.
After retreating once more, Lina and Pokota provide a barrage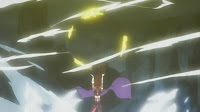 of Dragon Slaves as the spell is drawing energy out of this ghost Ruby Eye and thus weakening him. The plan would be that Lina would then use Ragna Blade to kill the weakened creature. However, both are getting spent as the attacks aren't enough. As Shabranigdu takes out the members of her party one by one, Pokota gets Xellos to take him to Pokota's Hellmaster Jar.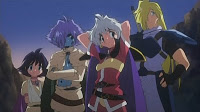 After smashing it, Pokota's spirit returns to his body. This gives Lina an opening for the one spell she'd been avoiding casting — Giga Slave. After using her amplification stones, Lina casts Giga Slave and kills the ghost Ruby Eye, earning Xellos's respect as she has earned the title of "Slayer." Pokota survives thanks to Rezo and in reunited with his people, only in stuffed animal form. Zelgadiss returns to looking for a cure for his condition, Amelia returns home, and Lina and Gourry are off to find a sword for Gourry, watched by Xellos.
Thoughts/Review: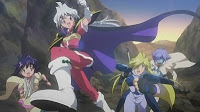 After watching this episode, I do think the production team are setting up the potential for another sequel to cover the novels which haven't been adapted into anime form. Gourry gives up the faux Sword of Light so that he and Lina can go on their trip to find a new sword. While it is easy enough to bring in Amelia and Zelgadiss, if the writers should decide to be faithful to those novels, we won't have to worry about them because as I understand it, they don't play a role in the next storyline.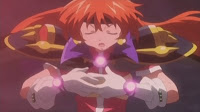 As to the episode itself, I was surprised that Lina was allowed to cast Giga Slave. I didn't think they'd actually do it, but they did and they pulled it off pretty well, even remembering to turn Lina's hair white. I liked how the writers worked things so that Dragon Slave actually worked (even if only a small amount) and that Lina had a plan to use Ragna Blade so as to avoid Giga Slave. However, her use of Giga Slave is a plus an minus. It is a plus in that is shows her power but it is kind of a minus because having used it again successfully, can she not use it in a future anime adaptation (assuming we even get one)?
I had more thoughts too, but recent real life events have kind of left me unable to focus and for that I apologize. I'll try to write them when I write the final review for Slayers Evolution-R. That said, I will say that I did enjoy this episode a fair amount.