フェイト/ステイナイト Ep 04
Fate/stay night episode 04
SPOILER Summary/Synopsis: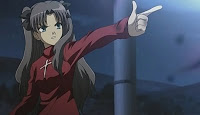 Rin, Shirou, and Saber see the little girl, who introduces herself as Ilya, with the full name of Illyasviel von Einzbern. Her Servant is a giant known as Berserker — a very strong Servant class. Ilya says that this Berserker was the former Greek hero known as Heracles ("Hercules" as he is known from Roman mythology). Ilya has Berserker attack to kill them all.
Saber uses her speed and agility to try to outmaneuver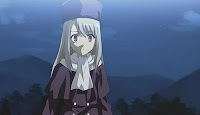 Berserker but a combination of her injury from Lancer and Berserker's tough hide and sheer strength prove to much. Despite Rin using her own magic to assist, Saber takes a terrible beating and since Saber can regenerate over time, Ilya wants Saber's head cut off. Shirou saves Saber and gets slashed instead. This move stuns both Ilya and Rin. Ilya decides to leave for the night but promises to kill Rin next time they meet.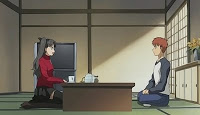 Shirou wakes at his home, having dreamed of his step-father and his telling his step-father that he would fulfill his dream to be a hero. Shirou can't remember how he got home, why he's bandaged, or why he's spitting up blood. When he comes to the dining room, he's surprised to find Rin there and doesn't understand when she wants him to thank her for bringing him home. Eventually he remembers what happened and Rin gets onto him for his actions, seeing as how it is unheard of for a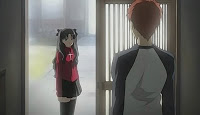 Master to protect a Servant like that. Rin speculates that somehow Saber's regenerative abilities flowed back into Shirou. She then reminds Shirou about the war and that Ilya will return at some point to kill them both. As Shirou sees Rin to the door, she tells him that it would be best for him not to look at her as human from now on.
Shirou goes to find Saber while Sakura walks toward Shirou's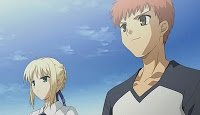 home. She encounters Rin, who says she's just out on a walk. Sakura is suspicious and smells blood. After Rin leaves, Fujimura-sensei arrives and is happy to learn that clam tsukudani is on the breakfast menu. Meanwhile, Shirou finally finds Saber, who's now wearing a uniform dress and meditating in the dojo. She assures Shirou that she will improve the odds of him obtaining the Holy Grail. After their talk, Shirou sees Saber is a very honorable type and is glad for it. Since his stomach is growling, they return to the main house to eat breakfast.
Thoughts/Review: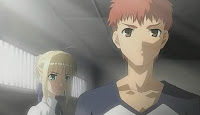 I think I now know why Rin failed to summon Saber and why Shirou, even if accidentally, managed to do so — they share the same goal of protecting the innocent and following a "lawful good" path like a knight. Rin on the other hand is driven by her own desire for the Holy Grail and while she may be "neutral good," she does not have that knightly quality that would bring Saber out. Based on this episode, the summoned Servant is based more on the personality of the person doing the summoning. That would explain Ilya's having Berserker.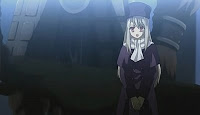 Speaking of Ilya and Berserker, why didn't she have Berserker kill them all? Granted, the shock of Shirou trying to save Saber set both Ilya and Rin aback, but rather than decide to finish off everyone, Ilya just "packs up and goes home." Not only that, but she promises to kill Rin next time. Why wait? Also, why didn't Rin bring out Archer again and have Archer assist Saber in attacking Berserker? None of this made sense from a logical standpoint. It only made sense from a "well, we need to introduce a threat and pay it off later" aspect. Without the logic behind it, such a move doesn't work so well.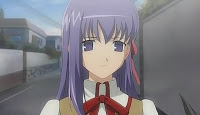 Sakura showed an interesting little talent — the ability to smell blood when she passed Rin. At first, I thought her reaction to seeing Rin was one of a girl seeing a potential rival coming from the direction of Shirou's house. That may be part of it, but is Sakura a master as well? Way to early to say without more information, but it is intriguing.
Speaking of intriguing, who's the mysterious goddess-like person observing things?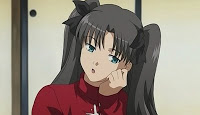 I've noticed that the production team is at times going sparse on the animation. Since this series will presumably have a lot of fights, I suppose that's understandable but for it to stand out to me kind of suggests that maybe things are being done too cheaply.
Musically, again the Mahou Shoujo Tai Alice hauntingly beautiful-type music appears. Actually, I'm sure there's another term for this kind of almost medieval vocal music, but I just don't know what it is at the moment.
So far, this has been a very interesting series and I look forward to watching more.