魔法先生 ネギま!Volume 34 Chapter 311 (manga)
Mahou Sensei Negima! Manga Chapter 311
Negima! Manga Vol 34 Ch 311 Review

SPOILER Summary/Synopsis: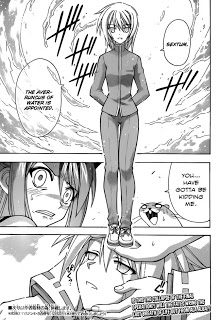 Fate easily survives Kotaro's beast-mode attack and counters with his traditional massive rock shards from the ground, one of which pierces Kotaro in the gut.  However, Asakura has her spy cameras provide Chachamaru with exact coordinates of Fate's location, thus she's able to uses her orbital satellite artifact's full power to attack Fate.  Nodoka uses the Great Grand Master Key to "Relocate" and teleport the entire group, including Kotaro, away from the blast zone.  Unfortunately, Nodoka was unable to teleport them to Negi's location but they are still too close to the alter for safety's sake.
Back at where the Great Paru-sama and Johnny-san's ships are landed, Misora and the others are amazed at the power of Chachamaru's future-tech artifact.  Chachamaru cannot confirm if her attack took out Fate but she confirms that the group has the "Imperial Princess of the Twilight" and the Great Grand Master Key.  She also reports that the group suffered three casualties.  Paru orders everyone back into the ship now that repairs are complete so that they can bail out as soon as the others arrive.  Unfortunately, as Misora, Cocone, Collet, Mei, Takane, and Chachamaru get back on deck of the Great Paru-sama, Chachamaru senses an intruder and knocks the others out of the way as she gets sliced in half at the waist.  Their attacker is another version of Fate, called "Quartum, the Averruncus of Fire."
Back with Nodoka, she attempts to teleport them away but takes a massive bolt of lightning instead.  The Great Grand Master Key flies away from the group to another version of Fate, called "Quintum, Averruncus of Wind."
Over with the group with Negi, Dynamis (Dunamis) praises the group for their plan using Natsumi's artifact as it will likely take "Tertium" (Fate) by surprise.  However, he tells them that they had other cards to play and that the current version of Fate was brought to life by Dunamis.  Thanks to the Great Grand Master Key, the remaining three "units" have gone active.  With that, the final version of Fate arrives, a female version named "Sextum, Averruncus of Water."
Thoughts/Review:
Whatever hope I had that Negi's battle harem would bail Negi out this time have pretty much been dashed with the arrival of these three new Fate "units."  I really, really wanted the girls to shine and the group to make an escape with Negi healed on the way out because it would be different.  However, despite being disappointed, I am not surprised at what has happened.  Negima! is a shounen manga and Negi is the hero, thus he has to be the hero again.
I think the other frustrating part about this development is that the group's escape from the Magic World is once again thwarted.  This struck home for me when I finally scored volume 28 from Del Rey.  Back then, the group was planning to simply rescue Anya and Yue (before they knew she wasn't down there).  Then, Kurt stepped in and began what has become a long series of obstacles to overcome just to get the heck out of Dodge.
Just so we are clear, I'm NOT complaining.  Much like the Mahora Festival arc, which seemed to go on forever when reading chapter by chapter, when read in book form in a continuous manner over a short period of time, it works quite well.  I expect the same thing will be the case once the Magic World arc has concluded.  So, I wanted to make it clear that I'm not complaining but at the same time, when reading on a week-to-week basis with breaks thrown in for good measure, one tends to want things to move on faster than they should in terms of overall story.
The answer to the question of how Chachamaru targeted Fate (Tertium) was answered.  To quote myself,
Chachamaru could have flown in I suppose but with a laser target device, she would be some distance away so as not to be caught in the blast zone.  As long as she can point to the area needed, it should be fine.
Asakura's cameras provided the accurate data needed to target Fate and Chachamaru may not have even pointed at the target but simply pulled the trigger.  Regardless, the mystery is solved and I was completely wrong when I thought that this bit of information wouldn't be revealed to us.  *lol*
I wonder if Akamatsu-sensei watched the movie Aliens (or was inspired by it) when he drew the post-sliced Chachamaru.  The scene was very similar to one in Aliens when the android Bishop gets ripped in half at the waste.  In Aliens, Bishop still gets to be a hero despite being damaged so it wouldn't surprise me if Chachamaru got to do something similar.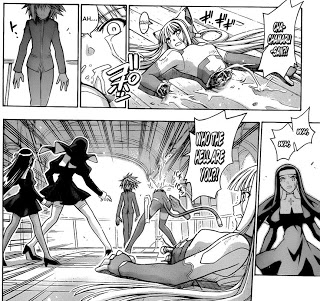 Whether she does get to do something or not, Akamatsu-sensei is losing more characters.  Since Nodoka took a blast from a bolt of lightning, I expect her to be out as well.  I expect more characters to be lost before this piece of the story is over.
Anyway, leave it to Akamatsu-sensei to introduce three new Fate-type "units" to make things even more difficult.  CE now has the Great Grand Master Key and it wouldn't surprise me if they take Asuna back as well.  It will be interesting to see how this particular plot twist is overcome.
So, nothing to do but wait until December 22 when Negima! chapter 312 is released in Japan.