魔法先生 ネギま!Volume 35 Chapter 314 (manga)
Mahou Sensei Negima! Manga Chapter 314
Negima! Manga Vol 34 Ch 314 Review

SPOILER Summary/Synopsis: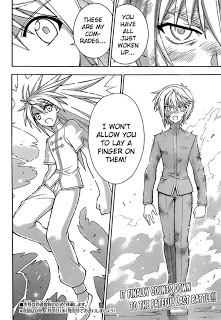 In his dreaming state, Negi is still being talked to by Nagi, who is then joined by the images of Tosaka, Jack, and Eva.  Each of them remind him of a reason he has to fight with Eva stating Negi has to walk the gray path, something Nagi didn't do.  Nagi tells the now encouraged Negi that he'll be waiting for Negi up ahead.
Meanwhile, Sextum-Fate has Chisame, Chamo, Ako, Arika, and Konoka is giant water cubes to freeze them when Negi grabs Sextum-Fate, shatters her barriers and shreds the clothing off of her.  As she sinks to her knees in stunned fashion, Negi touches her forehead and shatters the shell around his own body, causing the release of the cubes and the girls.  This has Dunamis speak of the impossibility of what has just happened, not only in defeating Sextum-Fate, but in Negi overcoming the demonic aspects of Magia Erebea.
Sextum-Fate recovers from her surprise and is about to launch a new attack at Negi when Chibi-Mage arrives, placing a hand into her back and threatening to destroy her core.  Dunamis thinks their master is betraying them, leading Chibi-Mage to state that they were never comrades. Since Negi has a plan of his own to save the world, Chibi-Mage would like to see him enact that plan.  Dunamis isn't happy about this and as Negi observes Chibi-Mage, he recognizes a linkage to Asuna and possibly Arika.  Chibi-Mage urges Negi to go on or risk failure.
Elsewhere, Quartum-Fate continues to attack the retreating Great Paru-sama, deciding to finish is by summoning Entei Shoukan.  However, before the others can be killed, Negi arrives at the speed of lightning, hitting the giant fire demon-creature with such force that even Quartum-Fate is knocked aside. Negi announces that these are his commrades and as such, Quartum-Fate will not touch them.
Still elsewhere, Quintum-Fate is about to take out the very scared Natsumi when a large boulder comes in and smacks him on the head.  Quintum-Fate sees a smoldering Fate who says that this is Negi's comrade and thus Fate's prey.  As such, Fate won't allow anyone else to touch them.
Thoughts/Review:
I guess Akamatsu-sensei reached the levels he wanted when it came to Ala Alba since it doesn't appear that anyone else will be removed from play.  Sextum-Fate will be held in check by Chibi-Mage so the members of Ala Alba there are safe.  Negi's squaring off against Quartum-Fate will keep that version of Fate occupied as I see it, thus allowing the Great Paru-sama to escape.  Fate and Quintum-Fate will apparently fight so Natsumi and possibly an awakened Nodoka might be able to escape.
Now, the question of Fate is how fare Fate will go to defend Negi's comrades in order to have the pleasure of fighting them himself?  I'd guess pretty far but then assuming Fate defeats Quartum, then what?
Personally, it wouldn't surprise me if by the last battle between Fate and Negi, Fate has taken on all of the elemental abilities of his brothers and sister, whom I expect will be "dead" as it were.
Negi's awakening is nice to see though this chapter raises questions on whether or not he was communicating with Nagi.  Were I to guess, I'd still say "yes."  Nagi could be in CE with Jack and Tosaka, though why a version of Eva would be there is more of a mystery.  Nagi could be someplace else and simply evoked imagery of those who'd had great impact on Negi's life since arriving on the Magic World.  All of the figures could be figments of Negi's mind.  In the end, I do think that this was indeed the real Nagi, who's getting Negi jump-started on the new path which will eventually lead to Nagi.  I state this because of the certainty with which Nagi states that they will meet down the road.  That suggests to me a real person and not a figment of Negi's imagination.  We'll see though.
Finally, there's Chibi-Mage (Master of the Grave) and the connection to Arika and Asuna.  Interesting that Negi seems to question a connection with Arika and then be more confident of a connection with Asuna.  Chibi-Mage recognizes Negi as a descendant.  Chibi-Mage does appear somewhat similar to a young Asuna.  We'll see what the exact connection is later.
Beyond that, not a lot to say as this chapter sets up the next stage.
Chapter 315 isn't out until January 26!  As usual, I'm keeping an eye open for spoilers.