Why Watch Classic Anime?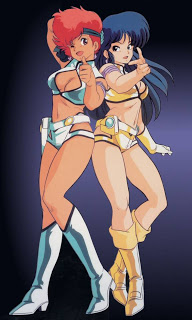 The other day, someone asked me, "Why do you watch so much old anime?"  I found it to be a good question because watching anime from the 80's certainly isn't something that will increase blog traffic.  Indeed, I'd say that so much blogging about the original Mobile Suit Gundam and Urusei Yatsura are a drag on the blog.  After all, how many younger anime fans are even remotely interested in a 20+ year old anime?  Not that many.  If that's the case, why do it?
Although I grew up in the 80's, the fact that most of the classic anime titles I'm blogging are 80's anime titles plays little role in my desire to watch them (Castle of Cagliostro and Dirty Pair being notable exceptions).  My interest in most classic anime titles stemmed directly from some modern anime I happened to be watching or modern manga I happened to be reading.  Often, the modern anime or manga would either have a joke or some other reference to a classic series.  In the case of Del Rey manga, translator notes would explain how this reference applied to the classic anime series and that was great. However, almost all R1 anime and western manga have no such translator notes and thus the audience is left up to their own devices on the classic references.
Here are some examples.
The former TokyoPop manga title Sgt. Frog contains a number of references to Gundam, primarily with the Gundam models used.  The manga also contained references to Urusei Yatsura.  The anime contained further references to Space Battleship Yamato.
In the Genshiken manga, Gundam again plays a major role as the members of Genshiken not only built Gundam models, but there were iconic lines from the original Mobile Suit Gundam which are quoted in Genshiken.  Other anime and manga titles referenced in Genshiken are Tenchi Muyo! Ryo-ohki, Azumanga Daioh, Fullmetal Alchemist, Lupin III: Castle of Cagliostro, Neon Genesis Evangelion, and many others.
In Hayate the Combat Butler (thinking of the manga primarily), again Mobile Suit Gundam is heavily referenced.  Titles like Sailor Moon, Pretty Cure, Detective Conan, Dragonball Z, Neon Genesis Evangelion, and many others are referenced.  The first Hayate anime series goes absolutely nuts on making references to other anime and manga series whether old or new.
Recently, the Ah! My Goddess manga made a major reference to the character Char from Mobile Suit Gundam.
Were I to take the time, I could provide an even greater list of modern anime and manga titles that referenced classic anime series.
So, by going back and watching these classic titles, I have a better appreciation for the modern title reference.  This is especially true for modern anime/manga comedy series where the joke involves a classic reference. Indeed, as I've been watching Mobile Suit Gundam, every time a line is spoken or Gundam model appears and I remember it from Hayate, Genshiken, or the like, I can't help but smile.  I'm being educated on how anime has progressed over the years and how modern manga-ka and anime producers were influenced.
As to blogging these classic titles, I find that based on traffic patterns, there are people like myself who become curious about some referenced classic anime title and thus begin doing their own research.  They then find an episode blog about some of these series and hopefully pick up a thing or two.  So, even though I would love to have massive traffic like the biggest anime blog sites have, I also see how blogging classic series has its place in the anime blogosphere.
Hopefully, I entice a few others along the way to give a classic a try.  ^_^