フェイト/ゼロ
Fate/Zero – 04
SPOILER Summary/Synopsis: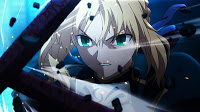 As Saber and Lancer square off, Ira senses something wrong, which Saber identifies as charm magic. Seeing that Saber's magical defenses are too high, Lancer acknowledges being glad to meet such a worthy opponent and the two clash. Nearby, Emiya and Maiya observe the start of the fight. Emiya has Maiya cover a crane, whereby someone might obtain a good view of the battlefield, while he covers other areas and observes Saber's battle prowess. As Saber fights, Ira notices that Saber is keeping tabs on both of Lancer's lances to determine which is the Noble Phantasm. They don't know Lancer's real name either, which would help greatly.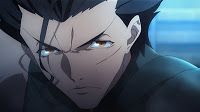 Lancer verbally notes Saber's defensive fight and takes a cut in the face during their next blows. His problem is Saber's invisible sword, thus he doesn't know its reach. While this happens, Emiya uses his weapon's infrared scope to find Lancer's Master. Maiya can't see this person from her vantage, but before Emiya can take him out, an odd wind kicks up. Emiya takes a peek and discovers Assassin has appeared in the area, observing the battle and making a report to Kirei, who in turn is reporting to Tohsaka.  Upon hearing of the description of Iri, standing behind Saber, the two are able to guess she is an Einzbern homunculus, but incorrectly guess she is Saber's Master, as Emiya wanted. Kirei promises to have an Assassin assigned to observe Iri at all times.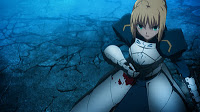 Meanwhile, Emiya has Maiya keep tabs on Assassin but not engage since they aren't equipped to fight a Servant while he watches Lancer. Lancer makes a play at getting Saber's name by complimenting Saber, but she understands the ploy and simply states her being honored by his words. Lancer's Master has had enough and orders him to use his Noble Phantasm to end this fight. Lancer complies and ups the intensity of the fight, and is able to discover the length of Saber's blade as well as see bits of it. Saber plans a counter for Lancer's next attack, but instead of her landing a blow on him, Lancer wounds a stunned Saber, forcing Iri to heal her.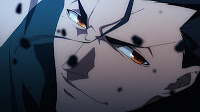 Saber quickly analyzes the last attack and realizes Lancer's weapon cancel's mana, which is why it was able to pass through her magical armor without damaging it and why he was able to get through Invisible Air around her sword. Lancer is a little surprised when Saber sheds her worthless armor, but admires her for deciding to put everything into a single attack. She fires up her blade and charges, but he has a trap — a second Noble Phantasm with his other spear. Saber realizes this in mid-charge as she sees Lancer kick the second spear up to himself and barely manages to change her attack to take minimal damage while getting a small hit in on Lancer, disarming him of his second lance.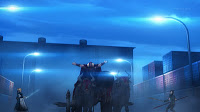 From the bridge where Rider watches the fight with a scared Waver, he is disappointed too see Lancer trying to end the fight. Rider had wanted to have all Servants there so he could have the chance to battle them all with honor. Since that's not the case, he summons his chariot and decides to enter the fray. At the same time, Lancer reveals Saber's mistake at losing her armor, which was ineffective against his Gae Dearg. However, his cursed spear, Gae Buidhe, prevents her from healing and her armor would have stopped it. Saber identifies Lancer as Diarmuid and he ID's her. Lancer's annoyed Master wants this fight over, but Rider arrives, and gives his true name of Iskandar.
Thoughts/Review:
Leave it to an assassin to discover Assassin showing up to observe the battlefield. I'll be very interested to see what Emiya does now that he knows Assassin is alive. Will he figure out there are more than one? Will he start bringing his special weapon with him to fight Servants?
I like how Emiya works here, even if it is not honorable (which is why he and Saber would not get along). He wants to win, so that's just what he's going to do. However, Assassin's arrival as well as Rider's really show how the best laid plans don't last long on the battlefield.
I do find it interesting that both Tohsaka and Kirei appear to be fooled by Emiya's ruse in having Iri appear to be Saber's Master. I'm surprised that while they put an Assassin on Iri, none have been assigned to Emiya.
I find myself saddened, knowing Iri's eventual fate before the series ends.  I've come to like her as a character but she's being used as bait and I'm guessing that will be what eventually kills her, possibly by a tailing Assassin.
I  like how Saber and Lancer really were honorable combatants. I don't know whom Diarmuid is, so I don't understand the charm magic reference, but I guess he was a lady's man in the past as well as being a knight.
What really surprised me was Rider's notions of conquering the world and still be honorable. Further to that, his arriving on the battlefield and proudly stating his true name is not normal, but you can't accuse him of not being honorable. Knowing your opponent's name provides tons of information, so clearly Rider doesn't care if his opponents know him or not. I wonder if this will cause him to fall first.
So, a good episode that doesn't just focus on the fight between Saber and Lancer, which made the episode more interesting.