フェイト/ゼロ
Fate/Zero – 10
SPOILER Summary/Synopsis: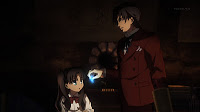 In the days before the Holy Grail War, Tohsaka teaches his daughter Rin form magic. At school, she befriends a shy and somewhat timid girl named Kotone after defending her from some bullies. Sometime after Rin and her mother are moved to a safer location due to the start of the war, Kotone disappears and since the news is full of reports of children disappearing and dying, Rin decides to go look for Kotone on her own, using the mana compass her father had given her to know what magical artifacts were beyond her current skill level.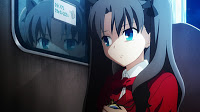 In the darkened Fuyuki City, Rin's compass senses magic all over, but she notices a guy with a magic bracelet taking an enthralled child. Rin loses him in the back alleys, but then discovers the guy again, this time with two more kids. Gathering her courage, she uses the compass to tail them, eventually arriving at a basement bar that seems abandoned. The body of Kotone is just inside and she knows they've done something to her. The guy, Ryuunosuke, arrives with more kids and tells Rin they are about to have a party. It is then that Rin sees more enthralled children at various tables in the bar, as if dead.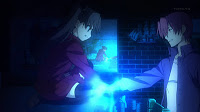 Rin avoids being captured and get up on the bar. When Ryuunosuke comes for her, she grabs his bracelet. Initially, it is more powerful than her and Ryuunosuke thinks he has another victim, but Rin recalls her father's lessons and overloads the bracelet with magic, destroying it. That breaks the enthrallment spell on the children, so Rin has them all, including Kotone, flee. She does not go with them and is about to return home when her compass reveals magic well beyond her power.  One of Caster's creations drops down to attack, but Rin is saved by a worm attack from Kariya, though Rin never knows who saved her.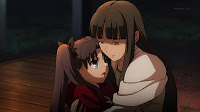 Rin's mother Aoi comes to the park and finds Rin sleeping on a bench. Kariya reveals himself, showing what being a participant in the Holy Grail War has done to him. However, he tells Aoi that he is fighting for Sakura and if he wins the war, Sakura will be returned to Aoi, thus Sakura and Rin can be sisters again. With that, he turns and leaves. Rin wakes up in her mother's arms and starts crying and apologizing. Aoi thinks of Kariya and wonders if he will not only have to kill her husband, but sacrifice himself to in order to free Sakura.  Meanwhile, because Kariya saved Rin, Kirei doesn't allow Assassin to do anything to him even though the opportunity was there.
Thoughts/Review:
The moment Kotone was introduced and such a strong effort was made to have the audience connect to her by making her a somewhat timid, shy person whom Rin befriended, I just felt sick because she clearly had a death flag on her.  Thankfully, I was wrong. That would have been too much to have butchered Kotone.
Anyway, it was a bit surprising to have a side story featuring Rin, but since I like Rin from Fate/stay night, I liked seeing this little adventure of hers.
While I complained about Tohsaka being an elitist, mage snob (to say nothing of playing dirty pool), this episode reminded the audience that he does seem to love and care for Rin. Why he didn't feel the same for Sakura is more of a mystery, but there you have it. He's still a bastard, but I can't help but think he'd be proud of Rin being able to defend herself even if he might not be happy that she went off on her own like that.
The story also provided an opportunity to bring Kariya back into the story. He really has been lurking in the shadows, probably waiting for some of the other Servants to go down before taking on the survivors since he can't afford to battle and defeat every Servant.
So, while not really advancing plot (other than to show Caster's and Ryuunosuke's new hideout), I did like this Rin adventure episode.