灼眼のシャナⅢ(Final)
Shakugan no Shana III (Final) – 10

SPOILER Summary/Synopsis: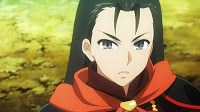 In the other realm, Yuuji and company encounter the spirits of the Flame Haze who'd died in sealing the Serpent of the Festival. Yuuji has Hecate go out to the safe zone and he leaves Bel Peol and Sydonay to deal with the Flame Haze beings.  On Seireiden, Shana battles her way to the throne room, hoping to warn the others about the God Gate when she encounters the Guze King, Uvall. Wilhelmina encounters a room with the Haridan installed in it while Decarabia worries about losing contact with Fecor and searches for how the Flame Haze infiltrated Seireiden. Nbh'w continues destroying the city on Seireiden while Rebeca battles Purson.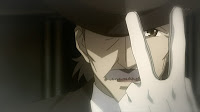 Rammie (Lamies) encounters Wilhelmina and leads her to the room that Fecor had been in, when she can monitor the fight. While Wilhelmina has no quarrel with Rammie using the Bal Masqué for his goals, she promised to take him out if he stands in her way. As such, he offers her two items as trade to prevent her from pressing on. She accepts and is able to determine that Shana is OK, though she's a little depressed that Shana doesn't really need her. Meanwhile, Shana is battling the Rinne that Uvall has summoned and easily defeats them, but feels that this is no different than before as she should be more powerful.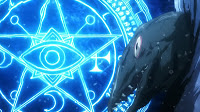 With Decarabia sure that Sophie will lead another Flame Haze assault on Seireiden, he contacts his field commanders Ribesal and Haborym to issue an emergency recall of their forces to defend Seireiden. Decarabia makes sure that no new assault can go undetected. At the same time, Sophie's small passenger jet takes them to the drop off point to start Operation Crossroads. A whole fleet of passenger jets filled with Flame Haze arrive over the area that Seireiden is hovering and the Flame Haze jump out as Wilhelmina causes Seireiden to crash into the ground. Purson is stunned by this and taken out by Rebeca as a result while Decarabia is amazed at the scope of the attack.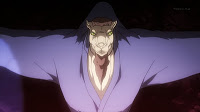 As Uvall continues to battle Shana, producing clones of himself in the process, he senses that Shana is growing more powerful as the battle progresses and that he is likely to become a casualty.  Shana is still not pleased with her own level of power and as she dispatches Uvall's clones with growing ease, she reflects on Alastor's words to her in the past regarding being a Flame Haze. Uvall becomes convinced of his forthcoming death as Shana unleashes a powerful (new?) attack that takes him and all his clones out, allowing her get to the surface. She's met by Wilhelmina and leads her to where Rebeca and Nbh'w are waiting before looking up at where the God Gate now is open to them.
Thoughts/Review:
Though it is cliched, I still enjoyed watching Shana going to the next level in her fight with Uvall, more so because he became fearful and she just became more concentrated on doing what it takes to become more powerful. Is what Shana did a new, unrestricted spell?
As to Wilhelmina, she really is like a parent who's watching their child leave the nest. Shana may have left Wilhelmina earlier, but during their time in Misaki City, Wilhelmina resumed her parental role. Now, Shana has truly come into her own and Wilhelmina is saddened, but I like how she'll follow Shana to wherever Shana leads.
I was wrong about Fecor using Haridan I guess since Wilhelmina found a room with the Hougu installed in it and it wasn't the same room that Fecor had been in.  Oh well.  So Fecor's room is more of a control center since Wilhelmina used it to crash Seireiden. Which reminds me, where was Tendoukyuu when Seireiden crashed?
While the introduction of powerful Bal Masqué beings like Uvall and Purson was somewhat interesting, their deaths don't carry the impact that Fecor's did since he's been around since the first anime series. Don't get me wrong, it does go to show how the Flame Haze currently have the advantage, but when one of the Trinity get taken out, then you know the crap is about to end.
So, while Sophie and company invade Seireiden, which will probably lead to a larger battle when the Tomogara armies return, Shana and company will follow after Yuuji is what I guess. Since Margery Daw keeps getting left out, I figure she'll make a return at a critical time to turn the battle ultimately for the Flame Haze.
Anyway, it was another enjoyable episode for me. Looking forward to more. ^_^