フェイト/ゼロ
Fate/Zero – 11
SPOILER Summary/Synopsis: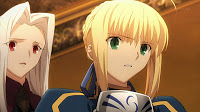 At their castle hideout, Saber and Iri sense the arrival of Rider and Waver and are concerned since Emiya is away. However, Rider has not come to fight, but to drink and to talk, having brought a barrel of wine. However, Rider is not impressed with the state of the castle, so he has Saber, Iri, and Waver come with him to the courtyard. Though suspicious, Saber does drink with Rider when Archer comes, thus completing the attendants at Rider's Banquet of the Kings.  Archer looks down on both Saber and Rider, but does summon his own wine for them to drink as it is the best of the best.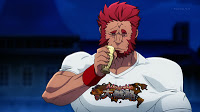 Rider probes Saber on her wishes to get the Grail and is not happy to hear that she regrets things and wants to change the past. Her notions of what being a king is are not his and he lectures her at length on this, challenging her notions and citing that she never ruled her people and that they died in vain. During this discussion, Assassins arrive and since they aren't interested in chatting, Rider reveals his Noble Phantasm Ionioi Hetariroi, a Reality Marble with the desert lands he once ruled as Iskandar and filled with the armies who served him in the past, all with their own powers and abilities here.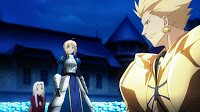 As Archer sits and watches, Saber observes in astonishment as Rider's armies destroy all of the Assassins present, showing his ideals of what being king is all about.  The route of the assassins over, Rider returns them to reality and calls the banquet over. He tells Saber that he no longer views her as king but rather as a little girl who needs to awaken from her sad dream as it may cause her to lose what pride she has as a Heroic Spirit since he sees her vision of being a king as a curse. Archer takes his leave as well, but he tells Saber to do what she wants. He takes delight in her misery.  This causes Saber to remember that one of her knights had left Camelot because she didn't understand how the others felt.
Thoughts/Review:
OK, did ufotable outsource parts of episode 11 to some other company? The character designs were distinctly off at times, even if the characters were still recognizable. Well, this kind of thing has been known to happen in order to (1) save money and (2) keep things on schedule.
Anyway, the sometimes distracting character designs aside, this was an interesting episode of philosophies. Interestingly enough, Archer didn't really say much, but I liked how Saber was challenged in her beliefs.  I don't think she ever faltered on them before now.
As an aside, it is interesting that Rider's Noble Phantasm is a Reality Marble with an entire army there willing to fight for their king.  Somehow, that seems to fit in with Archer's own Reality Marble which contains the swords of an entire army.  Then there's Saber with just her lone weapon, reflecting her notion of an army of one for the people.
Now, what in the world was Kirei doing sending that many Assassins? Archer seemed to indicate this was done at Tohsaka's request. It didn't make any sense for them to reveal themselves and based on the sheer number of them, I wouldn't be surprised if all of them are now dead. If so, then there's an entire spy network that has been lost and for what?
Regardless, I rather enjoyed the episode and if Assassin is truly gone, then I expect that as others have suggested, the Servants will now start dispatching each other.