Bandai Entertainment's Departure – This Is What Happens When You Don't Give Customers What They Want!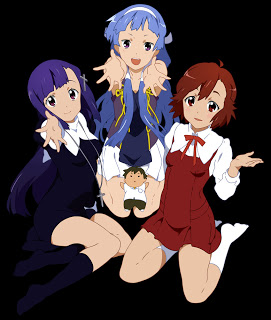 And so, another American anime and manga licensing company bites the dust as Bandai Entertainment announced on Tuesday (January 3, 2012) that they are shutting down as a licensor. I for one am not surprised because it was clear to me that Bandai Entertainment's Japanese overlords would never adapt their business to fit the American market.
When it came to my limited anime/manga budget, I never sent much money Bandai's way because they didn't cater to me, at least not until the release of the Kannagi manga, which I made sure to purchase.  I've said this before, but as a consumer, I am under no obligation to buy crap just to keep an industry afloat. That's not how things get fixed (nor are government bailouts, but that's another topic).  What I wanted was pretty simple — reasonably priced DVD (and now Blu-ray) sets with Japanese audio tracks that has a one subtitle track (since there can be more than one) which is readable, but retain Japanese honorifics, jokes, etc. (much like many of the manga adaptations today are done). To my knowledge, Bandai never did this for their anime titles, so my money went to places where this WAS done.
While most American anime fans may not be so tetchy about the subtitle issue (which would cost very little to include and snag fans like myself on the cheap), most are completely supportive of reasonably priced DVD/BD sets.  They also want methods of legally watching anime online, for free.  Unfortunately, the Japanese overlords would have none of this, as cited in the Anime News Network article on the subject.
"The pricing range for our products kept dropping in Western countries, and people tended only to buy sets with very reasonable prices, which we understand is what fans want, but it lead us to a different strategy than what Japanese licensors wanted," he remarked. "So we always had a problem [with licensors wanting something different than what consumers wanted]."
In Japan, the anime and manga market is built on a house of cards.  Japanese fans are expected to buy because they are collectors, not so much because they want to watch an anime at a later date. As such, putting only two episodes of an anime per DVD/BD and tossing in a few extras caters to that collector's notion, as does the premium price Japanese fandom pays for the privilege of purchasing said items.  More hardcore Japanaese fans are then expected to collect the figures, books, and other materials released by the licensor, increasing profits and the like.
Of course in the West, while we do have some collectors, for the most part, we aren't hardcore collectors. We buy DVD/BD discs or sets because we want to watch these things again.  The collecting aspect comes in second. For a series we might REALLY love, we might splurge and pay more money, but that's the exception, not the rule. (One such case for me was NIS America's release of Toradora! on DVD, which I paid for the two premium releases since there were some nice extras AND the subtitles were mostly ANB-approved.)
As I've always seen it, Japanese companies cannot allow Japanese fans to embrace the American model of video sales. Since Americans demand faster availability, quality, and reasonable prices, the Japanese have clearly decided that not making any money in a U.S. market is better than risking the ruination of the Japanese model (because in their minds, there is a static number of anime buyers rather than a dynamic number that could increase with lower prices).
By the way, I highly recommend watching Mr. Baseball (Buy.com)(Barnes & Nobel) if you want a glimpse into Japanese business practices (my review is here).
Now, lest I be accused of only picking on the Japanese, it isn't as though there aren't similar, bull headed issues in the U.S.  After all, many companies have died or have been bailed out for bad business practices, or for failing to provide what their customers wanted.  Some appear to be dying, such as Best Buy, all because either the customer is wrong for wanting things the businesses aren't providing, some outside force is to blame for said companies' woes (piracy, online retailers, e-books, etc.), or something else rather than the companies' own refusal or inability to adapt to customer demands.
The anime and manga markets in the U.S., even at their peak, are still nothing more than niche markets. With the recession still on for most people (even if the numbers are manipulated by the government to make it seem to be better than it really is), budgets are tight and splurging on anime/manga just isn't in the cards for them. While there is a push by some American companies to have legal, free services for anime and manga, there's a lot of blow back from the Japanese on this despite one big push by Akamatsu-sensei (Love Hina, Negima!) and his J-Comi site.  As such, customers are still not being catered to and thus revenues that could be earned from non-buying anime fans isn't being generated like it should be.
I've said this before and I'll say it again — until the Japanese license owners and American licensees find a way to give the consumers what they want while generating profits from it, then we'll probably see more failures and even less anime and manga in the U.S.  That would truly be a shame.  In the meantime, whom can I lobby to license-rescue the Kannagi manga series?