Kodansha Comics — What's Going On With You?
When Kodansha USA basically booted Del Rey out of the manga publishing world to take over, I decided to be mostly positive in how I took this.  I ignored a lot of the concerns I had read then.  However, as Kodansha Comics lollygagged around, I became concerned with how they were dealing with things. However, Kodansha Comics made me feel somewhat better when they announced they'd be fixing the horrible, early adaptations of Negima! and when they quietly license-rescued Love Hina. However, recent events have raised the old concerns with me again.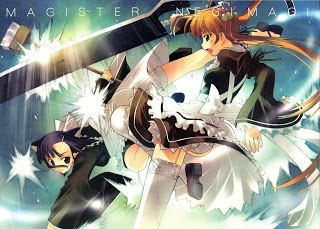 Recent volumes of Negima! have seen some real quality control issues of late. In volume 30, there were instances of the letter "u" being dropped from words, something I don't believe came from the translators. In volume 31, this became worse with some bizarre printing errors as well as the complete dropping of the cover notes (which were translated).  Volume 32 continued this trend by again dropping the cover notes and having some other QC issues.
I am told that for the Sailor Moon releases, Kodansha Comics is having similar QC issues and have dropped certain extras that were included with the newly re-released Japanese versions of the same manga.
Also, Kodansha Comics appears to have not sent out cover art for several of their manga titles for the last quarter of 2011.  Thus, online retailers either had no cover artwork or had to use 3rd-party provided cover art. That's not acceptable.  (To be fair, a spot check of Kodansha Comic titles I currently buy all have upcoming manga with proper cover art.)
I did some checking and hear that Kodansha USA is understaffed and overworked. Certainly, that would account for the QC issues, but then that just means that Kodansha USA's management isn't doing their job.   It does not account for why the cover notes are now gone from recent Negima! releases, or why certain extras from the Japanese tankoubons for Sailor Moon weren't included in the U.S. release.
Hopefully, these were just hiccups and that volume 33 of Negima! picks up all of the "lost" cover notes from the earlier volumes as well as its own cover notes.  Hopefully, the other QC issues will be corrected as well.
If Kodansha Comics wants to really impress me, they'll start doing a bit more with their releases.  They did make things nice with the extra color pages with Sailor Moon and Sailor V.  I'd love for Kodansha Comics to have things like the LE Negima! color cover art as an extra, as an example of what would impress me.