It is a busy day for your's truly, so I'm doing a cheap post, courtesy of British anime fan "Emily-hime," who sent me this image of AKIYAMA Mio from K-On, showing whom her favorite British football (that's soccer to us in the good old USA) team.  Being a fan of many British shows and comedies, like The IT Crowd, Lovejoy, and many more, the name "Manchester United" has come up a few times when soccer appears as part of whatever episode I'm watching.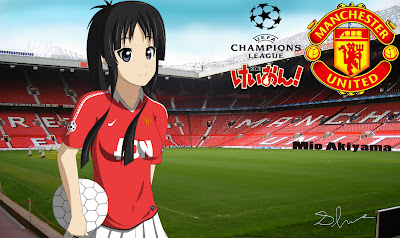 This piece was done by xZDisturbedZx, where you can see a lot of his other art (a NSFW warning, since he does a lot of fanservice art).
While we are on the subject, those of you who've read the K-On manga, is it worth reading?