フェイト/ゼロ Episode 19
Fate/Zero – 19

SPOILER Summary/Synopsis: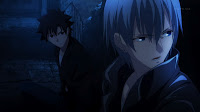 Natalia takes Kiritsugu with him and raises him as a son, teaching him her trade as a mage hunter, since she freelances for both the Mage Association and the Church.  She's strict with him, but when he's older, she starts taking him on missions, where he's a skilled assassin. Further to that, she has a Crest installed in him and makes 66 special bullets from one of his ribs, as his Mystic Code against other mages. Natalia gets a mission to take on Odd Vorak, a Mage who creates Dead Apostles via his Ghoul Bees. As Kiritsugu assassinates someone in New York, Natalia insures Vorak's assassination. However, his body is filled with Ghoul Bees, and everyone but Natalia is turned into a Ghoul, forcing Kiritsugu to shoot down the plane to prevent a Dead Apostle plague.
Thoughts/Review:
Questions.   I can understand how magic is used so that Kiritsugu can assassinate Vorak, but who did he kill in New York?  I assume it was one of Vorak's companions, but that wasn't too clear to me.  Heck, the episode made it seem that Kiritsugu assassinated two people in two spots with one bullet, but I'm not sure that's what happened.
How'd Natalia safely get to the cockpit, especially with not only a plane full of Ghouls, but a plane full of Ghoul Bees?  How come the cockpit doors were secure for her, but not so for the cockpit crew?
Shooting down the plane over the ocean is fine to make sure the Ghouls don't make it out, but what about the Ghoul Bees?  Seriously, insects can travel quite a ways, and the odds of all of them being killed in an explosion is quite low. As I see it, it seems that landing the plane, letting Natalia escape out of the cockpit window, then performing an extermination would be the best solution.  After all, Natalia exterminated the "bees" (that look like yellow jackets) in the case with no problem.
As to Natalia, I liked the character. Being a foster mother was apparently a good thing for her. I'm guessing the final smile on her face as the plane exploded was her approval of what Kiritsugu ended up doing. I liked that she and Kiritsugu had a final, long conversation before he killed her.
While the knowledgeable among you have already informed me of this, the episode does not specify how Kiritsugu received his Crest.  Hopefully, that's in the BD release.
Regardless, I am glad to see this back history for Kiritsugu, not to justify his actions, but to see how he became such a good assassin to earn the title Mage Killer.