ハヤテのごとく!/Hayate no Gotoku Chapter 365
Hayate the Combat Butler Manga Chapter 365
SPOILER Summary/Synopsis:
Father Radiostar and Tama are lazing around and eating snacks in a room when Hayate throws them out to make room for the new lodgers, leading them to an upstairs to a storeroom with a window. Tama is offended by this and wants the ghost priest to back him up, but Father Radiostar is pondering something that's bothering him.
Meanwhile, Ayumu races home and breaks open her piggy bank, discovering that her life savings is only ¥28,000, meaning she's ¥17,000 short on the first month's rent. She gathers up old clothes, CDS, electronics, and her laptop, deciding that she can manage with just her phone. However, this only nets her ¥6300.  She then races over to see Wataru, whom she'll be working for during the summer, and wants all her pay in advance. He refuses, but since they are preparing to move to a new location in Akihabara, he agrees to allow her to haul out the large stack of boxes to be trashed. As a result of her hard work, Wataru not only pays her for this tough job, but goes ahead and pays her for the entire summer in advance.
Now that she has the money she deeds, she comes home and tells her parents that she's going to do a homestay in Nerima for the summer. Ayumu's mother is not amused at what she considers to be a foolish request and tells Ayumu to save it for when she's an adult. Ayumu refuses to accept no as an answer, citing that "one day" may never come and that she only has one summer as a seventeen year old.  Her father agrees to allow Ayumu to do this, and while her mother still isn't happy about it, her father reminds her mother that it is better to do something and regret it than not do something and regret it.
With that, Ayumu races to the apartment house ("Yukari-chan House") to start her new life.
Thoughts/Review:
I was amused at Tama and Father Radiostar slovenly living in the one spare room that was to become Ruka's. Tama's frustration aside, I wonder what thing Father Radiostar is thinking of.  Surely, the final spare room that Ayumu is to rent is this storage room.  However, based on Hata-sensei's sense of humor, I could see that happening.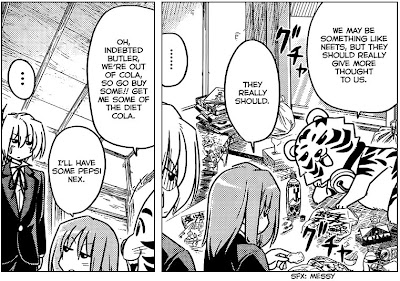 I loved Ayumu's drive and determination to obtain the money she needed for her dream.  Sometimes, one has to work VERY hard to achieve something that others can walk into.  Her moving all those apparently heavy boxes out of the store reminded me of a School Rumble story where some of the class worked as movers, including a very strong girl. *lol*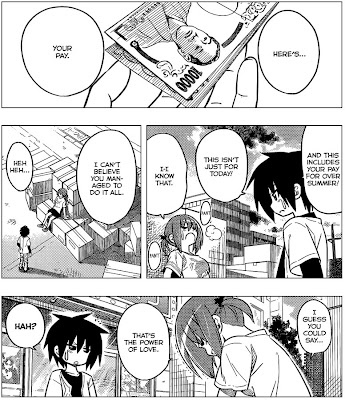 So, is Ayumu working two jobs for the summer, or is she just working for Wataru?
Hata-sensei had something profound to say via Ayumu's father. As he unofficial translation says, "I wish I had learned sooner that there is a difference between not doing something and not being able to do something."  How often in our lives do we not do something because of the barriers we put in front of ourselves?  I think back to a window I had open up for me in 2001 where I could have taken a trip to Japan. However, I decided to put it off a year because I wanted to save up more money and take a three-week trip there rather than a two-week trip.  Unfortunately, 2002 saw the company I worked for implode into bankruptcy, leaving me unemployed and unable to take a trip to Japan.  Since then, I've never been able to make the trip due to a whole host of reasons, including deciding to buy a house and a new vehicle (which I had to have after my old one gave up the ghost).  Eleven years have sure flown by, but back then, who would have thought that things would go the way the did for me?
So, while Ayumu's mother represents logic, common sense, and the like, Ayumu's father represents the spirit of "sometimes you just have to go for it, even if it is a mistake."  As the other saying from Alfred, Lord Tennyson goes, "'Tis better to have loved and lost / Than never to have loved at all."  Even though Ayumu knows she probably doesn't have a chance with Hayate, she's willing to face the heartbreak from rejection, than to regret never having done something.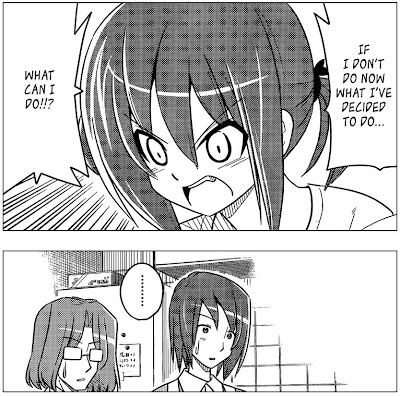 Although this chapter may not have been too funny, it is still good for me in that the words about taking a risk, hard work, and even sacrifice to achieve one's goals ring quite true.