フェイト/ゼロ Episode 23
Fate/Zero – 23
SPOILER Summary/Synopsis: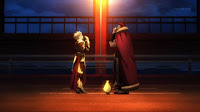 Rider and Waver are met on a bridge by Archer. Rider and Archer share a final drink together, where Rider proposes an alliance that would conquer the universe. Archer is amused and respectfully rejects the alliance proposal. Rider returns to Waver, where they mount Rider's steed and charge as Rider envelops themselves and Archer in a Reality Marble. With his troops at the ready, they charge Archer, who brings forth a weapon that easily destroys the Reality Marble. Rider officially makes Waver one of his subjects with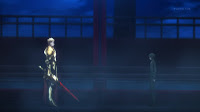 Waver calling Iskandar his king. With that, Rider charges as Archer opens up with a barrage of weapons. Rider's steed is slain and Rider is hit, but as he makes it to Archer, he finds he is bound with chains from Archer's Reality Marble. Archer stabs him, tells him he is welcome to challenge Archer again, and Rider dies peacefully. Archer goes to Waver, but upon learning that Waver is no longer Rider's Master, but his subject, he commends Waver for carrying out his king's last order and leaves.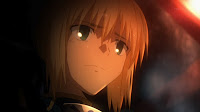 Elsewhere, Saber rides her motorcycle into a parking garage, where she's attacked. The bike is destroyed as she switches to battle garb on the fly. It is Berserker, who opens up with an automatic rifle. Saber destroys the weapon, but Berserker has a machine gun.  Using a car as a shield, Saber charges Berserker, but her sword does not penetrate Berserker's helm. She makes a flying leap attack, but Berserker catches her invisible Excalibur, telling her that her opponent must be someone she knew.  She demands that as a knight, he reveal himself. The dark shroud that had enveloped Berserker vanishes like smoke.  Seeing the knight carries the sword Arondight, Saber realizes this is Sir Lancelot, which is confirmed when Berserker's helm opens. Enraged, Berserker continues to attack the stunned Saber as Kirei uses Iri's body to prepare for the arrival of the Grail.
Thoughts/Review:
I have to say that while I knew Rider was dead, I am disappointed that it wasn't a fight.  Archer barely lifted a finger, and Rider's Reality Marble was destroyed. He barely lifts another finger, and though Rider makes it to Archer, he never had a chance.  Heck, I doubt that even at full power, Rider had a chance. Yet despite this, for whatever reason, Archer respected Rider as a fellow king.
I was surprised that Archer didn't kill Waver, but then it makes sense that out of respect for Rider, Archer would spare Rider's last, loyal subject now that Waver was no longer a Master. Waver's decision to burn his Command Spells ended up sparing his life.  He faced his fear, and then earned the respect of Archer as well, I think.
I was totally surprised that Lancelot turned out to be Berserker. It would make sense in some ways, as I seem to recall Lancelot going mad for a time after his affair with Guinevere.  I suppose the flaws Rider had pointed out in Saber are why Lancelot is so enraged at and obsessed with Saber.
Kiritsugu's slow, silent walk to find Kirei made me think of the scene in the movie Tombstone where Wyatt Earp says, "You tell 'em I'm coming… and hell's coming with me, you hear? Hell's coming with me!"  I'll refrain from saying more, knowing what I know on how things end.
I'm finding I'm not having a lot to say other than there are three more episodes to go.  I'm looking forward to seeing everything brought to a conclusion.