ハヤテのごとく!/Hayate no Gotoku Manga Volume 28
Hayate the Combat Butler Takoubon Volume 28 (Japanese)

–> Purchase Japanese tankoubon from YesAsia!
–> Purchase Japanese LE tankoubon from YesAsia!
*SPOILERS!*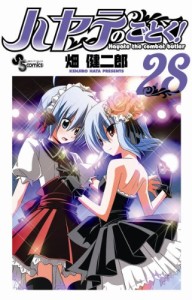 Some highlights of this volume include Hayate being attacked by one of Yozora's robots as he's dressed in a maid uniform, forcing him to take the fight to an area where Ruka is trying to change in secret. Hayate defeats the robot, but Ruka is injured as a result. Believing Hayate to be a girl, Ruka confides in Hayate and he gets her on time to her concert, helping her concert to be a success. When Yozora crashes the concert with her remaining robot, which Hayate has to defeat when it goes out of control even when Hayate gives Yozora the photo she wants.  Meanwhile, Chiharu takes Nagi to Ruka's concert in order that Nagi see the person who made the doujinshi they sold at the doujinshi event.
Athena pays Hayate a visit and tells him to not let anyone know about the Royal Garden and she'll be different next time the meet. Athena shows up at Hakuou Gakuen as a young girl, where she declares Hina to be her "mama" and Hayate to be her "papa." Aika, who'd apparently arranged things with Athena ahead of time, notices Hina now wields the sword Shirozakura, and so arranges it so that Athena is introduced as "Alice," with the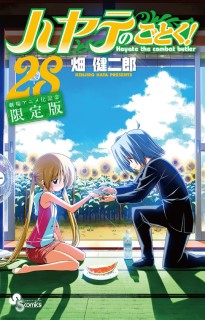 story that she's a princess staying here for three months. As such, it is arranged for her to move into the apartment-house of Nagi's. Since Athena needs Hina there to regain her memories and power, she helps arrange it so that Hina moves in as well (after MUCH convincing from Hayate as well), with Hina's mother approving it.
Finally, Maria and Hayate have to use the public baths and Yukiji gets picked up by a famous manga-ka.
Heh! Finally, some explanations, but not everything. For whatever reasons, Athena has lost her powers, memories, and is now a child as a result. Needing three months to recharge is an interesting, arbitrary number, eh? Still, I loved how she managed to manipulate Hina into moving into the apartment-house for her own purposes.  I just wonder what all is going on to cause this. I still wonder how Aika got involved with Athena's change.
I liked seeing how Ruka met Hayate, though it figures he's be dressed and mistaken as a girl.  I already knew how tough Ruka is when it comes to drive and determination. I'm glad to finally have the name of her manager — Atsumari-san.  I'm looking forward to seeing how things progress so that Ruka learns that Hayate is actually a guy.
Still don't know who the old man is, nor why Yozora wanted the photo with him in it. Why Himegami was torn out is still a mystery (which at this point is not known).  Come to think of it, we still don't know that much about Yozora either.
Finally, I wonder if Yukiji and Ashibashi-sensei are still a couple, or is that a one-time thing with their date?
Although there were a great number of things that happened, I'm eager to press forward and really try to get caught up, so forward I go. ^_^