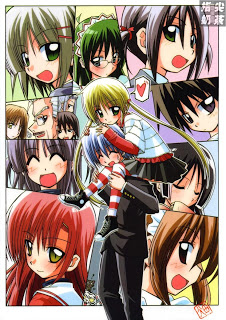 I've been an anime fan for a few years now, going back to 2002, and a manga fan for nearly as long, going to 2003.  As such, I know how the Japanese anime, manga, and light novel markets work to an extent. Depending on the series, an anime adaptation of a light novel or manga may be a fairly faithful adaptation (Fullmetal Alchemist: Brotherhood would fall into this category), or it may be an adaptation loosely based on the original series (the various Slayers animes, Love Hina or the first Negima! anime series would fall into this category), or it may just do its own thing (the second Negima!? anime series would fall into this category, and I'll put the first Fullmetal Alchemist anime series here too since it went off and did its own thing).  For the most part, we fans in the US deal with this with limited problems.
That being said, the Japanese are also notorious for spreading a canon storyline across multiple media platforms. For example, one does not have to have played the ero-game Triangle Hearts 3 (or its sequel anime OVA series Triangle Hearts: Sweet Songs Forever) to get into the Mahou Shoujo Lyrical Nanoha anime franchise it spun off.  However, if one has not read the canon bridge manga between Mahou Shoujo Lyrical Nanoha A's and Mahou Shoujo Lyrical Nanoha StrikerS, one may be confused about references to certain events spoken of in StrikerS. This is more pronounced in the Last Exile franchise, where a bridge manga between Last Exile and its sequel Last Exile: Fam, the Silver Wing is currently being published in Japan, giving explanation to events leading up to Silver Wing.  In Japan, fans are able to easily bridge those gaps while we in the U.S. are pretty much hosed unless someone scanlates the above-mentioned manga, thus initially revealing a failure in the U.S. system.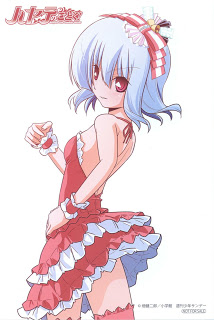 This brings me to Hayate the Combat Butler.  For most fans in the U.S. (myself included), we were introduced to this franchise via the first anime series. Cruchyroll licensed the series and streamed it with subtitles as the series was airing in Japan.  Viz licensed the manga, and this is where we have another revealed failure of the U.S. system.  Although there were lots of raves about the first anime series, few anime fans could be bothered to read the manga from scanlators or from Viz, much less buy it. I did buy the manga from Viz and still do, mainly because I do want to know the whole story, which is apparently not important to most anime fans. (As an aside, it makes me wonder of Kahn the Magnificent of 4Kids notoriety was right when he said, "I think manga is a problem because we're in a culture that is not a reading culture.  Kid's today don't read, they read less today.")
Because sales of the manga have not been good for Viz, they have slowed their release of Hayate the Combat Butler manga to a mere two volumes a year.  In Japan, four tankoubons are released a year.  This puts the U.S. market over three years (as of this writing) behind our Japanese cousins, and getting further behind with each passing year.  Also, because light novels don't sell well in the U.S., there's no way that Viz would license the two light novels published in Japan, though both were aided by Hata-sensei, the manga-ka of the series, and despite the fact that Hata-sensei basically made the first light novel canon (at least partially) by incorporating the destruction of the Video Club building from that novel into the manga.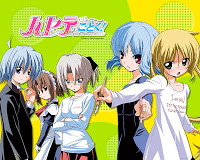 Fast forward to the third TV anime incarnation in the Hayate the Combat Butler franchise, entitled Hayate the Combat Butler: Can't Take My Eyes Off You.  As usual, Crunchyroll has licensed this TV anime series.  However, fans in the U.S. who've only been exposed to the first two TV series via Crunchyroll (or where ever) have been thrown into confusion because there are characters in this new TV series that were not present before, nor have they been properly introduced in the new TV series.  That's because the series is being done for Japanese fans, thus the production team is assuming that at a minimum, those watching this new anime series are caught up with the latest Japanese tankoubon release (currently volume 32 as of this posting, compared with the Viz releasing volume 20 last month, putting the U.S. 3+ years behind Japan).
Thus we see how the U.S. system fails, both from the publishers side and from a fans side of things.  Few read the manga, thus few buy the official release from Viz, thus Viz slows production to a craw, thus even those fans who are keeping up with the Viz releases are confused, to say nothing of those who've never read the manga to begin with.
So, what can be done about this?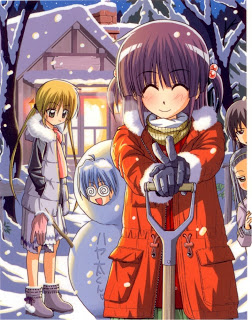 For starters, I think that U.S. licensors of anime and manga are going to have to start heavily cross-promoting each other.  At best, I've seen small notations on old Del Rey and current Kodansha Comics volumes that will reference an anime series if FUNimation has it.  I did see that Seven Seas (GoManga) mentions that the manga version of A Certain Scientific Railgun is the basis for the hit anime series, but they don't mention that FUNimation has the anime license.  Transversely, I kinda doubt that FUNimation references the Seven Seas manga releases as the source for their anime, but if they aren't, they SHOULD be.
In my mind, a U.S. company that licenses an anime based on a manga that is licensed by a U.S. company should arrange a deal with said manga publisher to have an insert placed in the DVD/BD case, promoting the manga (and even a visual ad on the DVD/BD).  I know that in the case of Hayate the Combat Butler, Bandai picked up their toys and went home, but lets assume that Viz license-rescued the anime.  For them, it should be a cinch to throw in an insert for the DVD/BD release showing samples of the manga, and promoting reasons for folks to read it.  Ditto in reverse for the manga release promoting the anime release.  Even if some other company, like FUNimation, license-rescued the anime series, a deal should be reached to do the same thing, with Viz then agreeing to promote the anime version in the manga and on their website.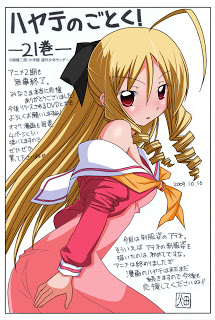 I'd take this a step further, and state that Viz should arrange to have a deal with Crunchyroll, so that at least one of the sponsored ads for the Hayate the Combat Butler: Can't Take My Eyes Off You anime is one for the Viz releases of the Hayate the Combat Butler manga.  Even better would be to display ad banners or the like, promoting the manga.  On the Viz side of things, they could have ads on their Hayate the Combat Butler page, touting the Crunchyroll release.
Another thing that needs to be done is that Viz should step up to the plate and provide a legal, digital release current with the Japanese release of Hayate the Combat Butler.  It should be done in a manner similar to how RIN-NE was done, in that it was free for viewing, at least for a time.  That way, people can be directed to the manga to catch up on things they missed, and can legally do so without having to resort to scanlations. Unfortunately, Viz doesn't even have a digital license for the series, much less do much to promote the manga, thus the continued failure of the system.
As to the culture of non-reading, I'm not sure what can be done about that. Clearly, some manga titles do quite well, such as One Piece, Naruto, and even Negima!  So obviously, someone is reading them.  However, what would get people reluctant to read the source manga of an anime series they claimed to have loved?
Because official releases of anime, and especially manga, are often well behind the releases in Japan, we've built a broken system for anime and manga in the U.S.  Although attempts have been made to correct this, resulting in anime series being either simulcast or streamed a short time after their release in Japan, for manga, the problem is much more severe as there have been very few attempts to have an official manga chapter release be done at or very close to the same time as the release in Japan.  This has to change, and good franchises need to be promoted and cross promoted or else the doom of Hayate the Combat Butler could come on other series as well.