Hayate no Gotoku! Cuties
ハヤテのごとく!Cuties Episode 11 review
SPOILER Summary/Synopsis: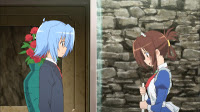 Hayate has a dream where he's visited by the tanuki from the Kuro-tsubaki as well as a humanoid clock — the Kuro-tsubaki itself. They have a favor to ask Hayate and a warning that if he doesn't kiss a girl by midnight, he'll be separated from Nagi forever. In his dream, he discovers that Nagi is there, oblivious to anything but the video game she's playing. Hayate wakes up and asks Maria if she's kissed anyone. Maria's flustered attitude tells Hayate what he needs to know, so he goes to wake up Nagi. Nagi is still dreaming, apparently in the dream world of the kuro-tsubaki, and does not wake up. So, Hayate heads to school without her.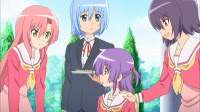 Unbeknownst to Hayate, the tanuki and Kuro-tsubaki have given dreams to many of the girls in Hayate's life about him asking to kiss them. So at Yukari-chan House, when Klaus starts talking about kisu fish, the girls there get flustered thinking about kissing and head to school. Meanwhile, Hayate heads to the clock tower to see Hina and make the request of her. Her response is to produce the Shiro-sakura sword in anger. However, she does agree to speak with him at lunch. During lunch, Isumi and Sakuya show up, Isumi having sensed something bad, so Hayate tells her about the dream. Izumi, Miki, and Risa show up, all having had dreams of Hayate asking them for a kiss.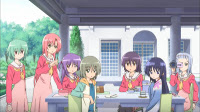 The group starts discussing this, Sakuya teasing Hayate a bit about it, when Risa suggests the "bitch" Izumi be the one to kiss Hayate. Miki is going to record the event for the Video Research Club. Izumi isn't happy about that designation, so Risa suggests Hina. Miki protests this, saying the kisser should be in love with Hayate. Aika, at the next table, suggests that would be difficult considering Hayate's long list of problems, including bad luck. Kayura emerges from the bushes to counter this argument, showing footage of Kaoru-sensei managing to pick up Yukiji-sensei for a drinking date. Realizing he's getting nowhere, Hayate leaves the girls. Isumi tells Sakuya that they have to leave as well.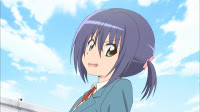 As Hayate walks along a street, he encounters Ayumu, who's ditching afternoon classes because she keeps thinking about her dream to kiss Hayate. As it happens, the street they are on is the one where Hayate and she first met after he saved her when her bike's brakes broke. Hayate remembers that Ayumu was the one to confess to him and so he thinks that it might be possible to score a kiss. Ayumu senses her opportunity and drops hints about helping others and doing whatever it takes. Hayate is about to make his move when Fumi and Sharna show up, bringing that to an end. Hayate tries Ah-tan, but she breaks his phone when she Tasers him. He also fails to get Ruka or Chiharu to kiss him.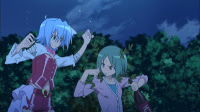 Hayate tries to ambush kiss Maria back at the mansion, but that too fails. With early evening now here, Ayumu, Hina, Izumi, Risa, and Miki are in a restaurant eating fries and talking about love and kissing. Hina tries to reach Hayate's cell phone but is unsuccessful. Hina returns to Yukari-chan House as Maria checks in on the still sleeping Nagi, who's dreaming of a video game boss she can't defeat. Maria calls Hina to ask about Hayate and to inform her about Nagi. Hina, apparently oblivious to Hayate's broken phone on the floor, wonders what is going on. That night, Hayate, apparently in an outfit of Ruka's, battles the drunken Yukiji to try to get a kiss.
Thoughts/Review:
It is so awesome when a story is told in a random way because having flash backs, flash forwards, and flash sideways are always the best. Oh wait, they AREN'T! *_*
Seriously, what's wrong with telling a story in a proper, chronological order? Sometimes, doing flashbacks and such works, but in this case, things were just randomly laid out. I get the feeling that the idea was to have the audience ask questions, then the story would drop where ever to answer, then return to another point, then do the same thing all over. Sorry, but this didn't work for me. The episode would have been better had it been laid out chronologically.
At this point, I'm still not sure why the Kuro-tsubaki is even back. I don't know why Nagi is apparently trapped in this dream world and I don't know why Hayate having to kiss someone will make it better. I know Hata-sensei wrote the story (and I find it interesting that the production team was VERY keen on pointing this out), but at the moment, I'm just not impressed.
On the positive side, I did get a laugh out of Isumi's hair strand being referred to as a youkai antenna.
OK, I also got a laugh out of Fumi and Sharna showing up out of the blue, ruining Ayumu's best chance to snog with Hayate.
Beyond that, I just can't work up a great deal of enthusiasm, though I'll watch the next episode.  If only the production team hadn't tried so hard to be clever.