Hey gang! Imagine my surprise ('cause I missed the memo last summer) that ufotable, creators of the Fate/Zero prequel anime series to the Fate/stay night series, are doing a new Fate/stay night anime series.  I loved what ufotable did with Fate/Zero, which I understand was a pretty faithful adaptation to the original novels, so giving them a crack at a new Fate/stay night anime series has me very interested.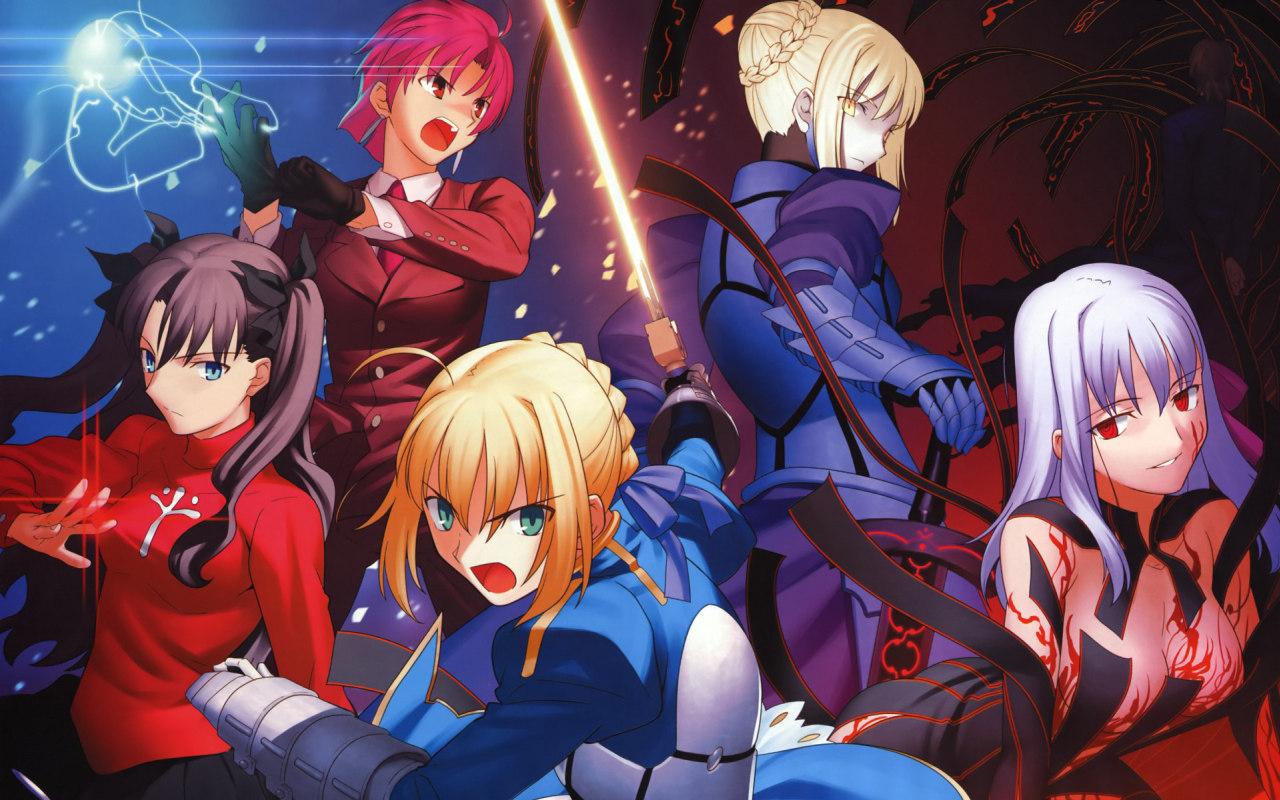 My introduction to the TYPE-MOON world of Fate/stay night came several years ago when while traversing the Japanese side of the Internet for interesting anime-related images I could potentially share on this blog. I saw cool images of this blonde babe with a blue outfit, armor, and a big sword. My interest was piqued, and though I discovered images of this girl, Saber, naked and doing naughty things, I learned that the story seemed rather interesting, so in 2009, I decided to watch the anime, which was fortunately sans the H-elements of the original visual novel.
While Studio Deen did an OK job with Fate/stay night, they did have some troubles trying to accommodate all of the different routes from the original visual novel. They also had some issues with animation, especially in the battle scenes.
On the other hand, I thought that ufotable did a fantastic job on Fate/Zero.  Granted, they had an easier time of things since they only had to adopt a traditional novel series which told a single story, that being the events that happened with the Holy Grail War prior to the start of Fate/stay night.  However, they also got the animation aspects right, in my opinion. As such, I think ufotable is the right production studio to remake Fate/stay night.  Here's the teaser trailer they recently put out.
Fate / stay night PV
by pKjd
The teaser trailer mostly has stuff from Fate/stay night, Fate/Zero, and Fate/stay night: Unlimited Blade Works (as I understand it).  I gather some of the closeups are from the new Fate/stay night anime. There has been speculation that this new Fate/stay night anime series might actually be the hitherto unadapted Heaven's Feel route of the Fate/stay night visual novel (which has Sakura as the lead female interest for Shirou).  While that might be what happens, I'd like to see something different.
For starters, since Fate/stay night was the beginning of the franchise, the events that happened prior to Fate/stay night are only mentioned in more general, vague terms (at least in the original Fate/stay night anime).  A remake of Fate/stay night would allow ufotable to make the anime with much stronger ties to those prequel events since they can do flashbacks (if needed) from the Fate/Zero anime series (or they could reanimate said flashbacks from scratch). I think such an element could make the Fate/stay night series a much stronger one in terms of story as you have a foundation of where Saber, Shirou, Rin, and Sakura came from.
Next, I'd like to see ufotable see if they can actually craft a story that can successfully pull from various routes from the original visual novel, including Heaven's Feel.  OK, I admit, I want a Fate/stay night ending where Shirou has a harem. I want Saber to be there. I want Rin to be there (even if she goes to London for mage training). I want Sakura to be there, hopefully with Rider at her side. And I want Ilya to be there with the curse upon her lifted so that she can now live a normal life.
Yeah, this will all happen…not.
That being said, at the moment, I trust ufotable to do the right thing here. Fate/Zero was dark. Characters died there (which I knew would happen, but still…). As such, I expect that even whether ufotable attempts to multi-merge the various routes, or does ultimately go with the Heaven's Feel route, the dark elements will be there, but the story will be very good.
I guess we'll find out more about what ufotable is planning to do with their next update, which I believe will happen in January. We'll see what happens.