Here is the first SPOILER image from the upcoming UQ Holder chapter 23, courtesy of the VERY gracious Southrop. (My review of chapter 23 should come out Wednesday.)
UQ HOLDER CHAPTER 23 SPOILERS
The UQ Holder chapter 23 goodness begins.^_^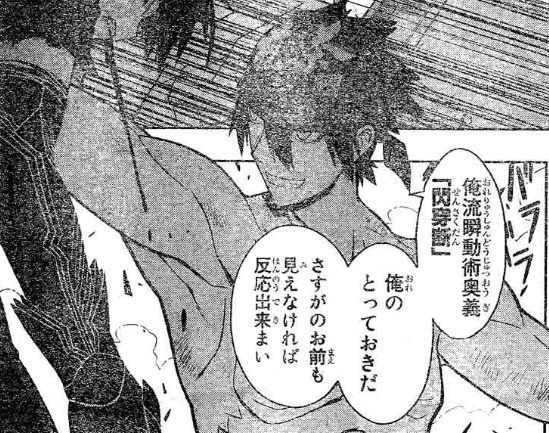 Oh? What is this? Is the arrogant, smeg for brains, "I'm the main character, dagnabit!" Touta-chan taking that beating he so richly deserves?
Why yes, it does appear so.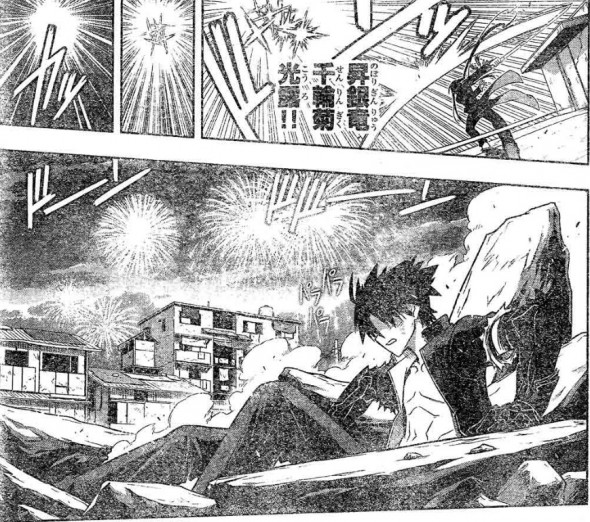 So what the smeg is Kuroumaru doing? I presume the fireworks are a warning sign or something.
Also, since Touta doesn't have a hole in his chest, I'm guessing this came before Kaito nails him good.
Where is Karin in all this? What do you want to bet that Chao is back to get jiggy with her. *_*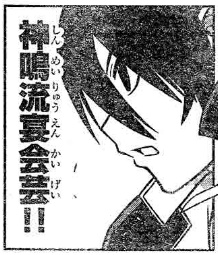 I believe this is Kuroumaru using the firework technique.
It Touta takes the beating, Karin is removed from the scene, and Kuroumaru is sending up fireworks, could we see the arrival of other UQ Holder members?  Frankly, even though it would be a dues ex machina moment, I'd love to see Eva, aka: Yukihime, show up and lay the smack down, just because we haven't seen her in a while.
Well, naught to do but wait for the chapter to come out. In the meantime, I'd like to express my continued thanks to Southrop for sharing these images. As usual, he has some notes for those interested. ^_^